Timuel Black
Jump to navigation
Jump to search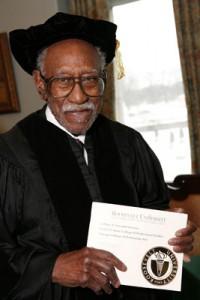 Timuel D. Black is a Chicago socialist and long time friend and colleague of Barack Obama. Black is a Professor (emeritus) City College of Chicago. He serves on the Advisory Board[1] of the Committees of Correspondence for Democracy and Socialism, a position he has held[2] since at least 2002. He is married to Zenobia Johnson-Black.
Letter to Judge Thapar asking for leniency for the Oakridge 3
Timuel Black signed a letter dated January 9 2014 asking for leniency for the "Oakridge 3":[3]
January 9, 2014
The Honorable Amul R. Thapar United States District Judge 800 Market Street, Suite 130 Knoxville, TN 37902
Dear Judge Thapur: The Defending Dissent Foundation is a 53 year old civil liberties organization that recognizes the value of dissent in a vibrant democracy. As such, we regard the actions of Sister Megan Rice, Greg Boertje-Obed and Michael Walli on July 28, 2012 as nonviolent civil disobedience in the finest American tradition. Therefore, we respectfully request that you exercise your right to judicial discretion in sentencing these three individuals. The Defending Dissent Foundation takes no position on nuclear weapons facilities or the content of the protest, but it is clear that the three sought to call attention to an issue of national importance and, through symbolic action, voice their concern and opposition. Their goal never was to harm anyone, and no one was harmed. The fact that the three were able to find their way into the facility and reach the uranium storage unit reflects the abysmal security system of the facility. These activists should not be held liable for the closure of the plant for two weeks to address security lapses. It should not be a factor in their sentencing. Non-violent civil resistance and civil disobedience have long played an important role in our democracy, bringing important issues to the public sphere and advancing our society toward justice, freedom and peace. Like others who have undertaken such action, Sister Megan Rice, Greg Boertje-Obed and Michael Walli are willing to serve time in jail, which they have done without complaint. However, to sentence the three to terms of up to twelve years would be an injustice. In your October 1, 2013 Memorandum Opinion and Order you wrote, "Of course, the defendants' non-violence will be relevant at sentencing, since the Court must account for both the "nature and circumstances of the offense and the history and characteristics" of the defendants… Given the obvious differences between the defendants and the paradigmatic saboteur, those factors surely will be worthy of discussion". We applaud your wisdom and insight and strongly encourage you to sentence the three with downward departures from the sentencing guidelines.
Timuel Black became interested in socialism in the 1930s inspired by Communist Party USA street speakers Claude Lightfoot and Ishmael Flory, who held their sessions in the park across the street from Burke Elementary School where he was a student.[4].
Their speeches made sense to him.
Clerks union
After graduation from DuSable High School, Timuel Black held a variety of jobs. His job as an underpaid store clerk provided his first experience with labor union organizing. He met J. Levert Kelly, President of the Waiters and Bartenders Union. Kelly helped Tim Black and his co-workers form a local chapter of the Retail Clerks Union[5].
Furriers Union
Prior to WW2 Timuel Black and his brother organized for the Communist Party USA controlled Furriers Union in Milwaukee.
Army problem
On joining the U.S. Army in WW2 Black was denied officer training because military intelligence claimed he had secretly joined the Communist Party USA-a charge Black still denies[6];
I was organizing before the war, too – I organized a retail clerks' union for Negroes, because the white one wouldn't let us join.
That cost me my shot at Officer Candidate School in the army. The Communist Party was organizing in Chicago, and I didn't join but they thought I did! They knew who I hung out with, and they didn't like those people. They had all those meetings infiltrated in those days, and even without the fine equipment that they have now, they had a very good idea of where you went and who you talked to.
Leon Despres
Socialist/communist activist Leon Despres moved in the same radical circles. According to Timuel Black.[7];
He was a man way out in front of society. Black people have a reputation of only voting for black candidates, but no one could beat him – though many black candidates tried –because they recognized and appreciated him as a man who was better than decent, and they didn't want to lose him.
By that time, most of the black politicians were already part of the Daley machine, but Leon represented his own community, in the face of how city hall wanted things run. But none of them could beat him, no matter how many times city hall redrew his district
War service
Despite being denied office training, Timuel Black went on to serve his country[8];
I got four major battle stars – I was at the Battle of the Bulge, the invasion at Normandy, and the liberation of Paris. I wasn't in a combat role, but the combat troops couldn't have done it without us – I was in supplies.
I was also at the liberation of the Buchenwald concentration camp, and what I saw there made me resolve to make this a better world
Post war education/educational activism
After his discharge from the Army, Black resumed his education. Studies at Roosevelt University (BA) and the University of Chicago (MA) prepared him for his career as an educator. He taught history and social studies at several of Chicago's public high schools, in cluding DuSable and Hyde Park[9].
As Assistant Coordinator of the National Teacher Corps, Black he was responsiblef or the recruitment and training of teachers who would work in neighborhood schools most in need of well-qualified teachers.
He fought discrimination in the Chicago schools and joined with other teachers to form the Teachers Committee for Quality Education.
Timuel Black served as Dean at Wright Junior College, Vice-President of Olive Harvey City College and Director of Community Affairs of the City Colleges of Chicago[10].
His work to end discrimination in that system may have caused him to lose his budget, thus his position. He returned to the classroom as Professor of Anthropology, Cultural Anthropology, Sociology, and History at Loop (now Harold Washington) City College.
Progressive Party/Post War activism
After the war, Black's activities were monitored by the Chicago Police Department's anti-radical "Red Squad", for many years.
Black was active in the Communist Party USA dominated Progressive Party in the late 1940s. Black organized an Hyde Park chapter of the Party with Abraham Lincoln Brigade veteran Mel Cohen[11].
We organized a chapter of the Progressive Party, which worked to break up segregation, and even demanded that the president sign an executive order doing so.
Racial activism
Timuel Black along with James Farmer, National President, organized and served as president of the Chicago chapter of the Congress of Racial Equality and he became president of the local chapter of the Negro American Labor Council founded by A. Phillip Randolph of the Socialist Party USA.
It was through this association that Tim was chosen to organize the Chicago contingent for the 1963 March on Washington for Jobs and Freedom. Largely as a result of Black's work, two "Freedom Trains" left Chicago with 3,000 passengers for that event[12].
"Wade in"
Black organized the successful 1960 "wade-in" at Rainbow Beach[13].
Support for peace movement
In 1962 Black served[14]on the Advisory Council of the Hyde Park Community Peace Centre, with Sidney Lens and Quentin Young.
Timuel Black and MLK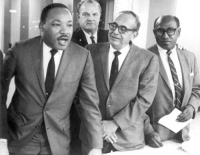 In the 1960s Timuel Black served as an adviser to Martin Luther King, Jr. and led the Chicago contingent to the 1963 March on Washington[15].
Chicago Area Committee for a Sane Nuclear Policy
As at November 1965, Timuel Black was listed as serving on the Board of Directors of the Chicago Area Committee for a Sane Nuclear Policy.[16]
Hyde Park-Kenwood Voices
In January 1969, the Chicago radical newspaper, Hyde Park-Kenwood Voices, listed those who had helped produce its first 16 monthly issues as "writers, researchers, photographers, artists and clerical workers".
The list included Timuel Black who was Contributing Editor.[17]
Chicago Committee to Defend the Bill of Rights
In 1970, the Advisory Council of the then Communist Party USA front Chicago Committee to Defend the Bill of Rights consisted of Timuel Black, Rev. Edwin Buehrer, Prof. Carl W. Condit, Rev. Martin Deppe, Joseph Engel, Abe Feinglass, Rev. Gerard G. Grant, Very Rev. Samuel J. Martin, Rabbi Robert J. Marx, Rev. Jules L. Moreau, Al Raby, Rev. Joseph Sattler, Jack Sullivan.[18].
In 1992 Timuel Black was a member of the Chicago Committee to Defend the Bill of Rights, by then dominated by members of the newly formed Committees of Correspondence.[19]
Evening with Sister Helen Prejean
The Chicago Committee to Defend the Bill of Rights and the Bill of Rights Foundation presented an evening with anti death penalty campaigner Sister Helen Prejean March 15, 2007.
The event was endorsed by: Timuel Black, Jane Bohman, Locke Bowman, Thomas Breen, Rep. Danny Davis, Tony Fitzpatrick, Aviva Futorian, Bernard Harcourt, Jeffrey Howard, Rabbi Peter S. Knobel, Elizabeth Kooy, Peter Kuttner (IATSE Local 600), Barbara Lannan and John Lannan, Haki Madhubuti, Martin Marty, Lisel Mueller, Sara Paretsky, Father Arturo Perez, Mary Powers, Dick Simpson, Elizabeth Solomon, Thomas Sullivan, Studs Terkel, Scott Turow, Standish E. Willis ; All Saints' Episcopal Church, Campaign to End the Death Penalty, Black Radical Congress, Center on Wrongful Convictions, 8th Day Center for Justice, Illinois Coalition to Abolish the Death Penalty, The Lannan Foundation, the MacArthur Justice Center, Midwest Center for Justice, Murder Victims Families for Human Rights, National Alliance Against Racist and Political Repression[20]
CCDBR board
The Chicago Committee to Defend the Bill of Rights board as of 2009 was[21];
President: Robert H. Clarke
Vice Presidents: Brenetta Howell Barrett, Mike Giocondo; Treasurer: Don Goldhamer;
Secretary: Anna Nessy Perlberg;
Directors: Timuel Black, Mabel Brail, Luster Jackson, Carol Heise, Milton Herst, Bennett Johnson, Lillian Margolis, William Martin, Nancy Mikelsons, Lewis Myers Jr., Odie Payne III, Ruth Tregay Siegel, Robert Starks, Oscar Worrill
Debs Dinners
In the 1970s, Timuel Black was involved with the annual Chicago Debs Day Dinners, the highpoint of of Illinois socialist calendar.
At that time the dinner was run by remnants of the Socialist Party USA. After 1982 the event was taken over by the newly formed Democratic Socialists of America.
Timuel Black helped sponsor the event in 1970[22] (with well known writer Saul Bellow), 1976[23] and 1977[24].
At the 1989 Debs Dinner, Timuel Black presented an award to ex-communist DSA member Milt Cohen, while featured speaker was another former communist DSA member, Quentin Young.
The Master of Ceremonies for the evening was Alderman Danny K. Davis, a DSA member, current U.S. Congressman and supporter of Barack Obama[25].
State rep. campaign
In the late 1970s Communist Party USA member Harold Rogers served on a "Citizen's Committee" supporting Timuel Black's unsuccessful campaign for State Representative in the 22nd District.
The "Citizen's Committee" included "former" communist Charles Hayes, radical journalist Don Rose, socialist Chicago Alderman Leon Despres, future Democratic Socialists of America members members Saul Mendelson (a former Trotskyist), Danny Davis and Milt Cohen (another former communist).
Supporting John Lumpkin
In 1978, Timuel Black, Advisory Board, United Black Voters of Illinois was on the Committee to Elect Dr. John R. Lumpkin for the 7th Ward Alderman, Chicago.[26]
American Civil Liberties Union
As at April 11, 1983, Timuel Black served on the Board of Directors for the Illinois branch of the American Civil Liberties Union.[27]
Harold Washington
Harold Washington for Mayor of Chicago
Circa late 1982, members of the Citizens Committee/Harold Washington for Mayor of Chicago (in formation) included Timuel Black.[28]
Supporting Harold Washington
In 1983 Black headed the campaign to register more than 250,000 voters here—voters who helped elect Harold Washington as the city's mayor[29]. Black was a "key figure" in the 1982 voter registration effort that led to Washington's first campaign[30].
As co-chair of the People's Movement for Voter Registration and Education, Black was instrumental in registering more than 250,000 voters in Chicago between 1982 and 1983[31].
Prior to that Black was actively engaged in recruiting and working to elect Richard Hatcher as the first Black mayor of Gary, Indiana.
Black also made an unsuccessful bid for alderman against the incumbent Claude Holman[32].
Salute to Harold Washington
On April 6, 1983, the Hyde Park Herald published an endorsement from the Hyde Park/Kenwood Citizens Committee of Democratic Party Chicago mayoral candidate Harold Washington. Signatories to the endorsement included Timuel Black.[33]
'80s activism
Timuel Black also held leadership roles in the Justice Coalition of Greater Chicago and the Chicago Committee to Defend the Bill of Rights.
Friend of Ayers and Dorhn
Timuel Black claims to have been long term friends with Weather Underground veterans Bill Ayers and Bernardine Dohrn[34].
"I've been friends with them going back to 1968, since long before I knew Barack".
Small Schools Workshop
"Small Schools Workshop" in Chicago, circa 1999/2000. Under the heading of Who We Are, the following were listed:
Committee in Support of Southern Africa
Committee in Support of Southern Africa was an anti-Apartheid group active in Chicago in the early 1980s.
Members of the committee iincluded[35];
Charles Hayes, Rep. Carol Moseley Braun, Coalition of Black Trade Unionists, Bob Simpson, Frank Rosen, Congressman Harold Washington, Harold Rogers, Rep. Monica Stewart, Jim Wright, Alderman Danny Davis, Alice Peurala, Lu Palmer, Milt Cohen, Timuel Black.
Chicago Committee in Solidarity with Southern Africa
In 1989 the Chicago Committee in Solidarity with Southern Africa, Board of Directors consisted of;
Timuel Black, Basil Clunie (co-chair), Earl Durham, Tommie Fry, Judy Hatcher, Tena Johnson, Toni Moore, Cheryl Johnson-Odim, Alice Palmer, Orlando Redekopp, Rachel Rubin (co-chair), Robert Starks, Lucille Teichert, Kevin Thompson, Tim Wright[36].
Tribute to Golub and Montgomery
ON November 16, 1989, Timuel Black was Master of Ceremonies, and served on the Tribute Committee for the Chicago Committee to Defend the Bill of Rights Tribute to Leon Golub and Lucy Montgomery, held at the Congress Hotel, Chicago.[37]
Support for Alice Palmer
Black was an early supporter of Alice Palmer in her bid for U.S. Congress.
In the mid 1990s Timuel Black was listed[38]as a member of Friends of Alice Palmer (in formation), alongside Danny K Davis, Tony Rezko and Barack Obama
Project Vote! Chicago Coalition
As of May 11, 1992, Timuel Black of People's Movement had attended the founding meeting of Project Vote! Chicago Coalition, but had not been asked to fully commit until the next meeting.[39]
"African Americans and the 1996 Elections."
In conjunction with the Chicago Chapter of the Committees of Correspondence, the University of Chicago Democratic Socialists of America hosted a panel discussion on "African Americans and the 1996 Elections." Panelists included Danny Davis, Cook County Commissioner and Democratic Party nominee for Illinois' 7th Congressional District, Barbara Ransby, Chair of the Center for African American Research at DePaul University, and Salim Muwakkil, columnist (for In These Times and the Chicago Sun-Times. Long-time political activist Timuel Black moderated.[40]
Relationship with Barack Obama
Timuel Black's relationship to Barack Obama stretches back until at least the early 1990s.[41];
So it's no surprise that in 1991, when a community organizer named Barack Obama returned to Chicago with a Harvard law degree, he sought advice from Black. Seventeen years later, on November 4, 2008, Black and his wife, Zenobia, watched the election coverage in their home with friends. "When we learned that he had made it, that there was no turning back, the house just went wild
In 1995 Black attempted to mediate a dispute between Illinois State Senator Alice Palmer and her chosen successor Obama.
Alice Palmer had allegedly promised Obama her State Senate seat if she was successful in a run for the U.S. Congress.
She wasn't successful, but Obama refused to stand aside and went on to win the seat unopposed-after getting all his opponents (including Palmer) disqualified on voting technicalities.
"I liked Alice Palmer a lot. I thought she was a good public servant," Obama said. "It was very awkward. That part of it I wish had played out entirely differently."
His choice divided veteran Chicago political activists.
"There was friction about the decision he made," said City Colleges of Chicago professor emeritus Timuel Black, who tried to negotiate with Obama on Palmer's behalf. "There were deep disagreements."
Despite the mess, Timuel Black became and remains an admirer of the ambitious young politician.
"My first impression was this was a very, very brilliant young man," Black says.
Black said Obama's biggest obstacle would not be from whites, but from blacks.
"The biggest thing he has to face is the accusations by some blacks that he is not black enough...He has to overcome that without being so black that he alienates potential white supporters."
Timuel Black addressed a largely black audience at the Woodson Regional Library auditorium on Feb. 11, 2007[42].
Speaking of Barack Obama's presidential campaign he said;
"Obama is the test of how deep racism is in this country...Barack is the recipient of the struggle of other generations...That means that you feel proud of your ancestors, your successes...(Obama), based on the opportunities that were opened to him by others, is in the position to prove to the world whether the United States of America is a true democracy, or is a continuing hypocrisy."
Paul Robeson 100th Birthday Committee
The Paul Robeson 100th Birthday Committee "With recognition to those who launched this campaign and those who gave guidance and leadership to the Committee's activities."
George Bailey, Timuel Black, Dr. Margaret Burroughs, Fred Fine, Don Goldhamer, Kevin Horton, Ife McWorter, Nancy Mikelsons, Joe Powers, Sr., Ramon Price, Mark Rogovin, William Scott, Woodie T. White[43].
Citizen Action of Illinois
In 1997 Timuel Black served on the board of directors of Citizen Action of Illinois.[44]
Anti Iraq War
In the early 2000s Black was active in the anti Iraq war, Peace Action Committee.
Speaking with Bernardine Dohrn
Timuel Black and former Weather Underground Organization terrorist Bernardine Dohrn spoke together at a public gathering sponsored by The Center for Public Intellectuals & the University of Illinois-Chicago, April 19th-20th, 2002, at the Chicago, Illinois Union; Bill Ayers and Barack Obama shared another panel at the same event.
"Intellectuals: Who Needs Them?
Panel I. Why Do Ideas Matter?
Chicago Area Friends of SNCC
In 2005 Chicago Area Friends of SNCC organized the "Tell the Story: The Chicago SNCC History Project, 1960-1965" Chicago Area Friends of the Student Nonviolent Coordinating Committee and the Chicago Civil Rights Movement, c. 1960-1965. The event was held October 21-22, 2005 Roosevelt University, Chicago, Illinois.
Members of the advisory committee included Timuel Black.[46]
National Committee Against Repressive Legislation
As of April 2006 Timuel Black was listed on the Steering Committee of the National Committee Against Repressive Legislation.[47]
Honoring Frank Wilkinson
Chicago Committee to Defend the Bill of Rights organized a "Celebration of the The Dynamic Life of Frank Wilkinson (1914-2006)" on Sunday October 29, 2006[48].
Honoring Committee Honorary Co-chairpersons were;
Free Mumia Abu-Jamal
In 2008 Timuel Black, Coalition of Black Trade Unionists, retired Professor of Social Sciences, Chicago, IL signed a statement circulated by the Partisan Defense Committee calling for the release of convicted "cop-killer" Mumia Abu-Jamal.[49]
90th birthday greetings from Obama
In December 2008, Timuel Black celebrated his 90th birthday on Chicago's south side;
The Checkerboard Lounge on Chicago's south side, was jumping last night as a couple of hundred of us celebrated Tim Black's 90th birthday. The party was organized by Tim's wife Zenobia and the Chicago Jazz Institute.
Congressman Bobby Rush hailed Timuel Black as the movement's "field marshal" and the crowd, "including politicians, community leaders and educators all joined in a rollicking version of Happy Birthday To Ya."
Chicago jazz legends, including Willie Pickens, Corey Wilkes, and Jimmy Ellis, entertained the crowd. But the high point of the evening was Sen. Dick Durbin's reading of a personal birthday greeting from the President-elect himself.
I wish I could be with you all in person today to celebrate the life of a dedicated teacher and one of the preeminent oral historians of our time, a man who keeps the soul of the South Side alive and shares his stories still, Professor Tim Black.
The Great Migration brought his family to Chicago's South Side, and the Great Depression started him down the long path of social justice. As a student at Burke Elementary School, he'd often walk across the street to hear the orators in Washington Park argue with passion for jobs that pay a fair wage, for protections to keep workers safe, for an economy that would allow families to live in dignity and dream of a brighter future.Little did they know among their greatest lasting impacts would be the achievements of the man we honor today.
Like my grandfather, he joined the army as a fresh-faced young man in World War II. And like my great uncle, he helped liberate the Buchenwald concentration camp. It was a moment that left a mark on this man; that left no doubt as to his destiny.He returned convinced by his life experiences that the greatest impact he could make on the next generation would be to teach our youth about their communities, about the world they live in, and about how to be responsible citizens of each.
For forty years, he shaped our young men and women into those citizens. And though he may have retired from the teaching profession nearly two decades ago, he never stopped being a teacher. We are all his students in a classroom that never closes.
Because of Professor Black, jazz has a place to call home in Chicago. Because of Professor Black, the rich and vibrant chronicles of Bronzeville and the greater South Side live on. Because of Professor Black, generations of youth have grown up with a better appreciation of their neighborhoods and the history they inherit.
The man we honor today grew up in the midst of Depression and war, yet considers himself part of a fortunate generation. And he's made it his life's mission to give each successive generation every possible chance in this world.
"I never lose hope," he once said. "I believe that I have responsibilities to help younger people to obtain hopes and dreams. Their present condition may be very discouraging; my aim is to help them regain a sense of hope for the future. My main interest is in building a better America, building a better world."
Tim, for your birthday, I promise you this: that will always be my mission too. Thank you for a life well-lived. I wish you all the best for the stories you've yet to tell.
Happy Birthday,
Barack Obama[50]
DSA member
In 2009 Timuel Black was confirmed as a member of Chicago Democratic Socialists of America[51].
Defending Dissent
As of Oct 3 2009 Timuel Black was listed as a Board Member of Defending Dissent.[52] Defending Dissent is made up of what used to be the National Committee Against Repressive Legislation. Black was also listed as a Vice-Chairperson of the Committee of the National Committee Against Repressive Legislation, circa 1965.[53]
2010 Chicago NAARPR awards
Democratic Socialists of America member Timuel Black received the Human Rights Award from the Chicago branch of the National Alliance Against Racist and Political Repression, on Saturday, April 17, 2010 at their annual Dinner. The organization also honored Charlene Mitchell, Mark Clements, and Bernardine Dohrn. Professor Gerald Horne was the keynote speaker.[54]
Tribute to the Life of Dr. Martin Luther King, Jr.
January 18, 2013, City of Chicago Pays Tribute to the Life of Dr. Martin Luther King, Jr.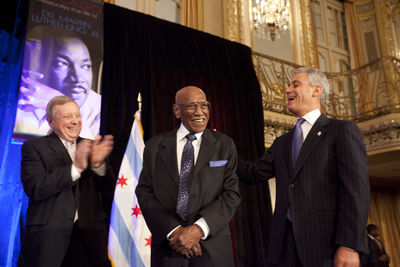 27th Annual Interfaith Breakfast Honors Chicagoan Timuel D. Black and Congressman John Lewis for their Lifetime of Service to Civil Rights
This morning, Mayor Rahm Emanuel was joined by Governor Pat Quinn and Senator Dick Durbin at the 27th Annual Interfaith Breakfast to honor and celebrate the life of Dr. Martin Luther King, Jr.
"There is much to celebrate on this Martin Luther King Day, but we cannot be satisfied with past successes, but must remember our own obligation to carry Dr. King's mission forward," said Mayor Emanuel. "Whether we are fighting for strong schools or safer streets, we must begin, as Dr. King began, with the belief 'that unarmed truth and unconditional love will have the final word.'"
Dr. King's life work represented a steadfast commitment to ensuring and advancing equality for all and the City of Chicago is honoring these ideals by recognizing Timuel D. Black, Jr. as the inaugural recipient of the City of Chicago Champion of Freedom Award for his work as an educator, activist and community leader in the Civil Rights movement.
Civil Rights hero and Congressman John Lewis of Georgia served as keynote speaker, reflecting upon his time as young man marching alongside Dr. King and the need to continue to champion the struggle of human rights in the United States, whether in Congress or in our communities.[55]
References