Timothy Tyson
Jump to navigation
Jump to search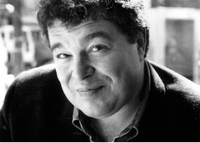 Timothy B. Tyson is a senior scholar of documentary studies at Duke University. He also holds the title of Visiting Professor of American Christianity and Southern Culture at Duke Divinity School and serves as an adjunct professor of American studies at the University of North Carolina at Chapel Hill.. Tyson is most known for authoring the book Blood Done Sign My Name, which chronicled the murder of a black man in North Carolina in 1970.
He has joint appointments at Duke University and the University of North Carolina. He has won numerous teaching awards, as well as recognition for creative and experimental courses, including one that took students on a tour of sites of the civil rights events in the South. His books have won the Frederick Jackson Turner Prize, James A. Rawley Prize, the 2007 University of Lousville Grawemeyer Award in Religion, and the southern Book Award. In addition, two have been adapted as films, and one as a play.[1]
Background
Tyson briefly attended the University of North Carolina at Greensboro. He received his B.A. from Emory University in 1987 and a PhD from Duke University in 1994. He was an Assistant Professor of Afro-American Studies at the University of Wisconsin, Madison.[2]
IPS/PPC connection
The Institute for Policy Studies produced a report "in support of the Poor People's Campaign: A National Call for Moral Revival:"
"This campaign, marking the 50th anniversary of the Poor People's Campaign led by the Rev. Dr. Martin Luther King, Jr. and other leaders, aims to build a broad and deep national movement rooted in the leadership of the poor and dispossessed as moral agents and reflecting the great moral teachings to unite our country around a transformative agenda to combat poverty, racism, militarism, and ecological devastation. We worked in collaboration with the Co-Chairs of the Poor People's Campaign, Rev. Dr. William J. Barber II and Rev. Dr. Liz Theoharis, and the Tri-Chairs of the Campaign's Audit Committee, Rev. Dr. James Forbes, Dr. Timothy Tyson, and Shailly Gupta Barnes.[3]
Arrested
Tyson was arrested on June 15, 2010 on second-degree trespassing charges for disrupting a Wake County school board meeting on March 23, 2010.[4] Tyson and three other individuals refused to give up the podium and proceeded to occupy the seats of school board members. The four were banned from school property after the arrest.[5] The three other individuals arrested along with Tyson were: Rev. William J. Barber II, Nancy Ellen Petty and Mary Dobbin Williams. They were opposing the school board's decision to assign students to schools based on where they live, placing students at schools closer to home. This moved away from a prior policy of busing students to balance socio-economic diversity. Tyson and the other protestors believe the new policy will lead to re-segregation.[6]
Institute for Southern Studies
In 2011, the Board members of the Institute for Southern Studies included:[7]
Frank Porter Graham Awards
On February 12, 2011, Tyson was the keynote speaker at the Frank Porter Graham Awards Ceremony, which is hosted by the American Civil Liberties Union. Reservations to the dinner cost $100 per person and $1,000 per table for sponsorships.[8]
Micah and Repairers of the Breach
Micah and Repairers of the Breach:Spirituality and Social Justice Conference, was convened July 26, 2013, at Rebuilding Broken Places CDC 2105 North William Street, Goldsboro, North Carolina.[9]
Leaders in the social justice movement explore key justice issues & the responsibility of the church[10]
Speakers
Rev. Dr. William J. Barber II, The Holy Spirit, Faith and Social Justice.
Panelists
Grawemeyer Award
In 2007 Tyson received the Louisville Grawemeyer Award in Religion in honor of his book Blood Done Sign My Name. The award includes a $200,000 cash prize. The award is given out for "significant contributions to religious and spiritual understanding."[12]
Book controversy
Tyson's most known book, Blood Done Sign My Name, has received criticism from a relative of the antagonist in the book. Robert Larry Teel created a website that chronicles alleged misrepresentations of facts surrounding the events that are in the book. Teel alleges that Tyson fabricated parts of his book in order to exploit the racial aspect of the situation.[13] The book was first published in 2004 and has not received any legal challenge.[14]
Yonni Chapman's political vision
Yonni Chapman on a digital voice recorder in the year leading up to his death. Recordings are political and personal in nature. There are a group of recordings from September and October 2009 recorded while Chapman was in home hospice care. These contain lenghty sessions with Chapman and several local activists in which they speak about continuing Chapman's political vision after his death. Speakers include Timothy Tyson, Nancy McDurmott, Kerry Taylor, Supeinda Keith, Al McSurely, Rebekah Cowell, and Hayumi Higuchi.[15]
External links
References