Timothy Sears
From KeyWiki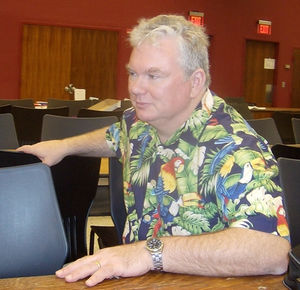 Timothy Sears is a long time socialist activist.
DSA Conference delegate
In 1983 Timothy Sears was a Houston, Texas delegate to the Democratic Socialists of America conference in New York City, October 14-16, 1983[1]
Texas DSA State Meeting
A Texas Democratic Socialists of America State Meeting "Priorities for 1984 and Beyond" July 9 was held Education Building, Akiva Room.
Speakers were;
Socialist International
According to Timothy Sears, Michael Harrington was the principal author of the Socialist International's new statement of principles, "but he found the process of writing-by-committee maddening. The initial draft he wrote was absolutely brilliant—some of the best he ever wrote." However, at the SI Congress in Lima, Peru in 1986, it was roundly criticized by those (particularly from the French Socialist Party) who" were essentially Blairites before Tony Blair" and considered his draft excessively "utopian." They insisted on major changes to tone it down. Harrington also wrote the final version that was adopted, "which is quite good, but he was really frustrated with the whole thing". Harrington , Jim Chapin and Sears were DSA delegates at the Lima Congress.
I remember Mike and Jim talking about whether we should publish his original draft as a DSA pamphlet. Someplace I must still have a copy of the original draft…[2]
DSA Labor Commission
In 1990, Tim Sears was contact for the Democratic Socialists of America Labor Commission. [3]
2001 DSA leadership
Nineteen people ran for the sixteen National Political Committee positions elected at the 2001 Democratic Socialists of America Convention. The winners were:
Theresa Alt, Ithaca
Susan Chacin, Berkeley
Eric Ebel, Ann Arbor
Virginia Franco, San Diego
David Green, Detroit
Gabe Kramer, Columbus
Selina Musuta, Ithaca
Gina Neff, New York City
Angel Picon, Stockton
Maria Pineda, Davis
Kathy Quinn, Philadelphia
Jason Schulman, New York City
Joseph Schwartz, Ithaca
Timothy Sears, Oakland
Jessica Shearer, New York City
Herb Shore, San Diego
The Young Democratic Socialists representatives to the NPC (sharing the one Youth Section vote) were Joan Axthelm (Chicago) and Fabricio Rodriguez (Arizona).[4]
DSA's Cuba Letter
Timothy Sears signed an April 2003 Statement on Cuba, initiated and circulated[5] by prominent Democratic Socialists of America (DSA) member Leo Casey, calling for the lifting of trade sanctions against Cuba.
"a statement circulating among democratic left/socialist folks, largely by members of Democratic Socialists of America, condemning the recent trials and convictions of non-violent dissenters in Cuba".
The petition criticized Cuba's poor human rights record, but shared the blame for Cuba's problems with reactionary elements of the U.S. administration...
The democratic left worldwide has opposed the U.S. embargo on Cuba as counterproductive, more harmful to the interests of the Cuban people than helpful to political democratization. The Cuban state's current repression of political dissidents amounts to collaboration with the most reactionary elements of the U.S. administration in their efforts to maintain sanctions and to institute even more punitive measures against Cuba.
Many of the petition's 120 odd signatories were known members of DSA.
Open Letter to Obama on Iran
In 2008 Timothy Sears of Seattle, WA signed an online petition "A Open Letter to Barack Obama on Iran".[6]
DSA Renegotiate NAFTA petition
In 2009 Timothy Sears, Democratic Socialists of America signed a petition calling on President Barack Obama to Renegotiate NAFTA. The petition was initiated and circulated by Democratic Socialists of America.[7]
NPC candidate
In August 2017 Timothy Sears stood for election to the Democratic Socialists of America National Political Committee, at the National Convention in Chicago, from Seattle Democratic Socialists of America.[8]
I am a labor lawyer, and currently work as general counsel for the Washington State Nurses Association. I have worked in the labor movement for 37 years, representing workers and their unions in industries ranging from lumber mills to nursing homes, the building trades to hotel maids, janitors to meatcutters, firefighters to cocktail waitresses. I first got involved in the civil rights movement as a kid, joining my parents in pickets and sit-ins in support of fair housing. In junior high and high school, I was active in the movement against the U.S. war in Vietnam. I joined the Democratic Socialist Organizing Committee as a college drop-out in 1976. I studied labor history at the University of Maryland and law at Georgetown University. I am married to an amazing woman (a Thai immigrant) and we have one son. We live in Seattle.
I have served on the NPC (and before that, the National Executive Committee) for a number of terms in the past. I co-chaired the DSA Labor Commission. I helped organize the 1979 Democratic Agenda conference and the 1980 Eurosocialism conference. I worked in coalitions that organized a major anti-draft rally, and the 1981 Solidarity Day march, and a major rally against apartheid and the U.S. dirty wars in Central America. I represented DSA as a delegate to congresses of the Socialist International in Lima in 1986 (where the Sendero Luminoso launched a rocket attack on the SI) and Stockholm in 1989, and as an observer at a conference of Salvadorean trade unionists in 1989 (where right wing death squads bombed the conference office the night before the conference). I initiated the Washington Area Labor Committee Against Apartheid and the Washington Committee to Support the Eastern Airline Strike. I was an elected alternate delegate from Texas to the 1984 Democratic National Convention. I was an elected Bernie Sanders delegate to my legislative district and county Democratic conventions in 2016. I have been active in DSA locals in D.C., Houston, East Bay, and now (substantially less active, due to work and family responsibilities) in Seattle.[9]
Democratic Socialists of America Unity
Timothy Sears supported the Democratic Socialists of America Unity grouping, established for the 2017 Democratic Socialists of America National Convention in Chicago.[10]
Stand with Alexandria Ocasio-Cortez
We Stand with Alexandria Ocasio-Cortez was a 2018 letter signed by several Democratic Socialists of America members mainly from the DSA North Star in response to attacks on Ocasio-Cortez over remarks she made on Palestine.
A recent petition circulated by some DSA members criticizes Ocasio-Cortez for supporting a two state solution to the Palestine-Israel question and not aligning with a long list of demands regarding Palestine and Israel. Should Ocasio-Cortez fail to agree with this list of demands, the petitioners are calling for DSA to revoke her endorsement. These attacks on Ocasio-Cortez have come despite the fact that she has staked out positions which will make her one of the strongest advocates of Palestinian rights and self-determination in Congress.
We stand with Alexandria Ocasio-Cortez. The position she has taken on Israel and Palestine are principled stances, worthy of a democratic socialist, in its recognition of both Palestinian humanity and rights and Israeli humanity and rights. On this issue, as many, she will be a voice for the voiceless in Congress.
Signatures included Timothy Sears.[11]
DSA North Star
In 2018 Timothy Sears was an original signatory of the DSA North Star founding principles statement.
References