Timothy McDonald
Jump to navigation
Jump to search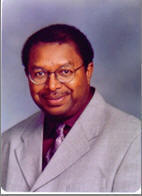 Rev Timothy McDonald on The O'Reilly Factor
Rev. Timothy McDonald, III is the chair of African-American Ministers in Action. He is the Senior Pastor at the First Iconium Baptist Church, as he has been since May 1984.[1]
McDonald earned his Bachelor of Arts Degree (Magna Cum Laude) from Berry College in Rome, Georgia and his Master of Divinity degree from Emory University. He has taught and lectured at colleges and universities in Atlanta and around the country. He founded the African American Minister's Leadership Council. McDonald is married to Shirley (Neal) McDonald, and they have three children, Nikisha, Timothy IV., and Ebony.[2]
National Capital Immigration Coalition rally
September 7, 2006, the National Capital Immigration Coalition held a rally on the National Mall. The protest was billed by immigration rights groups as a post-Labor Day demonstration to show Congress that undocumented workers still wanted an immigration reform bill that would allow them to work in the country legally. Turnout for the march was lower than expected with several organizers attributing low numbers of attendees to the fact that in the four months since the first marches, competing immigration bills had stalled in the House and the Senate.
Speakers were Johari Abdul-Malik Chairman Coordinating Council of Muslim Organizations, Deepak Bhargava Director Center for Community Change, Macrina Cardenas National Coordinator Mexico Solidarity Network, Jaime Contreras Chair National Capital Immigration Coalition, Francisco Gonzalez Valer Auxiliary Bishop Roman Catholic Church-Archdiocese of Washington, DC Bruce S. Gordon President and CEO NAACP, Luis Gutiérrez U.S. Representative [D] Illinois, Chung-Wha Hong Executive Director New York Immigration Coalition, Jose Hoyos Priest Roman Catholic Church-Arlington, VA, Sheila Jackson Lee U.S. Representative [D] Texas, Abdul Kamus Executive Director African Resource Center, Edward Kennedy U.S. Senator [D] Massachusetts, Carlos Lopez Laborer, Timothy McDonald Chairman African-American Ministers in Action, Eliseo Medina Executive Vice President Service Employees International Union, Janet Murguia President and CEO National Council of La Raza, Miguel Rivera President National Coalition of Latino Clergy, Rosa Rosales National President League of United Latin American Citizens, Gustavo Torres Executive Director CASA de Maryland, John Wilhelm President UNITE HERE->Hospitality Industry.[3]
People for the American Way
McDonald serves on the People for the American Way's Board of Directors as well on the People for the American Way Foundation's Board of Directors.[4]
First Iconium Baptist Church
The Rev. McDonald hosts the First Iconium Baptist Church Social Justice Forum.[5]
23 Arrested over Bill to Repeal "Stand Your Ground"
In February 2014, for its fourth week of action, Moral Monday Georgia continued to tackle the issue of the state government's enabling gun violence through the "Stand Your Ground" law and new legislation nicknamed the "carry anywhere" bill, HB 875, which allows concealed weapons in churches and bars, and minimizes fines for carrying on campuses. LOB Feb10
A Feb. 5 committee hearing on Sen. Vincent Fort's bill to repeal Stand Your Ground was adjourned by Chairman Jesse Stone before any of the many supporters present (except for one expert witness) could testify. In response, 23 Moral Monday protesters accepted arrest on Feb. 10 for refusing to leave Senator Stone's office, demanding that the hearing on SB 280 be continued so the public could be heard.
Six Democratic Socialists of America members were among those arrested: Greg Ames, Lorraine Fontana, Timothy Franzen, Daniel Hanley, Misty Novitch, and Roger Sikes. Others arrested included Rev. Timothy McDonald, Joe Beasley, Shawn Adelman, Ron Allen, Mary Britting, Britney Grey, Tabatha Holley, Darien Jones, Keiota Jones, La'die Mansfield, Peggy Marx, Jean Miller, Ronnie Mosley, Adam Quick, Reynaldo Roberts, Jacqueline Rodriguez and Heshimu J.D. Sparks.
The bail fund, was organized through the Georgia Civil Disobedience Support Fund. This fund is facilitated by representatives from the Atlanta Economic Justice Program of the AFSC, Atlanta Jobs with Justice, and Metro Atlanta Democratic Socialists of America.[6]
External links
References