Tim Bishop
From KeyWiki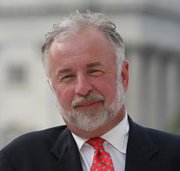 Tim Bishop (born October 11, 1959) is a former U.S. Representative for New York's 1st congressional district, serving since 2003. He is a member of the Democratic Party.
Born and raised in Southampton, New York, Congressman Tim Bishop is among the twelfth generation of Bishops to live in Southampton. He served Southampton College for 29 years, leaving the position of Provost in 2002 to make his first-ever run for office, when he was elected to represent New York's 1st Congressional District in one of the closest elections in the nation. He has been re-elected to the House of Representatives three times.
Now in his fourth term in the U.S. House of Representatives.[1]
Background
Born on June 1, 1950, Bishop attended Sacred Heart's School in Southampton and graduated from Southampton High School in 1968. He earned an BA in History from Holy Cross College in Worcester, Massachusetts, and a master's degree in Public Administration (MPA) from Long Island University in 1981.
Bishop's career at Southampton College began in 1973 as an admissions counselor, and he ascended rapidly through the college's administration. During his twenty-nine years at the college, he served in positions affecting almost every aspect of student life, ranging from institutional research and planning, financial aid and enrollment services, to student activities, personnel, community relations, and fundraising.[2]
Working Families Party
During his successful congressional run in 2002, Bishop stood on the Working Families Party line.[3]
The party also endorsed him in 2014.[4]
21st Century Democrats support
21st Century Democrats is a Political Action Committee that has stood for Progressive causes for over 20 years. Founded in 1986 by Institute for Policy Studies affiliate, Iowa Senator Tom Harkin, Democratic Socialists of America affiliates, former Texas Agriculture Secretary Jim Hightower, and former Illinois Congressman Lane Evans. Its three main goals are to help elect progressive candidates, train young people about grassroots organizing, and lastly, to continue to support our elected officials after Election Day "through our comprehensive progressive network".
Long time Board chair was Democratic Socialists of America member Jim Scheibel, a former Mayor of Saint Paul, Minnesota.
The mission of 21st Century Democrats is to build a "farm team" of progressive populists who will be the future leaders of the Democratic Party.
In each election cycle, we endorse a diverse array of candidates who exemplify our values and show unusual promise to advance our progressive goals. We invest in some of the most competitive races as well as in some of the most challenging – those in which the candidates are outstanding but the traditional Democratic supporters are most reticent. We back candidates in primaries as well as general election races, and we focus the bulk of our resources on electing challengers and protecting vulnerable incumbents.[5]
Bishop was endorsed by 21st Century Democrats in the 2004 election cycle. [6]
Calling on Israeli Govt. to lift Gaza Travel Ban
On Dec. 22, 2009, thirty-three U.S. Representatives wrote to Secretary of State Hillary Clinton, calling on her to request that the Israeli Government end the ban on student travel from Gaza to the West Bank. Tim Bishop was one of the signatories of the letter.[7] The entire letter together with a complete list of signatories can be read by clicking here.
Meeting SEIU/Jobs with Justice
September 27, 2011, 1199SEIU members and members of the community attended a Congressional hearing on Preserving Medicare and Medicaid with U.S. Reps. Tim Bishop and Steve Israel. Organized by Long Island Jobs with Justice, the hearing was meant to educate the public about how Medicare and Medicaid work, and how their elected officials are working to preserve these vital services. Those in attendance spoke overwhelmingly in support of Medicare and seemed worried about proposed cuts.
"My Mom is on Medicare, which has proven to be affordable for so many and works well, with low administration cost," said Bettina McLean, 1199SEIU member who works at Nassau Extended Care Facility. "My concern is with several proposals, like the Ryan plan which calls for giving people a voucher, but would still cost her and others thousands of dollars."
"Lack of adequate health coverage is one of the primary reasons that people turn to us for assistance, and it's one of the biggest problems people face across our nation," said Rev. Tom Goodhue, Executive Director of the Long Island Council of Churches.
"Unemployment is high, wages are down, and communities are struggling. We need to be funding programs that preserve the middle class, instead of cutting benefits from hard working people," said Charlene Obernauer, Executive Director of Long Island Jobs with Justice.
Reps. Bishop and Israel responded to questions and concerns throughout the evening and assured the public that they are committed to preserving Medicare and Medicaid, as well as other vital social services.[8]
2012 CLW House victories
2012 Council for a Livable World House Victories were;
Ron Barber (D-AZ), Ami Bera (D-CA), Tim Bishop (D-NY) Suzanne Bonamici (D-OR), Bruce Braley (D-IA), Cheri Bustos (D-IL), Lois Capps (D-CA), Suzan DelBene (D-WA), Lois Frankel (D-FL), John Garamendi (D-CA), Joe Garcia (D-FL), Raul Grijalva (D-AZ), Colleen Hanabusa (D-HI), Denny Heck (D-WA), Steven Horsford (D-NV), Derek Kilmer (D-WA), Ann McLane Kuster (D-NH), Dave Loebsack (D-IA), Patrick Murphy (D-FL), Rick Nolan (D-MN), Raul Ruiz (D-CA), Brad Schneider(D-IL), Carol Shea-Porter(D–NH), Kyrsten Sinema (D-AZ), Mark Takano(D-CA) and John Tierney(D-MA)..[9]
The Council said of Bishop;
Bishop has consistently voted in favor of U.S. support for the United Nations. He has opposed the development of new nuclear weapons and the deployment of expensive and ineffective missile defense systems. He was a reliable vote in favor of ending the wars in Iran and Afghanistan. In recent months, he has been a vocal critic of Republican attempts to exclude the Pentagon budget from attempts to balance the budget and reduce federal spending.[10]
Lifting travel ban on Cuba
A May 03, 2013 Press release from the radical controlled and Institute for Policy Studies affiliated Latin America Working Group's Cuba Team stated:
Due to your action/emails/phone calls we have 59 signatures from House representatives urging President Obama to support travel to Cuba by granting general licenses for ALL current categories of travel.
By eliminating the laborious license application process, especially for people-to-people groups, that is managed by the Office of Foreign Assets Control (OFAC), the majority of the bureaucratic red tape that holds up licensable travel to Cuba would disappear and actually facilitate what the President wanted to see in 2011, liberalized travel regulations.
Signatories included Rep. Tim Bishop.[11]
ARA PAF endorsement, 2014
The Alliance for Retired Americans Political Action Fund endorsed Tim Bishop in 2014,also in 2012.[12]
References