Thorne Dreyer
From KeyWiki

Thorne Dreyer played a major role in the underground press of the Sixties. He was founding editor of The Rag in Austin (an influential early underground paper), was a publisher and editor of Space City! in Houston, was an editor at Liberation News Service (LNS) in New York, and was gen mgr of KPFT, the Pacifica radio station in Houston.
In the sixties and seventies Thorne Dreyer's writing was published in dozens of publications in the United States and around the world. Dreyer was associated with Texas Monthly Magazine in the early days of that publication.
Dreyer's writing is cited or excerpted in more than 50 books about the Sixties and journalism[1].
An Open Letter to the New New Left From the Old New Left
An Open Letter to the New New Left From the Old New Left.
Now it is time for all those who yearn for a more equal and just social order to face facts.
By Former leaders of the Students for a Democratic Society. April 16, 2020.
On April 13, 2020, Senator Bernie Sanders urged his supporters to vote for the presumptive Democratic nominee, former vice president Joe Biden. Writing as founders and veterans of the leading New Left organization of the 1960s, Students for a Democratic Society, we welcome Bernie's wise choice—but we are gravely concerned that some of his supporters, including the leadership of Democratic Socialists of America, refuse to support Biden, whom they see as a representative of Wall Street capital. Some of us are DSA members, but do not believe their position is consistent with a long-range vision of democracy, justice, and human survival....
We salute Bernie Sanders and our friends and comrades in DSA and in the diverse movements for social justice and environmental sanity that enabled them to rise. We look forward to joining together to build on and defend our accomplishments. And now we plead with all: Get together, beat Trump, and fight for democracy—precious, fragile, worth keeping.
The signers of this letter were founders, officers, and activists in Students for a Democratic Society between 1960 and 1969.
Signers included Thorne Dreyer.
Austin MDS
In the late 2000s, Thorne Dreyer and David Hamilton were very active Movement for a Democratic Society members and made their Austin Texas branch, one of the most active in the US.
Dreyer on Obama
Excerpts from Hamilton and Dreyer's The Rag Blog 23rd March 2008 (graphic in the original)[2];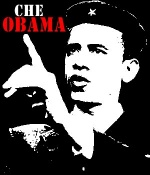 Most of the activists I work with in Austin, those of us in MDS/Austin... and other progressive groups, have chosen to support and, in many cases to actively participate in the campaign of Democrat presidential candidate Barack Obama, for a number of reasons. For this writer at least, those reasons include the following:
We find Barack Obama to be sincerely left-leaning and personally inspiring, and believe him worthy of trust, with the requisite reservations. We see the massive and enthusiatic and largely radical-leaning movement that his campaign has engendered to be a surprisingly positive sign in a largely lethargic times, and at the very least a fertile ground for future activism...
We believe the election of a progressive Democrat at this time in history would result in a quick end to the tragic War in Irag, the introduction of such progressive measures as universal (or virtually universal) health care, and would produce judicial and other governmental appointments that would make a very real difference in people's lives.
This would result in real, tangible changes in the lives of struggling lower income citizens, of racial minorities, of those rotting in jail because of race or victimless crimes, and, significantly, of oppressed peoples in other parts of the world.
And, taking into account that both major parties, in the long haul, represent similar if not identical vested interests, we believe that the Republicans, with their corporate masters, with their oppressive and mean-spirited politics at times verging on the neo-fascist, must be stopped.
It is of critical importance that we never latch on to a political candidate in this electoral system and herald him or her as some kind of a savior. Bottom line, the problems in this country are not based in who runs the system. The system itself is the problem. The shameful disparity in distribution of wealth between the obscenely rich and those left to struggle for their daily needs. All that taken into account, we believe that there is much to like about Barack Obama, and that there are substantial and valid reasons to work for his election.
Thorne Dreyer
Open Letter to Obama on Iran
In 2008 Thorne Dreyer, MDS/Austin; The Rag Blog, [Austin], TX signed an online petition "A Open Letter to Barack Obama on Iran".[3]
Progressives for Obama
In 2009 Thorne Dreyer was listed[4]as a signer of the Progressives for Obama website-Movement for a Democratic Society, Austin Texas.
The Rag Blog
In 2010 Thorne Dreyer was listed as a contributor to the Movement for a Democratic Society linked, Austin Texas based, The Rag Blog website.[5]
Austin Beloved Community memories
The list of people who contributed memories and experience to the Austin Beloved Community website included Thorne Dreyer, The Rag Blog.
Austin Beloved Community site launch
Thursday May 1, 2014 marked the InternationalWorker's Day.
Many grassroots organizations and activists gathered at Resistencia Bookstore to celebrate and to recognize the official web launch for Austin Beloved Community.
Austin has a rich history of social justice organizations, artists and activists who have worked hard to fix longstanding problems in neighborhoods and communities.
Organizations participating included: ACC/AFT Local 6249, ADAPT, ALLGO, Austin Tan Cerca de la Frontera, Campaign to End the Death Penalty, Challenger Newspaper, Creative Action, Code Pink, Democratic Socialists of America, Education Austin, Freedom Road Socialist Organization (/OSCL), Grassroots Leadership, Austin Immigrant Rights Coalition, International Socialist Organization, MonkeyWrench Books, People's History in Texas, PODER, Proyecto Defensa Laboral (Workers Defense Project), Resistencia Bookstore, Rise Up Texas, Texans United for Families (TUFF), The Sierra Club, The Rag Blog, Texas Jail Project, Third Coast Activist, Treasure City Thrift, TSEU/CWA Local 6186, Women's Community Center.
Event organizers were Anne Lewis and Jacob Branson.
Music by Sonoita, Fandango Tejas, Mario Garza, Kiko Villamizar, Kiya Heartwood, and The Bronze Band! [6]
Attendees included Jacob Branson (MC), Sarah Rafael Garcia, Ang Garcia.
Those indicating attendance on Wherevent included Elizabeth Kay Walker, Bella Novella, Magda Lena, Diana Claitor, Ana Sofia Perez, Sarah Cheatham Somera, Jennifer May, Andrea Black, Jen Rogue, Leslie Cunningham, Andrea Zarate, Maribel Falcon, Jamie Love, Unkle Frank, Alma Buena, Shelby Alexander, Ci Rocha, Mariann Garner-Wizard, Carrie Morales, Ginger Miles, Katherine Pace, Beverly Baker Moore, Kiya Heartwood, Lilia Rosas, Cassandra Johnson, Olimpia Nuth, Devon Malick, Claudia Zapata, Monica A. Guzman, Bernice Hecker, Raven Pena, Anne Lewis, Michelle Mejia, Emma Mutrux, Joanna Saucedo, Nicole Licea, Marielle Septien, Alice Embree, Diana Gomez, Juanita Spears, Sophia Nachalo, Rocío Villalobos, Joanna Rabiger, Stacy Guidry, Fotografia Caldosa, Kate Layton, Hallie Boas, Danielle King, Vanessa Ramos, Pamela Larson, Monica Teresa Ortiz, Michelle Ramirez, Annaliese Krumnow, Marisa Perales, Robin Lane, Dawnielle Castledine, Cristina Parker, Kathryn Baker, Lisa Hernandez, Margaret Peace, Paige Managiere, Daisy Fran Clark, Seth Hutchinson, Adrian Orozco, Michael King, Ricky Martinez, Peter Sea, Marshall Bennett, Matthew Wackerle, Gilbert Cortez Rivera, Jacob Branson, Mukund Rathi, Gregorio Casar, Carl Webb, Librado Almanza, Kam Ran, Roan Boucher, Juan Belman, Mark McKim, Crayvon Corpening, Dave Cortez, Lindsay J. Porter, Ray Reece, Alex Befort, Antonio Cadarço Marques, Joe Cooper, Richard Swafford, Mike Corwin, Zach Guerinot, Joe Rocha, Tracey Schulz, Thorne Dreyer, Braden Latham-Jones, Juan A. Izaguirre.[7]
Thomas Grace meeting
Austin Democratic Socialists of America shared Thorne Dreyer's post. April 8 2016.
Thomas Grace is also speaking tonight at the TSEU Union Hall at 7pm, located at 1700 S. 1st St.
Thomas Grace is our guest on Rag Radio today, Fri. 4/8, 2-3 p.m. (CT) on KOOP 91.7-FM in Austin. Tom, a survivor of the 1970 Kent State shootings -- when National Guardsmen shot unarmed students, killing four -- is the author of "Kent State: Death and Dissent in the Long Sixties." Stream it live:
Tracey Schulz, Alice Embree, Cecilia Colome, Glenn Scott, Barbara Fetonte, Ron Nelson, Yolanda Delgado, Roger Baker, Jr. David Hamilton, Beverly Baker Moore.
Left Up To US Closed Facebook group
Members of the Left Up To US closed Facebook group, as of August 11, 2017 included Thorne Dreyer.[8]
References