Theda Skocpol
From KeyWiki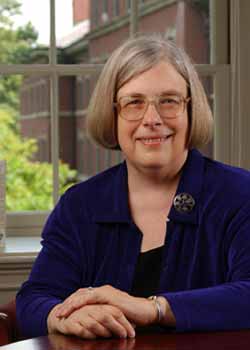 Theda Skocpol is the Victor S. Thomas Professor of Government and Sociology[1]at Harvard University, where she served as Director of the Center for American Political Studies (1999 to 2006) and as Dean of the Graduate School of Arts and Sciences (2005 to 2007).
A political scientist who focuses on U.S. public policy and citizen participation, Skocpol's work addresses audiences beyond as well as within the academy.
Theda Skocpol has been married since 1967 to Bill Skocpol, an experimental physicist who teaches at Boston University. She is the mother of Michael Allan Skocpol, born in 1988 and currently finishing his junior year at Brown University.
Education
Skocpol received her B.A. in 1969 from Michigan State University and her PhD in 1975 from Harvard University.
College Professors for Washington
In 1982 Theda Skocpol was one of more than 100 Chicago academics, signing an open letter to the voters of Chicago endorsing the mayoral candidacy of Harold Washington.[2]
Academic positions
In 1996, Skocpol served as President[3] of the Social Science History Association, an interdisciplinary professional group and from 2001 to 2003 she served as President-Elect and then President of the 14,000-member American Political Science Association.
Elected to the National Academy of Sciences in 2008, she is also a member of the American Academy of Arts and Sciences and the American Philosophical Society.
Theda Skocpol has held fellowships from the John Simon Guggenheim Foundation, the Institute for Advanced Study in Princeton, the Russell Sage Foundation, and the Robert Wood Johnson Foundation.
Skocpol has been awarded honorary degrees by Michigan State University, Northwestern University, and Amherst College.
Campaign for America's Future
In 1996 Theda Skocpol, Harvard University was one of the original 130 founders of Campaign for America's Future.[4]
Writing and revolution
Theda Skocpol's first book[5], States and Social Revolutions: A Comparative Analysis of France, Russia, and China (1979), won the 1979 C. Wright Mills Award and the 1980 American Sociological Association Award for a Distinguished Contribution to Scholarship.
A leader in historical-institutionaland comparative research, Skocpol edited Vision and Method in Historical Sociology (1984) and co-edited the influential Social Science Research Council collection Bringing the State Back In (1985).
Since the early 1990s years, Skocpol's research has focused on U.S. politics in historical and comparative perspective. Her Protecting Soldiers and Mothers: The Political Origins of Social Policy in the United States (1992), won five scholarly awards.
Skocpol's recent books include Boomerang: Health Reform and the Turn Against Government (1996); Diminished Democracy: From Membership to Management in American Civic Life (2003).
What a Mighty Power We Can Be: African American Fraternal Groups and the Struggle for Racial Equality (with Ariane Liazos and Marshall Ganz, 2006, winner of the Oliver Cromwell Cox Award); and The Transformation of American Politics (co-edited with Paul Pierson, 2007).
Skocpol's current research focuses on civic engagement, governmental transformation, and reform politics in the United States and on the development of U.S. social and educational policies in historical and comparative perspective.
DSA member
In 1990 Theda Skocpol was named as a member of Democratic Socialists of America, in Democratic Left, Jan./Feb. 1990, page 13.
At the Democratic Socialists of America National Political Committee Meeting of September 26-27, 2009, members "brainstormed" on who could replace the late Ruth Spitz and one other opening for a woman among the DSA vice chairs. Suggestions were: Teresa Ghilarducci "at times a member", Katha Pollitt, Christine Kelly "joined at conference", Judith Deutsch, Theda Skocpol "if Joe approaches her to ask her to rejoin", Juliet Schor "a member on and off", "less likely": Holly Sklar, Peg Strobel. All names were referred to the Steering Committee.[6]
National Jobs For All Coalition
In 2010, Theda Skocpol, Victor S. Thomas Prof. of Government and Sociology, Harvard Univ. , was listed as serving on the advisory board of the Democratic Socialists of America dominated National Jobs For All Coalition.[7]
References