Terry Johnson
From KeyWiki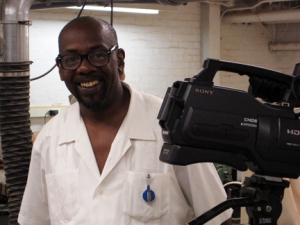 Terry E. Johnson is a black journalist, who grew up in Michigan.
Career
Terry Johnson as a journalist for the Philadelphia Inquirer, Newsweek magazine, and served as city editor of The Village Voice.
He has served as press secretary for the Pennsylvania Department of Public Welfare and as a writing teacher at the Career Development and Advancement Institute. For 12 years, Johnson published Real News, a "radical leftist"[1] magazine, and The Business Review, a financial magazine aimed at African American and Latino small business owners.
Most recently Johnson has taken up documentary filmmaking and serve on the board of the Philadelphia Public Access Corporation, which is responsible for the launch of public cable television access channels in the city[2].
North Americans in Support of Angola
The Angola Support Conference ran from May 28 - 30, 1976 in Chicago. The event was sponsored by the U.S. Out of Angola Committee and the National Conference of Black Lawyers.
Terry Johnson was a delegate at the conference.[3]
Associate of Tony Monteiro
In Philadelphia Terry Johnson was "hanging around" with communist Anthony Monteiro[4].
East Bloc visit
In 1985, a delegation of 16 Afro-American journalists traveled to the Soviet Union, German Democratic Republic and Czechoslovakia[5].
The delegation consisted of
The trip was organized by International Organization of Journalists executive Don Rojas, the American educated former press secretary to Grenada's late leader Maurice Bishop[7], in conjunction with the Black Press Institute, the National Alliance of Black Journalists and the National Newspaper Publishers Association-the US's largest organization of owners of black newspapers.
According to one of the tours leaders Alice Palmer[8];
The trip was extraordinary because we were able to sit down with our counterparts and with the seats of power in three major capitals-Prague, Berlin and Moscow. We visited with foreign ministers, we talked with the editors of the major newspapers in these three cities...
It was a very unusual trip because we were given access...Every effort was made to give us as much as we asked for...We came back feeling that we could speak very well about the interest of the socialist countries in promoting peace.
This was before the (Soviet nuclear test ban) moratorium, this was before the Reykjavik offers...It was very clear to us in our conversations and interviews with people at that time, that this was already something of concern and, something that would be promoted when the opportunity arose, as we can see that it has been.
Black Scholar article
In 1986 Terry E. Johnson wrote "Black Journalists Visit Eastern Europe" for the The Black Scholar[9].
Black Press Institute
In 1987 Terry Johnson was on the Board of Directors of the Black Press Institute[10].
Communist Party paper
In 1992 Terry Johnson was involved in the production of People's Weekly World, the New York based newspaper of the Communist Party USA[11].
References