Terry Bermea
From KeyWiki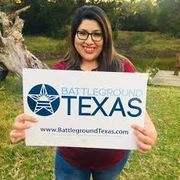 Terry Bermea is a San Antonio activist. She is the Field Director for Battleground Texas. Terry grew up in the Rio Grande Valley in Mission, TX. She began her career in organizing in 2014 with Battleground Texas in Laredo & San Antonio. After this, she continued her work in Bexar and surrounding counties as a navigator for the ACA, where she educated and assisted individuals in enrolling in ACA plans. In 2016, Terry organized with the Democratic Party of Virginia and HFA in Prince William County until October. In an exciting turn of events, she ended the 2016 election organizing for HFA in Utah.[1]
Education
Career
Battleground Texas team
Terry Bermea, August 3 2018.
I'm proud to be a part of the hardest working field team in Texas. When you register voters, there are no lists, you have to be intentional about the work you do everyday. So proud of this team for crushing it all day everyday. We are ready to help elect some great Democrats in November! Let's gooo! #GameOn #TeamBGTX — with Jay Franzone, Joshua E. Rodriguez, Ben Miller, Abel Prado and Jess Weldon.
References