Teresa Basilio
From KeyWiki
Teresa Basilio is a New York City activist.
Rent Freeze Now!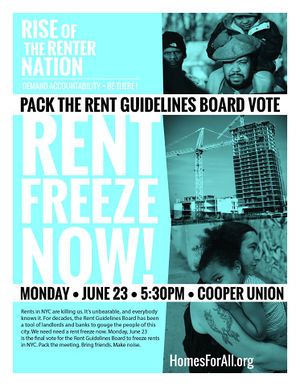 Lenina Nadal June 17, 2014;
Let's do this. Please share. — with George Ciccariello-Maher, Kate Cavanagh, Claudia Copeland, Maria Elena Perez, Maribel Cordero-Garcia, En Bey, Estevan Lee Roman, Beka Economopoulos, Ejima Baker-Morales, Crecensio Morales, Eulan Atkinson, Heidi Schwa, Stuart Ewen, Teresa Basilio, Jed Brandt, Eric Odell, Brian Hernandez, Christopher Gunderson, Janvieve Williams Comrie, Laurie Davidson, Mark Swier, Ramiro Campos, El Lopex, Jesse Ehrensaft-Hawley, Elisha Miranda, Prof. Antonio Nadal, Digna Sanchez, Elizabeth Walsh, Blandon Casenave, Kazembe Balagun, Dasha Munoz, Caridad De La Luz, Yasmeen Perez, Yvonne Enid Rodriguez-MacDonald, Lilo Carr Rivera, Esther Wang, Stomp Box, Dee PoeticalGenius, Esperanza Martell, Eddy Nelson Rivera, Tamara Czyzyk, Jessica Klonsky, Luz Schreiber, Carlos J. Serrano and Roger Bonair-Agard.
Freedom Road meeting
Spring 2015, the New York/New Jersey District of Freedom Road Socialist Organization sponsored a forum entitled "Ferguson: The Movement So Far and Lessons for Coming Struggles." The first speaker was "our comrade", Montague Simmons, Chair of the legendary Organization for Black Struggle in St. Louis.[1]
The meeting was held 39 Eldridge St,New York, 19 March 2015. Organized by Eric Odell.
A Discussion with Montague Simmons Chair of the Organization of Black Struggle – St. Louis and labor organizer
Loyda Colon Co-Director of the Justice Committee, a Latina/Latino-led organization dedicated to building a movement against police violence and systemic racism in New York City
Speaking for the first time in NYC since the police murder of Michael Brown, the chair of OBS, which played a major role in the Ferguson protests, discusses the new strategies, organizational forms and social forces that emerged there, and how the movement was sustained. Loyda Colon will reflect on the Justice Committee's work organizing with families directly impacted by police violence, and will share their thoughts on the current movement in NYC.
Together they will share their thoughts on key questions for the movements against police abuse that are erupting around the country. How do we hold together broad united fronts with different generations, cultures, classes and political perspectives? What's the role of anti-capitalists and socialists? What kind of policing reforms do we want and how do they relate to other issues in our communities, and to radical social transformation?[2]
Those signalling their intention to attend on Wherevent included John McCarthy, Juliet Ucelli, Betty Yu, Lily Defriend, Wai Yee Poon, David Unger, Matthew Tinker, Ryan Briles, Enbion Micah Aan, Erick Moreno, Terry Marshall, Jesse Baboo, Daniel Tasripin, Anton Han Kiang, Starlitekid Cosmos, Clayton Nino Brown, Miguel Marrero-Bermudez, Joy Schulman, Jeanne D. Shaw, Mark Swier, Stephanie Zukasaka, Denise Chupacabral, Anne Mitchell, Emma Pliskin, Oriana Roeckraeyer, Lara Shepard-Blue, Karly Safar, Robina Rai, Man See Kong, Teresa Basilio, Aisha Shillingford, Adriana Cruz, Ofie Virtucio, Rivka Paradis, Katrina Cortes, Sharice Richards.[3]
References