Tamara Czyzyk
From KeyWiki
Tamara Czyzyk
Rent Freeze Now!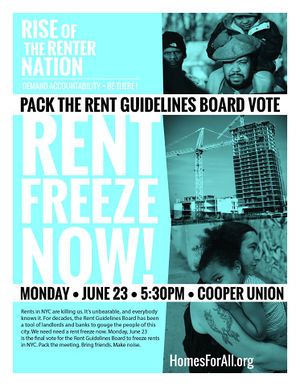 Lenina Nadal June 17, 2014;
Let's do this. Please share. — with George Ciccariello-Maher, Kate Cavanagh, Claudia Copeland, Maria Elena Perez, Maribel Cordero-Garcia, En Bey, Estevan Lee Roman, Beka Economopoulos, Ejima Baker-Morales, Crecensio Morales, Eulan Atkinson, Heidi Schwa, Stuart Ewen, Teresa Basilio, Jed Brandt, Eric Odell, Brian Hernandez, Christopher Gunderson, Janvieve Williams Comrie, Laurie Davidson, Mark Swier, Ramiro Campos, El Lopex, Jesse Ehrensaft-Hawley, Elisha Miranda, Prof. Antonio Nadal, Digna Sanchez, Elizabeth Walsh, Blandon Casenave, Kazembe Balagun, Dasha Munoz, Caridad De La Luz, Yasmeen Perez, Yvonne Enid Rodriguez-MacDonald, Lilo Carr Rivera, Esther Wang, Stomp Box, Dee PoeticalGenius, Esperanza Martell, Eddy Nelson Rivera, Tamara Czyzyk, Jessica Klonsky, Luz Schreiber, Carlos J. Serrano and Roger Bonair-Agard.
FUREE
Families United for Racial and Economic Equality (FUREE), July 19, 2013;
With Rusia Mohiuddin, Betty Yu, Numi Dee, Krysten Brown-Green, Jumaane D. Williams, Hasan Salaam, Eric Valentin, Jr., Jessica Alfreds, Carrie Gleason, John M. Blasco, Laurie Cumbo, Wanda Imasuen, Irini Neofotistos, Bryan K. Echols, Lynn Lewis, Fahd Ahmed, Joan Gibbs, Andrea Nelson, Lucas Shapiro, Tenelle Breukelen, Peter Hardie, Mo Meazy George, Marquis Jenkins, Imani Henry, Jack Aponte, Tamara Czyzyk, Maurice Moe Mitchell, Elizabeth Yeampierre, Lumumba Bandele, Pamela Hamilton-Brown, Colleen Vincent, Tony Herbert, Cyril Innis, Jr., Jelani Likeitis Mashariki, Fernando Carlo, Lisa Ortega, Shawne Lee, Nathalie Alegre Velarde, Lyrik Tehuti, Fly Guy Yoshi, Kazembe Balagun, Eman Rimawi, Mw Payne, Orlando Green, Nichi Floetic Valentino, Ilana Berger, Byron Hurt and Malik Abu Khalid.
References