Transport Workers Union
From KeyWiki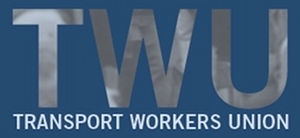 The Transport Workers International Union of America is an AFL-CIO union founded in 1934 and representing 130,000 transit workers in divisions, including Railroad, Gaming, Airline and Transist, Utility, University and Service.
James C. Little is the current President, Joseph C. Gordon is the Secretary-Treasurer and Harry Lombardo is the Executive Vice President.[1]
According to its website, the TWU was "the first union to endorse Illinois Sen. Barack Obama for the presidency.[2]
Communist origins
TWU was founded in the 1930's, specifically as a project of the Communist Party USA. At the time the party was forming "Red" unions and it was decided that urban mass transit was ripe for such a project. Towards that end the Party supported an organizing drive in transit. Even then, though, the Party was reticent to reveal its role and that of the individual organizers. A "creation" myth was concocted about the union being founded by a bunch of Irish nationalists meeting in a Columbus Circle dinner. There were a lot of workers of Irish origin in transit and the organizers did take advantage of the already existing social networks of these workers and, sometimes even adapted phony Irish personas, (they were called "synthetic" Irishmen), but the Columbus Circle story is a myth. In reality it was the CPUSA that organized transit and founded the TWU and all the original leaders of the union, including Mike Quill, were members, although most of the time, due to the knee jerk anti-communism that existed even in those days and the political backwardness of much of the workforce they were "underground".[3]
External links
References