Susan Thorpe
Jump to navigation
Jump to search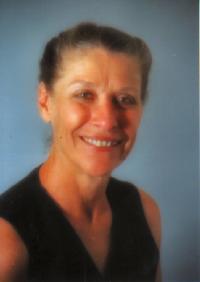 Template:TOCnestleft Susan Thorpe is an Arizona activist.
Career
Susan Thorpe has been a realtor since 1985.
Thorpe on Grijalva campaign
Tucson Communist Party USA supporter Susan Thorpe wrote an article covering the 2002 Grijalva campaign for the People's World, November 8, 2003, page 5 entitled "Arizona: Grassroots can beat big bucks"
Nevertheless, here in Tucson, we are gearing up for local elections in 2003 and the presidential election ahead in 2004 by using the same tactics we did in 2002 to get Raul Grijalva elected to Congress.
Pima County, which contains most of Grijalva's district, had a 67 percent voter turnout for the November 2002 election – the second highest in the entire United States. This is mainly because for months on end, teams of volunteers, every Saturday and Sunday – and weekdays as well – walked all the precincts three to five times in the sweltering 105-plus degree heat all summer long, getting vote-by-mail requests signed, registering voters, and dropping information brochures behind screen doors and hanging on doorknobs. We tracked the reception from each household, refreshed information over and over again in computers to generate the next walking lists, had art sales and house parties to fundraise. We followed up on election day by walking all the precincts twice more that day, making phone calls to remind folks to vote, driving people to the polls, manning all the voting locations – whatever it took. Massive effort from many folks for maximum payoff: That is what it takes.
The election night party was incredible, with folks trailing back to Grijalva campaign headquarters wet and windblown after a raging storm in the late afternoon soaked the volunteers walking precincts and manning voting locations.
Like the media is doing to Dennis Kucinich right now, halfway through the campaign, local papers said that Raul Grijalva was not going to make it. He was not deemed to be even among the top five and had less than half the money of Elaine Richardson (who was heavily supported by Republican car dealers, developers, and Emily's List). His rag-tag band of volunteers were just a pathetic joke to the pundits...
Congressman Raul Grijalva is proving to be a wonderful voice for the people of Arizona. And our movement and those important connections made during his campaign are still alive in Tucson.
Open Letter to Obama on Iran
In 2008 Susan Thorpe of Tucson Peace Action Coalition, Tucson, AZ signed an online petition "A Open Letter to Barack Obama on Iran".[1]
Arizona "progressive" community
On May 1 2009, this statement appeared in the Communist Party USA paper Peoples World;[2]
Arizona's progressive community extends May Day and Cinco de Mayo greetings to all our friends across the country. We commit ourselves to join the struggle for jobs, equality, national health care, a fair immigration policy, and for peace and justice in the Middle East. Let's make this planet a good place to live for all its inhabitants.
Arizona Peace Council, AZ4NORML, Campaign for Labor Rights, The Einstein Academy, Casa Maria/Catholic Worker East Valley Club Communist Party USA, Law Office of Payson & Gattone, The Latino Doctrine (TV show) Revolutionary Grounds Books and Coffee, Salt of the Earth Labor College Tucson Club CPUSA , Tucson Peace Action Coalition
Clyde Appleton, Mary Elinor Adams, Rolande Baker, Anne Brenner, Joe Bernick and Cat Stelman, Nancy Bissell, Jack Blawis, Don Buchanan, Richard Boren, Susan Clark, Rebeca Cartes, Eugenia Chilton,Jack DeWeese, Howard Druan, & DD Sande,Gregory Feesl, Ray Figueroa, Brian Flagg, Michael Flower, Sean Fowlkes, Nancy Gallen, Maggie Gerring, Michael Gray, Nancy Graham, James Hannley, Beverly Halkias, Jeff Imig, Mansur Johnson, James Jordan & Raquel Mogollon, Frank Jents, Marilyn Kramer, John Kromko, Jim Kincaid, Brandy Lintencum, Rob McElwain, Mary MacEwan, John Mackoviak, Jane Martin & Bob Vint, Jon Miles, Nancy Myers, Kathy Norgard, Richard Osburn, Ismael Parra, Nancy Pontius , Alice Ritter, Carlos Salaz, Sr., Mazda Shirazi, Rosemary Solarez, James Stewart, Brian Stevens, Olga Strickland, Donald Tewels, Dennis Tallent & Laura Tallent, Anita Torrez & Lorenzo Torrez, Carolyn Trowbridge & Keith Bagwell, Susan Thorpe, Steve Valencia & Janet Valencia, Edward Vargas, Steve Wheaton, Michael Wheeler,Susan Willis , Wendell Wilson, Deb Wilmer.
References