Suhail Khan
From KeyWiki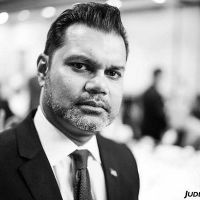 Suhail Khan
Erase The Hate's Advisory Council, "thought leaders who are helping to combat prejudice on critical fronts, worked together to select the six Change Makers." The council members included Suhail Khan, Senior Fellow for Muslim-Christian Understanding at the Institute for Global Engagement and Director of External Affairs at Microsoft Corporation:[1]
Muslim Collective for Equitable Democracy Conference
In July 2019 Congressmembers Rashida Tlaib, Ilhan Omar, Judy Chu, Susan Wild and Betty McCollum addressed the inaugural Muslim Collective for Equitable Democracy Conference and Presidential Forum July 23-24 at the Washington DC National Housing Center.
Other speakers included Keith Ellison, Abdul El-Sayed, Khizr Khan, Basheer Jones, Omar Suleiman, Sam Rasoul, Zahra Billoo, Catherine Orsborn, Corey Saylor, Daniel L. Weiner Dalia Mogahed, Prof. Asifa Quraishi-Landes, James Zogby, Farhana Kheera, Suhail Khan, Mike Ghouse, Zainab Cheema, Sister Simone Campbell, Scott Simpson, Shaun Kennedy, Ken Martin, Sadaf Jaffer, Dilara Saeed, Luqmaan Bokhary, Nabilah Islam, Movita Johnson-Harrell, Rummi Khan, Ghazala Hashmi, Shahed Amanullah,Sevim Kalyoncu, Ani Osman-Zonneveld, Yasmeen Awwad, Amira Daugherty, Sabina Taj, Asina Silva, Dr. Jay Jalisi.
References