Sue Purrington
Jump to navigation
Jump to search
Template:TOCnestleft Sue Purrington is a Chicago feminist and socialist.
Democratic Alternatives conference
On October 31 1987 Chicago Democratic Socialists of America, hosted the Illinois Democratic Alternatives conference.
Sponsors included Congressman Charles Hayes, Paul Gibson from the UAW, Sue Purrington from Chicago NOW, Alderman Danny Davis, Charles Williams, IAM and Sen, Howard Brookins. [1]
DSA member
In 1992, Sue Purrington was a member of Democratic Socialists of America.[2]
Backing Carol Moseley Braun
In 1992 Carol Moseley Braun was persuaded to run for the United States Senate in Illinois.
Sue Purrington played a role[3]in Moseley Braun's decision.
The 34th Annual Dinner was held on May 1, 1992 at the Congress Hotel in Chicago. The Master of Ceremonies was Michael Lighty, who was then the Executive Director of DSA. Sue Purrington, the Executive Director of Chicago NOW, and Dr. Quentin Young, President of Physicians for a National Health Program, were the honorees. The featured speaker was Jose LaLuz, who was the National Education Director of the Amalgamated Clothing and Textile Workers Union.
Like Michael Lighty, Quentin Young and Jose LaLuz were also DSA members.
Sue Purrington-We honor you as a career fighter for women's rights and equality...
You were instrumental in persuading Carol Moseley Braun to start her campaign to become Senator from Illinois then you produced votes to back up your pledge of support.
Purrington later worked as a legislative aide to Braun.
DSA award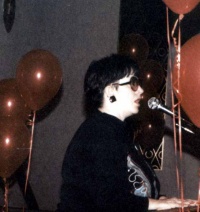 Progressive Chicago
A Progressive Chicago report to Keith Kelleher, dated October 27, 1993 listed several more contacts and potential members of the organization.
It stated that Alderman Joe Moore had agreed to participate and that State senator Alice Palmer was interested and was awaiting a call from Peter McClennon.
Members had been allocated people to contact;
Others targeted for contact, but not assigned, included Clem Balanoff, Sue Purrington of NOW, Jane Ramsey at JCUA, Erlean Collins, Westside Black elected officials and PUSH, TWO and Joe Gardner's Project Hope.[4]
Working for Hairston
In the late 2000s, Sue Purrington worked as assistant to 5th Ward Alderman Leslie Hairston.[5]
References