Studs Terkel
From KeyWiki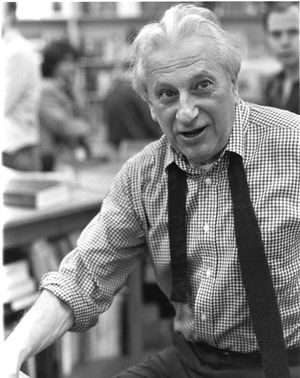 Studs Terkel
Scientific and Cultural Conference for World Peace
Studs Terkel was a sponsor of the Scientific and Cultural Conference for World Peace which ran from March 25 - 27, 1949 in New York City. It was arranged by a Communist Party USA front organization known as the National Council of the Arts, Sciences, and Professions. The conference was a follow-up to a similar gathering, the strongly anti-America, pro-Soviet World Congress of Intellectuals which was held in Poland, August 25 - 28, 1948.[1]
GI Civil Liberties Defense Committee
Circa 1969, Studs Terkel, Author, Chicago, was listed as a sponsor of the Socialist Workers Party led GI Civil Liberties Defense Committee.[2]
Socialist Debs award
Every year since the mid 1960s the Indiana based Eugene V. Debs Foundation holds Eugene Debs Award Banquet in Terre Haute, to honor an approved social or labor activist. The 1983 honoree, was Studs Terkel.[3]
Clergy and Laity Concerned, Chicago Chapter
In 1983, Studs Terkel, Clergy and Laity Concerned, served on the Board of Directors for the Clergy and Laity Concerned, Chicago Chapter. [4]
IPS connection
Studs Terkel was a member of the Institute for Policy Studies 20th Anniversary celebrations committee which organized an April 5, 1983, reception at the National Building Museum attended by approximately 1,000 IPS staffers and former staff.[5]
"Solidarity"
Circa 1984, July 17, at the Great Electronic Underground, San Francisco, Democratic Socialists of America's American Solidarity Movement organized a reception "Solidarity"at the Democratic Party Convention, in support of US labor.
Sponsors included Studs Terkel.[6]
Tribute to Golub and Montgomery
On November 16, 1989, Studs Terkel and Ida Terkal served on the Tribute Committee for the Chicago Committee to Defend the Bill of Rights Tribute to Leon Golub and Lucy Montgomery, held at the Congress Hotel, Chicago.[7]
Communist "Manifestivity"
On October 30 and 31, 1998 the Brecht Forum presented the "Communist Manifestivity to celebrate the 150th Anniversary of the Communist Manifesto" at Cooper Union's Great Hall, New York.
Individual endorsers of the event included Studs Terkel.[8]
Rosenberg Fund for Children
In 2003 Studs Terkel was on the Advisory Board of the Rosenberg Fund for Children[9].
Chicago Area Friends of SNCC
In 2005 Chicago Area Friends of SNCC organized the "Tell the Story: The Chicago SNCC History Project, 1960-1965" Chicago Area Friends of the Student Nonviolent Coordinating Committee and the Chicago Civil Rights Movement, c. 1960-1965. The event was held October 21-22, 2005 Roosevelt University, Chicago, Illinois.
The Honorary Co Chairs consisted of:
Honoring Frank Wilkinson
Chicago Committee to Defend the Bill of Rights organized a "Celebration of the The Dynamic Life of Frank Wilkinson (1914-2006)" on Sunday October 29, 2006. Wilkinson had been a leader of the Communist Party USA, the New American Movement and Democratic Socialists of America[11].
Honoring Committee members included Studs Terkel .
MDS Board member
On February 17, 2007, the Movement for a Democratic Society held a well attended conference[12]at New York City's New School University.
The business portion of the meeting followed with each board nominee introducing themselves to the conference. The board, a very diverse group, was voted in by acclamation... Board nominees where were not able to attend the conference were included in the appointment by acclamation. The list included Elliott Adams, Panama Vicente Alba, Tariq Ali, Stanley Aronowitz, David Barsamian, Rosalyn Baxandall, John Bracey, Jr., John Brittain, Robb Burlage, Noam Chomsky, Jayne Cortez, Carl Davidson, Angela Davis, Bernardine Dohrn, Barbara Epstein, Gustavo Esteva, Lawrence Ferlinghetti, Stephen Fleischman, Bill Fletcher Jr, Tom Hayden, Gerald Horne, Florence Howe, Mike James, Robin D G Kelley, Alice Kessler Harris, Rashid Khalidi, Mike Klonsky, Betita Martinez, Ethelbert Miller, Roxanne Dunbar-Ortiz, Barbara Ransby, Patricia Rose, Michael Rossman, Studs Terkel, Charlene Teters, Jerry Tucker, Immanuel Wallerstein, Cornel West, Leonard Weinglass and Howard Zinn.
Evening with Sister Helen Prejean
The Chicago Committee to Defend the Bill of Rights and the Bill of Rights Foundation presented an evening with anti death penalty campaigner Sister Helen Prejean March 15, 2007.
The event was endorsed by: Timuel Black, Jane Bohman, Locke Bowman, Thomas Breen, Rep. Danny Davis, Tony Fitzpatrick, Aviva Futorian, Bernard Harcourt, Jeffrey Howard, Rabbi Peter S. Knobel, Elizabeth Kooy, Peter Kuttner (IATSE Local 600), Barbara Lannan and John Lannan, Haki Madhubuti, Martin Marty, Lisel Mueller, Sara Paretsky, Father Arturo Perez, Mary Powers, Dick Simpson, Elizabeth Solomon, Thomas Sullivan, Studs Terkel, Scott Turow, Standish E. Willis ; All Saints' Episcopal Church, Campaign to End the Death Penalty, Black Radical Congress, Center on Wrongful Convictions, 8th Day Center for Justice, Illinois Coalition to Abolish the Death Penalty, The Lannan Foundation, the MacArthur Justice Center, Midwest Center for Justice, Murder Victims Families for Human Rights, National Alliance Against Racist and Political Repression[13]
Advisory Board Maurice & Jane Sugar Law Center
As at Winter, 2008, the following served on the Advisory Board of the Maurice & Jane Sugar Law Center:
References