Strategic Consulting Group
Jump to navigation
Jump to search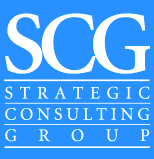 Template:TOCnestleft The Strategic Consulting Group is a political consulting firm that handles the cases of high-profile progressive organizations and political leaders.[1]
It is owned by Robert Creamer.
About
SCG is a full-service political consulting firm that combines the latest approaches to political messaging and voter contact with old-fashioned grassroots organizing.
SCG's principals have decades of experience developing and managing hundreds of issue and electoral campaigns, as well as voter mobilization programs.
Our client list includes key Congressional campaigns, Gubernatorial races, State Democratic Parties, unions, state legislative caucuses, dozens of candidates for municipal and state office and some of the nation's most important issue campaigns.
Whether it's fighting to end the War in Iraq, stopping the privatization of Social Security, passing universal health care, or electing a Democratic Congress, SCG has worked at the center of America's most important political struggles.[2]
Clients
Access Living of Chicago
AFSCME Council 31, Illinois
Anne Summers for Congress (D-NJ)
Benny Kiester for Delegate (D-VA)
Bill Curry for Governor (D-CT)
Bobby Rush for Congress (D-IL)
Brian Baird for Congress (D-WA)
Campaign for Quality Care, Illinois
Carol Moseley Braun for U.S. Senate (D-IL)
Chet Edwards for Congress (D-TX)
Citizen Action/Illinois
Citizen Action of New York
Citizens Information Service, Chicago
Citizens Utility Board, Illinois
Community Renewal Society, Chicago
David Cain for State Senate (D-TX)
David Phelps for Congress (D-IL)
David A. Scott for Congress (D-GA)
David Wu for Congress (D-OR)
Democratic Party of Colorado
Democratic Party of Illinois
Democratic Party of Maryland
Democratic Party of Nevada
Democratic Party of Pennsylvania
Democratic Party of Slovakia
Democratic Party of South Carolina
Democratic Party of Texas
Democratic Party of Virginia
Democratic Party of Washington
Dick Cranwell for Delegate (D-VA)
Elaine Bloom for Congress (D-FL)
Elijah Cummings for Congress (D-MD)
Howard Dean for Governor (D-VT)
Jan Schakowsky for Congress (D-IL)
Gerry Schipske for Congress (D-CA)
James Maloney for Congress (D-CT)
Joe Moore for 49th Ward Alderman (D-Chicago)
Joseph Mario Moreno for Town President (D-Cicero, IL)
John O'Connor for Congress (D-MA)
Lane Evans for Congress (D-IL)
Larry Suffredin for County Board (D-Cook, IL)
Lauren Beth Gash for Congress (D-IL)
Mark Green for Mayor (D-NY)
Maryanne Connelly for Congress (D-NJ)
Mike Easley for Governor (D-NC)
New Jersey Citizen Action
Oregon NARAL
Palm Beach County Democratic Party, Florida
Pat Casey for Congress (D-PA)
Richard M. Daley Campaign Committee (D-Chicago)
SEIU International Union
Sheila Jackson Lee for Congress (D-TX)
Shelley Berkley for Congress (D-NV)
Southwestern Electric Cooperative, Illinois
The World Learning Center, Washington, DC
Voters for Choice (Independent Expenditure)
External links
References