Steve Tarzynski
From KeyWiki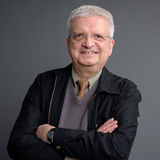 Dr. Steve Tarzynski is a Los Angeles based socialist and health activist.
He is a pediatrician the Kaiser Permanente West Los Angeles Medical Center. He's been a physician with Kaiser Permanente since 1984. He was born and raised in the Midwest, mainly in the Chicago area, by immigrant parents. He moved to Southern California with his Connecticut Yankee wife in 1975. The couple has lived here ever since, except for two years of medical service in southern Africa in the nation of Mozambique while his wife was doing her doctoral research in history there. The couple has two grown children. One daughter who is also a Kaiser Permanente pediatrician and one son who is an attorney and an officer in the United States Marine Corps. Dr. Tarzynski became a doctor because he was influenced by his own physician father and because of community activism in the 1960s and 1970s. [1]
New American Movement
Tarzynski was active in the 1970s in the California New American Movement with Dorothy Healey.[2]
In 1980 Steve Tarzynski, Chair, Health Commission was a delegate to the December 12-14 Chicago, National Council meeting of the New American Movement[3].
Between 1980 and 1981 Steve Tarzynski, California was the chair of the Health Commission of the New American Movement.[4]
Circa 1980 Tarzynski was a member of the Los Angeles based Harriet Tubman chapter of NAM.
In 1981 the NAM national interim committee consisted of;
Bill Barclay (PC), Laura Berg (Portland NAM), Holly Graff (PC), John Haer (Pittsburgh NAM), Rick Kunnes (PC), Halli Lehrer (Chicago Northside NAM), Christine Riddiough (Blazing Star NAM), Glenn Scott (Austin NAM), and Steve Tarzynski (Los Angelos NAM), Robert Shaffer (New York NAM).[5]
New American Movement 10th convention
In 1981 Steve Tarzynski, Chair, Health commission led a workshop entitled Health Commission at the 10th Convention of the New American Movement. The convention was held in a union headquarters in Chicago and ran from July 29 - August 2, 1981.
Tarzynski also spoke alongside Mike Rotkin, Santa Cruz NAM; Glenn Scott, Chair, Anti-racist Commission and Randy Cunningham, Chair, Urban Commission led a workshop entitled Pieces of State Power: Urban Electoral Coalitions.[6]
Tribute to Ben Dobbs
On Sunday, June 7, 1981, the Los Angeles Chapter of the New American Movement sponsored a Tribute to Ben Dobbs for "His lifelong commitment to socialism". The event was held at the Miramar-Sheraton Hotel, Santa Monica, California. Sponsors of the event included Steve Tarzynski.[7]
Santa Monica DSA
In the early 1980's Steve Tarzynski was a member of Santa Monica Democratic Socialists of America[8].
Los Angeles DSA
In the early 1980's Steve Tarzynski was a leading member of Los Angeles Democratic Socialists of America[9].
Los Angeles DSA Executive Board 1989
According to Los Angeles Left October 1989, Los Angeles Democratic Socialists of America's Executive Board consisted of Ben Dobbs, Brad Jones, Barbara Hooper, Claire Kaplan, Bob Niemann, Paul Schimek, Harold Meyerson, Steve Tarzynski.
Mozambique Support Network
A meeting of Mozambique Support Network took place Friday, March 11, 1988 and Saturday, March 12,1988 at the Lutheran School of Theology in Chicago, Illinois.
Attending the meeting were Roberta Washington, Co-chair (New York), Lisa Anderson (Idaho), Alan Isaacman, Co-chair (Minnesota), Damu Smith (Washington DC), Dan Murphy (Iowa), Mackie Mcleod (Boston), Geri Seese-Green (Oregon), Chris Root (Michigan), Stephanie Urdang (New York), Paul Epstein (Boston), Bassiru (Madison), Andy Epstein (Boston), Bill Martin, Anne Evens (Chicago), Sister Joanette Nitz (Detroit), Carrie Pratt (Madison), Prexy Nesbitt (Chicago), Dave Wiley (Michigan), Heather Gray (Atlanta), Ned Alpers, Otis Cunningham (Chicago)
Regrets were sent by Mike Johnson (Iowa), Kevin Danaher (California), Bill Minter, Kathy Flewellen (Washington, DC), Ruth Minter (Maryland), Kathie Sheldon and Steve Tarzynski (California), Paula Voelkel (Wisconsin), Coke McCord (New York) and Todd Hawkins (Washington), Treasurer Lisa Brock was unable to attend due to the tragic death of her mother in Ohio.[10]
CrossRoads
In the mid 1990s Tarzynski was[11]a contributing editor to Oakland based Institute for Social and Economic Studies- sponsor of CrossRoads magazine, which sought to promote dialogue and building new alliances among progressives and leftists... and to bring diverse Marxist and socialist traditions to bear while exploring new strategies and directions for the progressive political movements.
DSA potential donors list
On January 21, 1992 Steve Tarzynski, National Political Committee of Democratic Socialists of America, wrote a letter to "Harold" (probably Harold Meyerson).
"Following is the list of possible major donors I can think of to pledge support for Trish and our program in southern California. Additions and comments sorely needed."
Question marks in original list.[12]
Los Angeles DSA potential donors list
On July 26 1992 California Democratic Socialists of America leader Steve Tarzynski wrote a draft "major donor letter" for Southern California DSA, inviting donors to join the Upton Sinclair Club of DSA[13]
We know you have been generous in supporting DSA's important work in the past. We'd like to develop a core of at least twelve people who will pledge 1,000 annually to keep our Organization working for Southern California DSA. We invite you to be one of those people. This select group of members and friends would have a key role in rebuilding a democratic left opposition in California.
This unique group of individuals would form the "Upton Sinclair Club" which will act in an advisory role meeting with the Southern California DSA leadership at an annual brunch. Sinclair Club members will receive a quarterly bulletin reporting on Southern California DSA's progress, and will have an opportunity to meet international DSA spokespeople and international guest speakers in more intimate small group settings. Admission to all local, statewide, and national DSA events in the Southern California would be complimentary with membership in the Sinclair Club.
The draft was accompanied by a "List of Potential major donors to DSA"
"Westside Friends of Jackie Goldberg"
Signatories to a letter from Westside Friends of Jackie Goldberg, dated January 15, 1993 were;
California DSA "Key" list
In 1993 Steve Tarzynski of Santa Monica, California was on a list of "Key' California Democratic Socialists of America contacts.[14]
DSA
In 1994 Steve Tarzynski and Karen Marie Gibson, were members of the Democratic Socialists of America Steering Committee[15].
CoC National Conference endorser
In 1992 Steve Tarzynski, Democratic Socialists of America, National Political Committeee, Los Angeles endorsed the Committees of Correspondence national conference Conference on Perspectives for Democracy and Socialism in the 90s held at Berkeley California July 17-19.[16]
"Single payer" book
A book, "Caring for the Uninsured and Underinsured A Better-Quality Alternative: Single-Payer National Health System Reform" was released in 1994 by the Physicians for a National Health Program Quality of Care Working Group, Contributors included;
Gordon Schiff; Andrew Bindman; Troyen Brennan; Thomas Bodenheimer; Carolyn Clancy; Oliver Fein; Ida Hellander; David Himmelstein; Linda Rae Murray; T. Donald Rucker; Ron Sable; Jeffrey Scavron; Ronald Shansky; Ellen Shaffer; David Slobodkin; Steve Tarzynski; Steffie Woolhandler; Quentin Young.
Socialists organize to "challenge for power" in Los Angeles
On March 11, 1998, Los Angeles Democratic Socialists of America leader Steve Tarzynski wrote an email to another Los Angeles DSA leader Harold Meyerson.
Tarzynski listed 25 people he thought should be on an "A-list" of "25 or so leaders/activists/intellectuals and/or "eminent persons" who would gather periodically to theorize/strategize about how to rebuild a progressive movement in our metropolitan area that could challenge for power."
Tarzynski listed himself, Harold Meyerson, Karen Bass, Sylvia Castillo, Gary Phillips, Joe Hicks, Richard Rothstein, Steve Cancian, Larry Frank, Torie Osborn, Rudy Acuna, Aris Anagnos, Abby Arnold, Carl Boggs, Blase Bonpane, Rick Brown, Stanley Sheinbaum, Alice Callahan, Jim Conn, Peter Dreier, Maria Elena Durazo, Miguel Contreras, Mike Davis, Bill Gallegos, Bob Gottlieb, Kent Wong, Russell Jacoby, Bong Hwan Kim, Paula Litt (and Barry Litt, with a question mark), Peter Olney, Derek Shearer, Clancy Sigal and Anthony Thigpenn.
Included in a suggested elected officials sub-group were Mark Ridley-Thomas, Gloria Romero, Jackie Goldberg, Gil Cedillo, Tom Hayden, Antonio Villaraigosa, Paul Rosenstein and Congressmen Xavier Becerra, Henry Waxman and Maxine Waters.
Tarzynski went on to write "I think we should limit the group to 25 max, otherwise group dynamics begins to break down....As i said, I would like this to take place in a nice place with good food and drink...it should properly be an all day event."
Community Coalition
In 2009 Steve Tarzynski was listed as a member of the Board of Directors as the Vice Chairman of the Community Coalition.[17]
Physicians for a National Health Program
Steve Tarzynski is a practicing pediatrician with over three decades of activism on healthcare reform. He is a board member of the California Physicians Alliance, the state Physicians for a National Health Program affiliate. He is also the chair of the Los Angeles chapter of PNHP.[18]
References