Steve Israel
From KeyWiki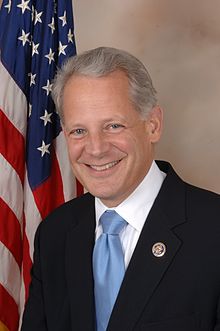 Steve Israel is a Democratic member of the United States House of Representatives, representing the 3rd district of New York.
He is a member of the Democratic Party and was head of the Democratic Congressional Campaign Committee until November 2014. Before serving in Congress, he served on the Huntington, New York town board. He was born in New York.
He is the sixth ranking member of the House Democratic Leadership, serving as Chair of Policy & Communications, where he focuses on the issue of middle-class economic security and opportunity. While speaking to the House Democratic Caucus in 2013, former President Bill Clinton called Congressman Israel "one of the most thoughtful people in the House of Representatives."
Rep. Israel serves New York on one of the most important committees in Congress: Appropriations. On the Defense Subcommittee he is a strong and forceful supporter of national security programs that protect our nation against evolving threats, including cyberattacks. On the Interior Subcommittee he is an environmental champion, protecting air, water, national parks and in particular, investments in the Long Island Sound.
He is often described as right-of-center on foreign policy and national security; and left-of-center on social issues, civil rights and the environment.[1]
Background
Israel was born in Brooklyn, New York and grew up in Wantagh, on Long Island. He graduated from Nassau Community College and George Washington University. At George Washington University, he worked as an aide for Robert Matsui and then Richard Ottinger. Israel went on to become Suffolk County director of the American Jewish Congress. In 1987 he unsuccessfully ran for a seat in the county legislature. After this defeat, he spent three years working as an aide to the Suffolk County executive and founded a PR and marketing firm.
He was elected to the town council in Huntington, New York, in 1993. [2]
After Rick Lazio left his House seat to run for the United States Senate in 2001, Israel was elected to his seat, receiving 48% of the vote, defeating Republican Joan Jonhson, who received 34%, and four independent candidates.
Supported by Council for a Livable World
The Council for a Livable World, founded in 1962 by long-time socialist activist and alleged Soviet agent, Leo Szilard, is a non-profit advocacy organization that seeks to "reduce the danger of nuclear weapons and increase national security", primarily through supporting progressive, congressional candidates who support their policies. The Council supported Steve Israel in his successful House of Representatives run as candidate for New York.[3]
Anti War?
From Mary Beth Moore, Long Island Alliance for Peaceful Alternatives, January 2010, Stop-Bys to Long Island Congressional Offices;
Rep. Steve Israel: Sheila Croke met him coincidentally and used the opportunity to ask if he would oppose the funding for the war. Israel is considering opposition and stated he would consult with local peace activists before making his decision. A longer meeting with aide confirmed that Israel recent trip to Afghanistan leads him to conclude that "things are not good there."[4]
Long Island Progressive Coalition
Steve Israel is very close to the Democratic Socialists of America led Long Island Progressive Coalition.
LIPC friends
Is the Meeting We've Been Waiting For? Congressman Steve Israel's website has announced that he's holding a Health Care town hall meeting on October 5 2009 at Suffolk Community College in Brentwood. The meeting time is set for 6:30pm, but Isreal has asked his friends -- including those at the Long Island Progressive Coalition -- to meet there at 5pm. [5]
Garrett Armwood connection
Garrett Armwood is Outreach Coordinator for Congressman Steve Israel (D-NY) at U.S. House of Representatives Greater New York City Area.
Previously he was;
PDA contact
In 2013 Progressive Democrats of America assigned activists to deliver their material to almost every US Congressman and several Senators. Nicholas Selvaggio was assigned as contact for Rep. Israel. In June it was David Sprintzen, a long time Democratic Socialists of America member and Secretary of the Long Island Progressive Coalition.[7][8]
Democratic Congressional Campaign Committee
In 2011 Steve Israel was Democratic Congressional Campaign Committee Chairman.[9]
J Street controversy
Steve Israel was an honorary member of the gala host committee for a Gala dinner on October 27, 2009 by J Street, a "liberal, nonprofit lobbying group". In the weeks leading up to the Gala dinner, those aligned with the Likud, the political party of Israeli Prime Minister, Benjamin Netanyahu, criticized Rep. Israel and those supporting J Street.
The group's host committee includes prominent center-left Israel backers in Congress, including Florida's Robert Wexler and New York's Steve Israel, and an Israel spokeswoman confirmed he intended his name to be on the list. Many pro-Israel Democrats, however, continue to shun J Street: Steve Israel is the only Jewish member from New York, for instance, on the host list. (His spokeswoman confirmed he intended to be on the list.) And the group's stance, sharply to the left of the current Israeli government, and the presence of a controversial speaker at the conference, seem to have prompted Rep. Mike Castle of Delaware to back out when asked about his attendance by the Weekly Standard.
Lindsay Hamilton, Rep. Israel's spokeswoman said "It's absurd that this has become a controversy...The congressman agreed to be on the gala host committee. That doesn't mean he agrees with every viewpoint of every speaker at the event".[10]
Working Families Party
In 2000, Israel ran only as a Democrat in his winning bid for Congress, but since 2002 he has also run as the candidate for the Independence Party, and the Working Families Party.
The Working Families Party backed Israel in 2014.[11]
Meeting SEIU/Jobs with Justice
September 27, 2011, 1199SEIU members and members of the community attended a Congressional hearing on Preserving Medicare and Medicaid with U.S. Reps. Tim Bishop and Steve Israel. Organized by Long Island Jobs with Justice, the hearing was meant to educate the public about how Medicare and Medicaid work, and how their elected officials are working to preserve these vital services. Those in attendance spoke overwhelmingly in support of Medicare and seemed worried about proposed cuts.
"My Mom is on Medicare, which has proven to be affordable for so many and works well, with low administration cost," said Bettina McLean, 1199SEIU member who works at Nassau Extended Care Facility. "My concern is with several proposals, like the Ryan plan which calls for giving people a voucher, but would still cost her and others thousands of dollars."
"Lack of adequate health coverage is one of the primary reasons that people turn to us for assistance, and it's one of the biggest problems people face across our nation," said Rev. Tom Goodhue, Executive Director of the Long Island Council of Churches.
"Unemployment is high, wages are down, and communities are struggling. We need to be funding programs that preserve the middle class, instead of cutting benefits from hard working people," said Charlene Obernauer, Executive Director of Long Island Jobs with Justice.
Reps. Bishop and Israel responded to questions and concerns throughout the evening and assured the public that they are committed to preserving Medicare and Medicaid, as well as other vital social services.[12]
National Muslim Democratic Council
House Minority Leader Nancy Pelosi headlined a Democratic Party fundraiser with leaders of Hamas and Muslim Brotherhood front groups in May of 2012.
The invitation-only fundraiser was sponsored by Reps. Keith Ellison, D-Minn.; Andre Carson, D-Ind.; and Steve Israel, D-N.Y., chairman of the Democratic Congressional Campaign Committee, and took place on the evening of May 16, 2012, at the W Hotel in Washington D.C.
In attendance were about 20 members of a Syrian dissident group and 10 officials representing Muslim Brotherhood and Hamas front groups. Council on American Islamic Relations (CAIR) Executive Director Nihad Awad was perhaps the most prominent attendee and played a key role in organizing the event.
CAIR, an unindicted co-conspirator in the 2007-2008 Holy Land Foundation Hamas money-laundering trials, was described in FBI testimony as having been created by Hamas. In a 2007 federal court filing, prosecutors described CAIR as conspiring with other branches of the Muslim Brotherhood to support terrorists.
The FBI officially severed relations with CAIR in 2008 because of its ties to Hamas.
Awad has openly championed Hamas and defended suicide bombings as "legitimate resistance."
Also in attendance was Jamal Barzinji, a founding father of the Muslim Brotherhood in America and co-founder of the Muslim Student Association (MSA), an incubator for Islamic radicalism in North America. MSA was the forerunner of Islamic Circle of North America (ICNA), Islamic Society of North America (ISNA) and the International Institute of Islamic Thought (IIIT).
Barzinji was named in a federal affidavit as being closely associated with Palestinian Islamic Jihad and Hamas. His name appears in a global phone book of Muslim Brotherhood members recovered by Italian and Swiss authorities in Nov. 2001 from the home of Al-Taqwa Bank of Lugano founder Youssef Nada, one of the leaders of the international Muslim Brotherhood.
During the fundraiser, Pelosi sat at the same table with Awad and Barzinji.
Speaking to the attendees in her 10-minute address, she said the Democratic Party should become the natural home of Muslim-Americans, because Republicans fan the flames of "Islamophobia." She focused exclusively on Islamophobia, a term devised by radical Islamists and their apologists to silence critics, while avoiding any mention of terrorism carried out by Islamists in the United States.
Also speaking were Israel, Ellison, Carson, and Reps Allyson Schwartz, D-Pa., and Chris Murphy, D-Conn. Israel and Murphy were said to have been the most vehement among the members of Congress in attendance in terms of their incendiary accusations of Republican-incited Islamophobia. One observer said that it was striking that "there was not a scintilla of comments in defense of U.S. national security." However, they welcomed each of the Hamas and Muslim Brotherhood front groups represented at the event into the "Democratic community" without any mention of their well-documented terror links.
Following the speeches, a prominent attorney, Mazen Asbahi publicly rose to announce the creation of a new organization called the National Muslim Democratic Council (NMDC). Asbahi was Barack Obama's 2008 Muslim outreach director but was forced to step down when his prior association with a radical Muslim cleric, Jamal Said, became public. Said was an unindicted co-conspirator in the Holy Land Foundation terrorism financing trial.
The NMDC seeks to "maximize American Muslim support for Democratic candidates and policies."[13]
ARA PAF endorsement, 2014
The Alliance for Retired Americans Political Action Fund endorsed Steve Israel in 2014, also in 2012.[14]
2015 Cuba visit
House Democratic leader Nancy Pelosi traveled with a congressional congregation to Cuba mid February 2015.
The trip is the first official House delegation to travel to the island nation since President Barack Obama announced late last year an easing of trade restrictions with the Castro regime.
"This delegation travels to Cuba in friendship and to build upon the announcement of U.S. normalization of relations and other initiatives announced by President Obama," Pelosi (D-Calif.) said. "This delegation will work to advance the U.S.-Cuba relationship and build on the work done by many in the Congress over the years, especially with respect to agriculture and trade."
The delegation includes Democratic Reps. Eliot Engel of New York, Rosa DeLauro of Connecticut, Collin Peterson of Minnesota, Anna Eshoo of California, Nydia Velazquez of New York, Jim McGovern of Massachusetts, Steve Israel of New York and David Cicilline of Rhode Island. Engel is the ranking member of the Foreign Affairs Committee.
The lawmakers will meet with Cuban government officials, Cardinal Jaime Ortega y Alamino and local community leaders.[15]
Pelosi and Israel met with Cuban Foreign Minister Bruno Rodriguez, in Havana February 18, 2015.[16]
The delegates also met Cuban Vice President Miguel Diaz-Canel, marking the first time Cuba's heir apparent to power has received an official American delegation.
Nancy Pelosi and the eight other House Democrats concluded their two-day visit by meeting Diaz-Canel, 54, who is first in line to the seat of power held by brothers Fidel Castro and Raul Castro since 1959.
The nine Democrats, all supporters of U.S. President Barack Obama's policy change on the Communist-led island, were due to be escorted directly to the airport after the meeting.
Diaz-Canel and the Americans talked about Cuba's market-style economic reforms, bilateral relations and prospects of the U.S. Congress lifting the country's 53-year-old trade embargo of Cuba, official Cuban media reported.[17]
External links
References