Steve Bieda
From KeyWiki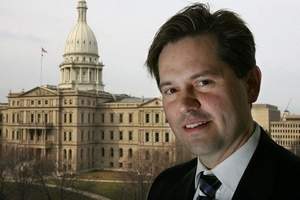 Steve Bieda is an attorney, artist and term-limited state representative, Democrat Bieda became the leading voice in the state House on ethics and transparency. He also "showed courage, compassion and good sense in pushing a plan to compensate the wrongly convicted, and in supporting other reforms to Michigan's costly corrections system."
DSA electoral support
Greater Detroit Democratic Socialists of America has a "simple but effective electoral strategy. We endorse progressive candidates in competitive races where the focused efforts of a small group such as ours can tip the balance in favor of the progressive candidate. This strategy has served us well in electing state representatives such as Steve Bieda, Alma Wheeler Smith, John Espinoza, Aldo Vagnozzi, and Fred Miller, and state senators such as Gilda Jacobs and Hansen Clarke."
We have expanded our efforts in 2008 by endorsing four candidates instead of two candidates as we traditionally do.
In 2008 Greater Detroit Democratic Socialists of Americaendorsed state representative candidates Sarah Roberts (St. Clair Shores-Harrison Township), Vicki Barnett (Farmington-Farmington Hills), Lisa Brown (West Bloomfield-Harrison Township), and Jonathan Switalski (Warren-Sterling Heights). As a result, DSA members have been canvassing, phone banking, and stuffing envelopes for one of these four candidates almost every weekend since the late summer. To date, the following members have participated in at least one (and usually several) campaign dates: Brandon Moss, Selma Goode, Michelle Fecteau, Bob Alpert, Lon Herman, Maurice Geary, Helen Samberg, Bob Frumkin, Charlie Rooney, Julie Barton, David Elsila, David Green, Dave Ivers, Michael Dover, Bill Helwig, Bob Denoweth, and Marylyn Schmidt.[1]
Our last campaign date is for Lisa Brown on Saturday, November 1st from 2-4 PM. We will meet at Lisa's campaign headquarters located at 4088 Haggerty Road (in a strip mall at the intersection of Haggerty and Richardson Roads—adjacent to Jennifer's Café) in Commerce Township at 1:30 PM to receive our assignments. Anyone who wishes to volunteer should contact David Green .
DSA contempt
At a 2018 meeting of the Greater Detroit Democratic Socialists of America reforms committee, five people ranging in age from 20 to 35 gathered around a member's Ferndale dining room over plates of Mediterranean carryout to discuss creating a sexual harassment policy and the pros and cons of procedural norms like Robert's and Rusty's rules of order.
The conversation eventually turned to Steve Bieda, the politician who turned up at the first meeting.
"Who was the guy who came from Macomb?" asked Nick Hayes.
"Steve Bieda, the [Senator]," said his comrade, Stacey Walters. "Like, I'm the only Democrat in Macomb, vote for me! Mr. 'Let's keep the military industrial complex!'"[2]
References