Steve Babson
From KeyWiki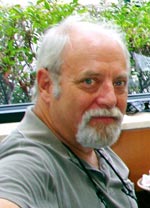 Steve Babson is a labor educator and union activist living in Detroit for the last 32 years with his wife, Nancy Brigham. He received his doctorate in U.S. History in 1989 from Wayne State University, where he also worked as an instructor in the Labor Studies Center from 1985 to 2006. Steve has published six books, including Working Detroit: The Making of a Union Town and Lean Work: Empowerment and Exploitation in the Global Auto Industry. He is currently newsletter editor for Local 6075, AAUP/AFT, representing faculty and academic staff at Wayne State.[1]
Worker May Day Celebration
Saturday, May 1st In-Person Rally: Hart Plaza, 12PM, Zoom Virtual Town Hall 7PM.
This May Day, we're teaming up with Detroit Action and MAJIC to put on an in-person May Day Worker Celebration starting at noon at Hart Plaza, complete with speakers, food, and live music! Later that night, we'll be joined by labor leaders from across the state, Professor Steve Babson, and Rep Andy Levin for a Virtual Town Hall to discuss labor history and the importance of passing the PRO Act. Whether you're interested in one or both events, we look forward to you joining us celebrating the workers who built our world!
Save Our Postal Service
Postal workers on break at the Main Post Office downtown cheered and clapped as the Save Our Postal Service caravan — 80 cars, three bikes — circled the block, horns blaring. Each time we circled more postal workers were out front.
DSA members Nancy Brigham and Steve Babson joined the car caravan May 21.
The May 21 action was initiated by a retired postal worker, Jane Duggan. Duggan ran it by some neighbors with whom she has a weekly Zoom. They liked it, and she started reaching out to organizations, including DSA, which turned out at least a dozen caravaners.
Zach Rioux, an east-side DSAer, said, "It was very encouraging to see the number of people there. It was great to see the postal trucks and hear them honking with us. They seemed very encouraged by the action, which was encouraging back to us. Since our options are so limited, this is the kind of thing we should be doing right now."[2]
DSA member
On December 10 2007, Democratic Socialists of America members joined community, religious, and labor leaders in observing International Human Rights Day. This day commemorates the adoption by the United Nations General Assembly of the Universal Declaration of Human Rights in 1948. Among the rights codified in this document is the right of workers to form unions and bargain collectively.
Greater Detroit Democratic Socialists of America members Maurice Geary, Garie Bass, Paul Bass, Selma Goode, Steve Babson, Al Benchich, Bill Helwig, Dan McCarthy, David Green, Charlie Rooney, and Jean Dietrick Rooney commemorated this date by participating in a demonstration in front of Harper-Hutzel Hospital in support of the nurses of the Detroit Medical Center who were trying to form a union under the auspices of the Michigan Nurses Association.[3]
Ernie Goodman bio
In the late 2000s, Dave Riddle, Steve Babson and David Elsila co-wrote "The Color of Law:Ernie Goodman, Detroit, and the Struggle for Labor and Civil Rights".[4]
2013 11th Annual Douglass-Debs Dinner
Over 180 people attended the thirteenth annual Frederick Douglass-Eugene V. Debs Dinner at UAW Local 600 in Dearborn on November 10th. Honorees were Steve Babson/People Before Banks Coalition and Marjorie Mitchell, the Executive Director of the Michigan Universal Health Care Access Network.[5]
Southeastern Michigan Jobs with Justice Executive Board
As of September 2015;[6]
References