Steve Abbott
From KeyWiki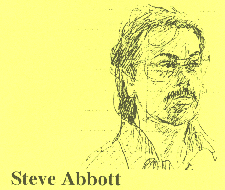 Steve Abbottt is "a product of parochial schools, a liberal arts education, and the social and political upheavals of the past five decades".
Radicalization
After stints as lead singer in two garage bands, Steve Abbottt drifted into radical politics and helped found the Columbus Free Press in 1970 during the heyday of the underground press. His "Karl and Groucho's Marxist Dance: The Columbus Free Press and its Predecessors in the Columbus Underground" appeared in Voices from the Underground: Insider Histories of the Vietnam-Era Underground Press (Mica Press, 1991). Later he picked up an undergraduate degree in broadcast journalism from THE Ohio State University while active in the antiwar movement and issues such as civilian review of police and community empowerment. Steve Abbottt supported The Justice For Jack Committee "young man w/MRDD falsely accused of the murder of Christie Mullins in Columbus made national headlines"
Weathermen Flint "War Council"
December 27-31, 1969, about 400 of the national membership of the Weatherman faction of SDS held a "War Council" at a ballroom dancehall in Flint, Michigan.
Cars stopped during the "War Council" contained known members of Weather/Students for a Democratic Society and other passengers: Frederick Lee Miller with Richard L. Feldman, K. Sacks and Bernard Riff; David Flatley with Gerald D. Mitchell and Jerome J. Walsh; Jon Frappier with Nancy Gail Stein; James K. Kilpatrick; Harold R. Lade with George Crowley; John David Buttney with Raymond Lee Mosher, Ralph E. Ridgom, Benjamin C. Israel, Michael Wood and Richard D. Lee; Frank Hubert Mather with Bradley Brent Conners, Robert Bruce Mackowsky, Dennis Howland and Mike Ross Camp; Bahram Salimi with Gregory Albert Jaynes, Hamayoun Dehehan and Alirez Dehgan; Natasha Burd with Janet Rae Austin, Shari Ann Whitehead, Andrew Julian Truskier, Nancy Kurshan, Lendal B. Harris and Stuart Bishop; Daniel Hardy with Steve Abbott, Cookie Roby and Edward J. Bennett (owner); Christopher Bowe Miller with Eleanor Stein, Janet Press, Sheldon Rosenbaum, Michael Josefowicz, Kathryn M. Kehan and Laura Foner; Terry Lee Daley (minister) with Richard James Roehik, Scott Addy Braley, and Norman George Delisle; Lynda N. Josefowicz with Ann Hathaway, Jane Ann White, Laura W. Strang, Debbie Stern and Marie Smith; Robert D. Miller with Mark Pennington, Marilyn Pennington and Mariane Pennington and Donald R. Catterson; Richard W. Edelman with Samuel Fuchs and Judith E. Somberg; and Lynda N. Josefwicz with Laura Foner, John Fuerst, William Alexander Cleveland, David Elbaz, Richard K. Mansfield, David F. Pugh, Nigel G. Dickens, Brian Thomas Lavelle, Theodore L. Soares, Lawrence David Barber, Michael Marotta, Morris Allan Older, Nicholas Albrecht Freudenberg, Frank Spinelli[1].
Columbus Free Press arrests
Four members of the editorial staff of the Columbus Free Press were jailed on May 18, 1972. They were arrested by the Columbus Police "Red Squad." Margaret Sarber, John Neikirk, Steve Abbottt and Colin Neiberger were held on bail as high as $150,000 as enemies of the state[2].
Back then, there was a real clash of cultures: a peace-oriented social justice culture vs. a violent military industrial complex.
The Columbus Police Division's Red Squad charged Steve Abbottt with multiple criminal charges following a signed front-page article in the Free Press condemning the shooting of a young drug dealer by Columbus police and his involvement in a demonstration protesting expansion of the Indochina War. Along with Free Press staff members and other activists, he was held on a high bail until the bail was reduced in Abbott et al. v Columbus, now cited as precedent in cases of the right to reasonable bail. A judge dismissed the charges two years later.
Six months after that, Abbott agreed to work as courtroom bailiff to Judge William Boyland, the only Democrat judge (and former lawyer for other antiwar activists) in the Franklin County Municipal Court in 1974 "I was able to cut people a little slack in a system that has a short leash," . C
ontinuing his activity in anti-KKK groups and grass-roots community organizations in Columbus and writing for the Free Press under a pseudonym, he lost the job five years later after Boyland left the bench to run for mayor of Columbus in 1979[3].
Private investigator
Abbott went on unemployment and did some free-lance writing until he landed a job at Columbus Technical Institute as a part-time instructor of composition. During this period he also worked as a private investigator, mostly doing the sewer work of tailing and photographing errant spouses in neighborhoods not their own. Eventually he landed a job as communications director for a social service agency, where he worked for the next 10 years while continuing to teach nights at CTI[4].
Further education/literary work
Abbott returned to Ohio State University and earned a master's degree in English Education. Since 1993 he has been a full-time faculty member at Columbus State, where he is a tenured professor in the Communication Skills Department, teaching composition, introduction to poetry, and creative writing (poetry and nonfiction). He is also advisor to Spring Street, the college's annual literary and visual arts magazine which, under his direction, has earned 5 Gold Medals from the Columbia Scholastic Press Association. An associate editor of Pudding Magazine: The International Journal of Applied Poetry and for Pudding House Publications, he has taught writing workshops at Pudding House, Thurber House, the Rock and Roll Hall of Fame and Museum, prisons in New York State, and in central Ohio bookstores[5].
Take Back America
On March 17, 2008, at the Take Back America conference in Washington D.C. , Steve Abbottt, Julius Genachowski, Debbie Goldman, Susan Ness and Josh Silver spoke in a session entitled "Media Reform and High-Speed Internet for Everyone". The description for the session was:
"A high speed Internet connection will soon deliver nearly all media - television, radio, phone service, and of course, blogs and the Web. Join senior policy directors to Senators Obama and Clinton, along with the Communications Workers of America and Free Press to discuss the senators' positions on media and how a broad coalition of labor, public interest and industry groups are uniting behind a national policy to bring fast, affordable, open Internet access to every American home."[6]
References