Stephen Eric Bronner
From KeyWiki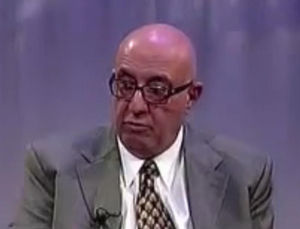 Stephen Eric Bronner is a Professor of Political Science and Comparative Literature at Rutgers University and author of the new book: Peace Out of Reach: Middle Eastern Travels and the Search for Reconciliation, Socialism Unbound, and a member of Democratic Socialists of America[1].
Left Forum Advisory Board
In 2009 the Left Forum Advisory Board included Gilbert Achcar, Tariq Ali, Ashanti Alston, Anthony Arnove, Robin Blackburn, Barbara Bowen, Jack Bratich, Rose Brewer, Renate Bridenthal, Michael Brie, Stephen Brier, Stephen Eric Bronner, Paul Buhle, Joseph Buttigieg, Luciana Castellina, Angela Dillard, Stephen Duncombe, Hester Eisenstein, Barbara Epstein, Deepa Fernandes, Hector Figueroa, Harriet Fraad, Josh Freeman, Barbara Garson, Heather Gautney, Marvin Gettleman, Arun Gupta, Jack Hammond, David Harvey, Gerald Horne, Boris Kagarlitsky, Robin D. G. Kelley, Christine A. Kelly, Peter Kwong, Joanne Landy, Jesse Lemisch, Michael Lowy, Nivedita Majumdar, Manning Marable, Randy Martin, Liz Mestres, Susan O'Malley, Cathy Mulder, Leo Panitch, Christian Parenti, Thomas Ponniah, Barbara Ransby, Michael Ratner, Jan Rehmann, Gerardo Renique, Rainer Rilling, Colin Robinson, Nan Rubin, Roger Salerno, Stephen R. Shalom, Neil Smith, Richard Smith, Meredith Tax, Eleni Varikas, Victor Wallis, Joseph Wilson.[2]
Socialist Scholars Conference 1990
The Socialist Scholars Conference 1990, held September 6-8, at the Hotel Commodore, New York, included panels such as:[3]
Dialectics of Revolution
The Politics of Socialist Ecology
Socialist Scholars Conference 1992
Bertell Ollman, John Ehrenberg, Steven Eric Bronner and Joe Murphy were speakers on the Democratic Socialism, Workers' Dictatorship panel sponsored by the New York Marxist School at the Tenth Annual Socialist Scholars Conference. The conference was held April 24-26, 1992 at the Borough of Manhattan Community College, New York City.[4]
Center for Democratic Values
The Center for Democratic Values, a progressive think-tank developed with Democratic Socialists of America sponsorship, made its first public appearance at the Socialist Scholars Conference in New York, April 12 - 14. 1996 . CDV cosponsored two panels at the conference and held a reception to introduce the Center to the assembled socialist scholars and activists.
The first panel dealt with rethinking the role of government. The discussion centered around a paper authored by DSA member and CDV organizer David Belkin which challenged the left to seriously reopen the issue of the role of government in a democratic society. Carol O'Cleireacain, former New York City Budget Director, another member of the panel, stressed the need for the left to pay more attention to organization and management as well as policy and structure, the traditional focuses of socialist theories. Joseph Schwartz, a DSA member and professor at Temple University, also spoke.
As chair of Philadelphia DSA, Kathy Quinn participated in the second CDV sponsored panel, which was titled "The Next Left". The panel was chaired by DSA National Director Alan Charney. It featured David Sprintzen, head of the Long Island Progressive Coalition, and Quinn focusing on local organizing, and philosophy professors Steven Eric Bronner and Ron Aronson talking in broader and more theoretical terms about the prospects for progressive organizing[5].
YDS conference
In August 2004, Young Democratic Socialists, the youth section of Democratic Socialists of America, held a national conference in New York City, "Life After Bush: Youth Activism & the Fight for Our Future". Speakers included;
The Future of Radical Democracy speakers included;
"Support Bill Ayers"
In October 2008, several thousand college professors, students and academic staff signed a statement Support Bill Ayers in solidarity with former Weather Underground Organization terrorist Bill Ayers.
In the run up to the U.S. presidential elections, Ayers had come under considerable media scrutiny, sparked by his relationship to presidential candidate Barack Obama.
We write to support our colleague Professor William Ayers, Distinguished Professor of Education and Senior University Scholar at the University of Illinois at Chicago, who is currently under determined and sustained political attack...
We, the undersigned, stand on the side of education as an enterprise devoted to human inquiry, enlightenment, and liberation. We oppose the demonization of Professor William Ayers.
Stephen Eric Bronner of the Rutgers University signed the statement.[7]
New Politics
As of 2009 Stephen Eric Bronner served as a sponsor of New Politics, magazine almost completely staffed and run by members of Democratic Socialists of America[8].
References