Stephen Boykewich
Jump to navigation
Jump to search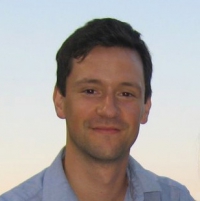 Template:TOCnestleft Stephen Boykewich speaks fluent Russian, and lives in Brooklyn.
Background
"My formative campaign was one where 500 Indian guestworkers escaped an armed labor camp, travelled on foot from New Orleans to DC, and held a 31-day hunger strike in view of the White House and the Indian Embassy. The risks they took and the power of their stories have inspired all the work I've done since."
Stephen Boykewich is a media and communications strategist, writer and editor, and web and graphic designer. His consultancy is called Prescient Media.
Before he began consulting with social justice organizations, Stephen worked as a journalist on four continents, where he had the opportunity to document the effects of global capitalism run wild—and the fights of local people for dignity and respect.
Since returning to the U.S., Stephen has led media and communications work for organizations including the National Guestworker Alliance, the National Domestic Workers Alliance, the Excluded Worker Congress, ISAIAH, the Transportation Equity Network, Gamaliel, the New Orleans Workers' Center for Racial Justice, and the International Center for Transitional Justice.
Stephen's believes that sophisticated communications work is fundamental to winning strategies for social change. It's not a luxury, and it can't be an afterthought. It should be initiated at the earliest stages of the campaign; it should be rooted in transformative stories that show low-income people, people of color, and immigrants to be protagonists and strategists in our common fight; and it must feed and respond to every other aspect of the campaign strategy.
Stephen has a B.A. from the University of Chicago and an MFA from the University of Chicago. He has studied design, marketing, and global affairs at New York University and the School of Visual Arts.[1]
Attacking Uber
Circa 2014, Jon Liss of New Virginia Majority and Tenants and Workers United wrote a position paper "Uber and the Degradation of Working Class Jobs. " Special thanks to Andy Rivera, Cameron Barron, Stephen Boykewich and especially Denise Cheng for editing support.
This position paper was produced as a part of the Future of Work Project, an inquiry supported by the Open Society Foundation that is bringing together a cross‐disciplinary and diverse group of thinkers to address some of the biggest questions about how work is transforming, and what working will look like 20–30 years from now. The project is exploring how the transformation of work, jobs, and income will affect the most vulnerable communities, and what can be done to alter the course of events for the better.[2]
RoadMap
Stephen Boykewich is a consultant with RoadMap, a Freedom Road Socialist Organization affiliated consultancy group .[3]
Team
New Orleans Workers' Center for Racial Justice Team, as of November 2017;[4]
References