Stefanie Brown James
From KeyWiki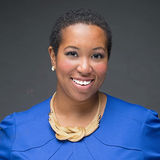 Stefanie Brown James is a native of Bedford Heights, Ohio. Stefanie Brown James is the CEO and Founding Partner of Vestige Strategies, LLC. Most recently, Stefanie served as the National African American Vote Director for the 2012 Obama for America Campaign. In this position, Stefanie organized the African Americans for Obama program and managed the national strategy to engage African American leaders and voters to register and re-elect President Barack Obama, leading to the highest black vote in history.
Formerly the National Field Director for the NAACP, Stefanie developed and administered the national field organizing strategy for the NAACP's 2,200 adult branches and youth units in 48 states and the District of Columbia. Concurrently, Stefanie served as the National Director of the NAACP Youth & College Division representing 23,000 youth under the age of 25 around the country. Stefanie is also the founder of Brown Girls Lead, a leadership development organization for collegiate black women, and a Trustee of Howard University.[1]
She is married to Quentin James.
90s activists
Jotaka Eaddy October 8, 2010 ·
This is what it was it was all for!!! (Tag yourself if you were there) — with Aimee Castenell, Ana Aponte, Jackie Kendall, Jennifer Ann, Marvin Bing, Kirin Kennedy, Stefanie Brown James, Carmen Berkley, Matt Reents, Melinda Gibson, Kristen Kozlowski, Kirk Clay, Alethea Bonello, Kennie Gee, Sasha Hammond and Shelli Craver in Washington, District of Columbia.
Collective PAC
Stefanie Brown James is the co-founder of The Collective PAC.
Inclusv
Inclusv Advisory Board members, as of May 12, 2018 included Stefanie Brown James.
Power lunch
The Collective PAC May 4, 2018. Join us May 10th for our DC Power lunch! We will be joined by special guest Michael Eric Dyson, Donna Brazile, Stefanie Brown James, Quentin James and more.
Event Time: 12:30pm-2:00 PM
Location: The Hamilton - 600 14th street NW Washington DC 20005.
POC staff
In response to a Politico article bemoaning the dangers of a lack of POC staff working on Democratic Party campaigns.
Corryn Grace Freeman December 4 at 12:52 PM ·
I call bullshit... Here is a list of some of the phenomenal POC campaign staff I know at every level just within my network. Feel free to add the one's you know and I'll happily send to POLITICO
Jack Lofgren IV, Anurag Pal, Karen Andre, Ashley Green, Ashley Bryant, Dorien Paul, Siottis Jackson, Angie Nixon, Eunic Ortiz, Melissa Morales, Jazz Johnson, Ernest Lee Boston, Jr., Reginald Abraham, Anna Vishkaee Eskamani, Ida Vishkaee Eskamani, Jalisa Washington Price, Alida Garcia, Alicia Stallworth, Jones Alicia, Bertisha Jones, Asa R. Rogers-Shaw, Valencia Gunder, Stephanie Ighodaro, Victoria Elliott York, Marilyn Davis, Stefanie Brown James, Quentin James, Marcus Switzer, Alexis Camille Crews, Bianki Collection, Jamaa Bickley-King, Jamarr Brown, Max Clermont, Elbert Garcia, Antonio Lewis, Al Barrentine, Mila Al-Ayoubi, Tomas Kennedy, Francesca Menes, Nancy Metayer.
These are just the ones that I came up with without thinking... I'm sure I have a ton more. There are also resources like Inclusv that have thousands of POC campaign staff.
References