Spitfire Sabel
From KeyWiki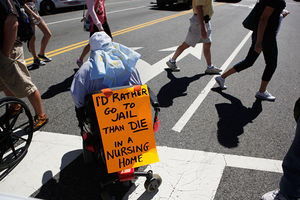 Eileen "Spitfire" Sabel is a disability activist.
2009 White House Protest
Spitfire Sabel was quoted in an article discussing anger that Obama was not giving enough federal taxpayer money to disabled people for their personal home health care.
From the article:[1]
"Police have started to arrest some of the disabled protestors picketing outside the White House right now. Almost all of the 400 demonstrators are in wheelchairs."
[...]
"Shame on you, Obama is a liar! Shame on you, Obama is a liar!" some are chanting.
"They're here from all over the country -- Texas, Montana, New York, Pennsylvania -- to protest what they see as President Obama not sufficiently supporting the Community Choice Act, a bill that would amend the Social Security Act to provide those with disabilities and older Americans the ability to use federal funding for community-based attendant services instead of just for nursing homes.
"ADAPT wants the Community Choice Act to be included as part of the overall health care reform package. White House health care czar Nancy-Ann DeParle told some members of ADAPT this morning that President Obama as a candidate supported CCA, but not as a part of the overall health reform effort. Sen. Tom Harkin, D-Iowa, and Rep. Danny Davis, D-Illinois, introduced the bill last month."
[...]
"Continues the action alert: "In response to the Obama administration's refusal to demonstrate leadership, ADAPT activists have chained and handcuffed themselves to the Whitehouse fence. They are refusing to leave until President Obama fulfils his campaign commitment to support passage of the CCA. ADAPT is demanding that President Obama create the change that Americans with Disabilities need: the Community Choice Act!"
"This is about choosing to live in our homes in our communities instead of nursing homes," says Milagros Franco, from the Brooklyn Center for Independence of the Disabled.
"I'm a survivor of a nursing home," says Eileen "Spitfire" Sabel. "I could tell you stories that would curl your hair."
"As senators, both President Barack Obama and Vice President Joe Biden co-sponsored the Community Choice Act. During the campaign, then-Sen. Obama said the "legislation is vitally important to the independence, community integration, and equality of hundreds of thousands of Americans with disabilities," that it will help to empower them "to take full advantage of their talents" and "ensure that everyone can live independently as full citizens in their communities."
Arrests in 2002
Below is a first-hand account from Bruce Darling about a "direct action" protest in 2002:[2]
"Some of us were able to put into practice what we learned about civil disobedience from Bob and Stephie a few days later when we went to Albany and were part of the ADAPT action there. The action turned out to be very exciting and quite effective. Our message was heard --loud and clear. For the first time we had a large crowd. In past Olmstead actions, in Albany, we never had more than 50 people. This time, because many of the (independent living) people that attended the "Our Homes Not Nursing Homes" Conference joined us, we had about 200 people. And for the first time there were arrests. Eight people were arrested, two of us from NYC - myself and Dina Niedelman (with her little dog Tiny). So the State officials now know how serious we are. We also got lots of media coverage, most of it very positive."
[...]
"Mel Tanzman, Nadina LaSpina, T.K. Small and I (Bruce Darling) went to meet with Mr. Wolner. At this point, it seems someone from the state decided to 'show us' that direct action doesn't work. Mr. Wolner didn't show up for the meeting. We waited nearly 45 minutes for him and then returned to the Health Department Tower where we instructed everyone to leave the building.
"We exited the building and lined up in the Concourse. Kathleen Paultler was shouting, 'Grab a sign. Get in Line!' as loud as she could. We began marching to the Capital. It was awesome. The line seemed to go on forever. Looking back you were struck by the large numbers of people.
"We got to the elevators that took us up into the Capital Building and a group of about a dozen people got to the first floor before the elevators were shut down. Four people had made it up to the Governor's floor by elevator when State Troupers shut it down. Nadina LaSpina (NYC), Chris Hilderbrant (Rochester), Spitfire Sabel (Philadelphia, PA), and Ann Kaplow (Rochester). Four more came up by the stairs. Dina Niedelman (NYC) crawled with assistance from Larry Fein (Buffalo). Debbie Bonomo (Rochester) was carried part of the way by Bruce Darling (Rochester) and crawled the rest. In all, eight people got up to the second floor."
"The group was waiting in the Concourse and cheered as each arrestee came out of the State Police Station. I was touched that Bonnie Shoultz was there waiting for us. We walked back to the hotel in single file where we got rooms for the extra people who stayed, including Larry and Todd Vaarwerk from Buffalo. We didn't get a meeting, but we knew we raised community awareness."
References