Spencer Coggs
Jump to navigation
Jump to search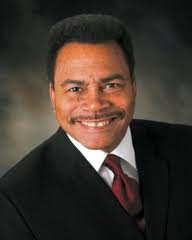 Spencer Coggs represents District 6 on Milwaukee's northwest side in the Wisconsin State Senate. He is married to Gershia Coggs, who runs a data processing company in Milwaukee. Sen. Coggs and Gershia have two grown children, daughter Mariama, and son Ki-jana.[1]
Background
Prior to being elected to the State Legislature, Spencer Coggs worked as a postal worker, industrial printer, and as a City of Milwaukee Health Officer. As a Health Officer, Spencer was Chief Steward of the American Federation of State, County, and Municipal Employees (AFSCME), Local 1091.
Education
Spencer Coggs is a graduate of Riverside University High School, Milwaukee Area Technical College, and the University of Wisconsin-Milwaukee.
Radical affiliations
Coggs is a member, Migrant Labor Council, Board Member, Forum on Democracy and Trade, and a former Board Member, Progressive Milwaukee Steering Committee, former member, Milwaukee Forum, and also a former member, Southern Africa Task Force.[2]
New Party backing
In 1996, in addition to the four Progressive Milwaukee / New Party-backed candidates running for state office (Spencer Coggs, Dale Dulberger, Gwendolynne Moore, Johnnie Morris-Tatum, two New Party members in Fox Valley ran for the state assembly. Progressive Fox Valley founder and chair Tony Palmeri was in a surprisingly close race against an four-term incumbent conservative Republican in Oshkosh. New Party and AFSCME member Corky Van Handel also ran for the state assembly in a nearby district. Both ran as Democrats. [3]
Wisconsin State Senate
First elected to the Assembly in 1982 and running unopposed since 1986, Coggs won a state Senate recall election in 2003. Coggs ran for re-election to the Senate in 2004 and 2008 Sen. Coggs is known as a leader in education, health care, labor relations, and criminal justice issues. He is Chairman of the Senate Committee on Labor, Elections, and Urban Affairs. He is also Vice-Chair of the Committee on Veteran and Military Affairs, Biotechnology and Financial Institutions and Vice-Chair of the Committee on Public Health, Senior Issues, Long Term Care and Privacy.
"Coalition for Wisconsin Health" health care bill
In the Summer of 2005, State Senator Mark Miller reintroduced Wisconsin organization Coalition for Wisconsin Health's Wisconsin Universal Health Program legislation. Originally known as LRB-2576, the Bill would get a new number when introduced.
Coalition for Wisconsin Health worked to help Miller recruit new new cosponsors for the bill.
Other cosponsors of the WUHP in the 2003- 2004 legislative session who had returned in 2005 were Representatives Leon Young, Mark Pocan, and Terese Berceau, and Senators Tim Carpenter, Spencer Coggs, and Fred Risser.
Newly elected Rep. Chuck Benedict, a physician who took part in Coalition for Wisconsin Health's Beloit forum also agreed to sponsor the bill.
Coalition for Wisconsin Health Treasurer at the time was George Robson, Wisconsin United Methodist Federation for Social Action, and Madison Democratic Socialists of America, while Vice Chair was Linda Farley, MD, from the DSA front Physicians for a National Health Program..[4]
Supported Progressive Health Care Reform
In late 2009, Spencer Coggs was one of more than 1,000 state legislators to sign a letter entitled "State Legislators for Progressive Health Care Reform". The letter was a project of the Progressive States Network and was developed in consultation with national health care reform advocates, including the AFL-CIO, AFSCME, Community Catalyst, Families USA, Herndon Alliance, National Women's Law Center, Northeast Action, SEIU, and Universal Health Care Action Network. The letter reads in part,[5]
"Failure to pass national comprehensive health reform now will further jeopardize state and local budgets, undermining public services like education, public safety, and transportation infrastructure... We, the undersigned, call on President Obama and the Congress to enact bold and comprehensive health care reform this year – based on these principles and a strong federal-state collaboration – and pledge our support as state legislators and allies in pursuit of guaranteed, high quality, affordable health care for all."
Lt-Governor run
In September 2009, Spencer Coggs, D-Milwaukee, confirmed that he would run for lieutenant governor in the 2010 election Monday. he told The Daily Cardinal "My advantage would be the fact that I have an excellent record with the progressive community ... and no one has a better labor record than I," he said. "I just have a wealth of relationships across the state."[6]
Endorsed by Citizen Action
Senator Spencer Coggs was proud to receive the endorsement of Citizen Action of Wisconsin. Citizen Action is an issues focused grassroots network that advocates for social, economic, and environmental justice.
"As a proud supporter and collaborator in the important work done by Citizen Action, their support of my campaign is an endorsement of the vital need for an experienced and knowledgable candidate for Lieutenant Governor," said Sen. Coggs.
Robert Kraig, Executive Director of Citizen Action of Wisconsin, said that "Senator Coggs has proven time and again as a legislator that he is dedicated to the issues that directly impact the quality of life for all Wisconsinites. His 27 years of legislative experience demonstrates conclusively that he would be the most effective advocate as Lieutenant Governor."
Senator Coggs has also been endorsed by the AFSCME Councils 40 & 48, the Wisconsin Education Association Council (WEAC), Wisconsin State Employees Union, Service Employees International Union (SEIU), American Federation of Teachers-Wisconsin, Amalgamated Transit Union Local 998, the Teamsters, Wisconsin Professional Firefighters, Wisconsin Federation of Nurses and Health Professionals, Retired Postal Workers, and the Operating Engineers.[7]
Progressive States Network
In 2010, Spencer Coggs served on the Board of Directors for the Progressive States Network, an organization which seeks to "transform the political landscape by sparking progressive actions at the state level".[8]
Advocacy
Nationally, Coggs is involved in numerous key policy groups. He has been elected President of the National Labor Caucus, a "bi-partisan labor policy group". He is also on the Executive Committee of the National Black Caucus of State Legislators and National Conference of State Legislatures.[1]
Supporting Mark Miller
On March 7, 2011, Sen. Spencer Coggs reiterated his support for Senate Democratic Minority Leader Mark Miller and the unity of the Senate Democratic Caucus.
"We as a caucus have reaffirmed Mark Miller as our leader and spokesperson," Sen. Coggs said. "And Senate Democrats will not be split by the desperate attempts of Republicans seeking to divide us."
In a news conference earlier that day, Gov. Scott Walker said that a compromise on his budget proposals was being held up by Sen. Miller.
Following Walker's news conference, Senate Democrats met this afternoon and reaffirmed their unity and backing of Sen. Miller. Sen. Coggs said: "Our leader Mark Miller has made his statement in response to the Governor's press conference, and today we re-confirmed that we are with him 14 strong."[9]
References