Speak Out
Jump to navigation
Jump to search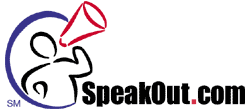 Speak Out was a website designed "to make activism as easy as possible." It sympathizes with progressive ideals.[1]
Anti-Iraq War activism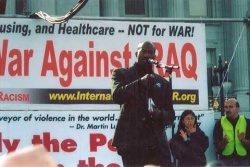 In the early 2000s Van Jones was heavily involved in ant-Iraq War activity in the Bay Area.
In January 2002, a group of San Francisco leftists, mainly former Maoists or involved with STORM or Committees of Correspondence and including Jones, founded a national anti-Iraq War newspaperWar Times[2].
The pilot issue of War Times, a new biweekly newspaper opposing the "war on terrorism," will roll off the press on February 14... Featuring an exclusive interview with Danny Glover and a letter to President Bush from Nobel Peace Prize winner Rigoberta Menchu, the premier of this bilingual, free publication will be distributed in several dozen cities across the country.
Serving on the War Times Organizing Committee were;
External links
References