Southwest Workers Union
From KeyWiki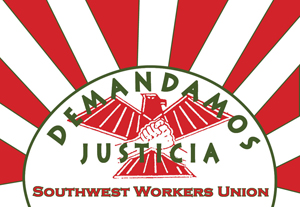 Southwest Workers Union is based in San Antonio Texas. It is close to the Freedom Road Socialist Organization.
History
Southwest Workers Union was launched in May of 1988 in Hondo, Texas. The organization formed on the principles of community-based organizing to empower people of color, workers, the poor, and youth to organize and build power to speak for themselves to achieve dignity and justice. After the first five-year plan, the board of directors of SWU has been a member board composed of community leaders of SWU. Initially, SWU co-founders began organizing classified public school workers, who are stripped of collective bargaining rights by the state of Texas and constituted some of the lowest paid workers, in two districts in San Antonio. Currently SWU organizes in five San Antonio districts, Austin and a district in the border region to bring a voice to the working-class, to fight for dignity in the work place and to achieve a living wage for the workers.
The Hondo Empowerment Committee (HEC) also formed to focus on building leadership in the working-class Mexican/Mexican-American neighborhood to improve conditions for residents in the rural city of Hondo. In 1994, SWU was invited to North Kelly Gardens by residents who were plagued with health problems and concerned by the threat posed from 3 jet-fuel storage tanks situated on Kelly Air Force Base across the street from the community. SWU formed the Committee for Environmental Justice Action (CEJA) as a local of the union in 1994, and exposed the reality of environmental racism in the predominately Mexicana/o community. CEJA works to address the activities of Kelly Air Force Base that have poisoned the shallow groundwater under 60,000 working-class homes and left a toxic imprint on residents and workers burdened with multiple illnesses.
Youth Leadership Organization (YLO) developed in 1997 from children of members who attended meetings and events of SWU. The youth sought out their own space to address community issues and develop leadership skills. The YLO aims to strengthen the integration of youth and children into long-term organizing, intentionally engaging them in social justice issues within their community. SWU has hosted a youth summer internship program every year since. Youth are integrated into the board of directors, staff and core community leaders of the organization.[1]
SWU Personnel
Southwest Workers Union personnel, as of 2015;[2]
Grassroots Global Justice Alliance Coordinating Committee
Grassroots Global Justice Alliance Coordinating Committee, as of 2015;[3]
Movement Generation delegation to Klimateforum09
Thursday December 17, 2009, 12 noon, Copenhagen time Movement Generation delegation members to the Klimateforum09 in Copenhagen gathered at the American Embassy, Copenhagen.
North American indigenous Delegation, Movement Generation Justice and Ecology Project, and the Environmental Justice and Climate Change Initiative, along with other grassroots groups from the United States will deliver a letter to President Barack Obama demanding that the United States take real, rights-based approaches to climate change and ecological debt.
Speakers scheduled were:
Other Resource people from many other organizations were also present, including: Gopal Dayaneni, Movement Generation; Alicia Garza, People Organized to Win Employment Rights (San Francisco, Right to the City, Grassroots Global Justice Alliance); Mari Rose Taruc, Asian Pacific Environmental Network (Movement Generation Bay Area network, Grassroots Global Justice Alliance, Richmond); Marisa Franco, Right to the City (NY); Roxana Aguilar, Strategic Actions for a Just Economy (Right to the City, Los Angeles); Jill Johnston, Southwest Workers Union (Grassroots Global Justice Alliance); Diana Lopez, Southwest Workers Union (Grassroots Global Justice Alliance); Jose Bravo, Just Transition Alliance (Grassroots Global Justice Alliance, San Diego); Cecil Corbin-Mark, West Harlem Environmental Actiobn (Environmental Justice Leadership Forum, New York); Jacqui Patterson, Women of Color United (GA); and Diana Pei Wu, Movement Strategy Center (CA).[4]
South X Southwest Experiment
South X Southwest Experiment is an inter-generational partnership initiated in 2006 by established grassroots social justice organizations: Southern Echo and the Mississippi Delta Catalyst Roundtable in Mississippi, the Southwest Workers Union in Texas, and the SouthWest Organizing Project in New Mexico.[5]
"Building Bridges to Empower a true majority" conference
Louis Head October 24, 2015:
Leroy Johnson, Curtis Hill, Diana Lopez, Julian Mendez, Janelle Astorga-Ramos, Javier Benavidez and Brenda Hyde: Southern Echo, Inc., Southwest Workers Union and SouthWest Organizing Project discuss Accountable Governance and the relationship between organizing, electoral work, and the building of relationships of accountability between communities and public officials. — in Madison, Mississippi.
References