Sol Londe
Jump to navigation
Jump to search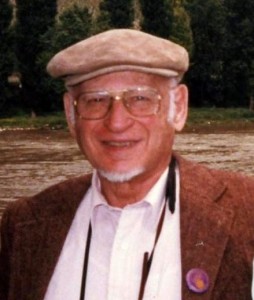 Template:TOCnestleft Dr. Sol Londe, 1904-2004 was a Los Angeles based socialist and peace activist.
Along with his wife Jeanne Londe and son Stephen Londe , Sol Londe was survived by his daughter, Dr. Helen Londe of Northern California, and several grandchildren.[1]
Early life
Londe earned his undergraduate degree and medical degree from Washington University in St. Louis. He served in an Army Air Forces medical unit during World War II and later went into private practice in St. Louis. Some of his earliest published research concerned blood pressure problems in prematurely born infants.
He married Rose Sanel and they had two children, both of whom became physicians. She died in the 1970s.[2]
Radicalization
Londe was radicalized during the Depression;[3]
I come from the generation that lived in the Depression. What's happening is that the older guys and gals who were activists are passing away; there aren't enough people (willing) to take the responsibility of leadership. So every year we have a hassle--and that's not only our organization--of getting people who are willing to become president or officers.
I was very much influenced by my (former) professor of biochemistry (at Washington University in St. Louis). He'd been a socially active person in Hungary. He started talking to me. I started reading and then I became involved.
During the Depression I was involved in a middle-class movement of social workers and professionals to get government relief, because before that time there were just poorhouses. And so in St. Louis, they started charging a toll on what they called the Free Bridge to raise money for relief.
Identified as member of the Communist Party USA
Dr. Sol Londe was identified as a member of the Communist Party USA (CPUSA) in a hearing before the House Committee on Un-American Activities, "Investigation of Communist Activities in the St. Louis, Mo. Area, Part 3", by Joseph John Schoemehl, on June 2, 1956, pp. 4960-4961. Londe took the Fifth Amendment on questions about whether he had ever been a member of the CPUSA on pp. 4889-4894 of the same hearing.
This information was also found in HCUA House Report No. 1282-Part 1, Union Calendar No. 550, "Manipulation of Public Opinion by Organizations Under Concealed Control of the Communist Party", (National Assembly for Democratic Rights (NADR) and Citizens Committee for Constitutional Liberties (CCCL), Nov. 30, 1961, 87th Congress, 1st Session, as Report (Pursuant to H. Res. 8, 87th Cong., and Public Law 601, 79th Cong).
Londe's CP identification was in a list, Committee Exhibit No. 1, "Sponsors of National Assembly for Democratic Rights (as listed in New York Times (NYT) ad, Sept. 7, 1961, who have been identified as members of the Communist Party and/or who have invoked the fifth amendment when questioned about Communist Party membership, p. 207.
Medical career
Sol Londe led a prestigious pediatric career in addition to brilliantly fulfilling his "social responsibilities." Long affiliated with Washington University in St. Louis. Londe pioneered research in childhood hypertension. Among other innovations, he helped establish blood pressure standards for children.
After relocating to Los Angeles, at seventy-nine, Londe began working as a pediatrician at the downtown juvenile hall, where he worked for sixteen years.[4]
"Dr. Londe was a dedicated pediatrician who was at the forefront of developing the methods we use today to accurately measure blood pressure in children," said Dr. Thomas Klitzner, professor of pediatrics at UCLA, referring to Londe's publications, starting in the 1960s. "Since high blood pressure in the pediatric population is a direct consequence of childhood obesity, which has reached epidemic proportions in the United States, Dr. Londe's pioneering work is as relevant today as it was when he first published it."[5]
Peace activism
A founding member of Physicians for Social Responsibility in 1961, Sol Londe M.D. was also, a long-time Los Angeles chapter board member. Sol Londe met his wife, Jeanne Londe , also a PSR-LA board member, at a 1983 disarmament protest. Their wedding cake was appropriately decorated with a peace symbol.
In the 1980′s Sol was the group's most popular speaker. He lectured in schools, at Elks Club meetings and elsewhere about the effects of nuclear testing on human health. PSR-LA director Jonathan Parfrey remembered Londe at a memorial service at Temple Kol Tikvah in Woodland Hills. "Sol had an unquenchable hope in people and their ability to right social structures. His faith out-stripped that of religious devotees. Sol believed peace and justice could be won here and now." [6]
"Sol was politically active; that was the crux of his life," said Dr. Richard Saxon, a fellow member of the group and a longtime friend. "He was concerned about the social side of science and medicine. For us, nuclear destruction is a medical issue."[7]
Seniors activism
Londe became involved in the senior movement in St. Louis when he heard that a senator from Indiana had (said) that Social Security trust funds were being used for the Vietnam War. Londe joined a group that was known as the Older Adult Issues Society, and they were members of the National Council of Senior Citizens, so he joined the council.
A longtime activist, Londe pushed the "senior and liberal agendas" as a board member of the Westside chapter of the National Council of Senior Citizens, the Congress of California Seniors;[8]
The organized senior movement is in the forefront of the fight for a national health insurance plan, and we're for the single-payer system, modeled on the Canadian system. The single-payer means the money goes to the government and the government is the purchaser, instead of 1,500 insurance companies paying.
"For both of us, injustices made our blood boil," Jeanne Londe said. Together they helped found the National Council of Senior Citizens, which lobbied for the protection of Social Security and affordable healthcare, among other issues.[9]
Supported Communist Party call
In May 1992 the Communist Party USA newspaper Peoples Weekly World published a May Day supplement which included a call to "support our continuing struggle for justice and dignity"
Endorsers of the call included Sol Londe.[10]
Communist endorsed demonstration
Salvemos Nuestra Ciudad!! Salvemos Nuestros Ninos!! was the rallying call of a large leftist demonstration held in Los Angeles, May 16, 1992.
Most of the events endorsers were known members, or affiliates of, the Communist Party USA.
They included Sol Londe, President,West Los Angeles Chapter National Council of Seniors.
Los Angeles DSA potential donors list
On July 26 1992 California Democratic Socialists of America leader Steve Tarzynski wrote a draft "major donor letter" for Southern California DSA, inviting donors to join the Upton Sinclair Club of DSA[11]
We know you have been generous in supporting DSA's important work in the past. We'd like to develop a core of at least twelve people who will pledge 1,000 annually to keep our Organization working for Southern California DSA. We invite you to be one of those people. This select group of members and friends would have a key role in rebuilding a democratic left opposition in California.
This unique group of individuals would form the "Upton Sinclair Club" which will act in an advisory role meeting with the Southern California DSA leadership at an annual brunch. Sinclair Club members will receive a quarterly bulletin reporting on Southern California DSA's progress, and will have an opportunity to meet international DSA spokespeople and international guest speakers in more intimate small group settings. Admission to all local, statewide, and national DSA events in the Southern California would be complimentary with membership in the Sinclair Club.
The draft was accompanied by a "List of Potential major donors to DSA"
References