Sojourners
Jump to navigation
Jump to search

Sojourners is a progressive, Christian organization that emerged in 1971 out of the Sojourners Community in the inner-city neighborhood of Southern Columbia Heights, in Washington, D.C. The organization publishes a magazine to address issues of faith, politics, and culture from a biblical perspective. It also hosts an annual program for voluntary service for education, ministry, and discipleship.[1]
About
Mission
The stated mission of Sojourners is found on their website:
"To articulate the biblical call to social justice, inspiring hope and building a movement to transform individuals, communities, the church and the world."
Goals
Sojourners explain their goals on their website:
"Sojourners are Christians who follow Jesus, but who also sojourn with others in different faith traditions and all those who are on a spiritual journey. We are evangelicals, Catholics, Pentecostals and Protestants; progressives and conservatives; blacks, whites, Latinos, and Asians; women and men; young and old. We reach into traditional churches but also out to those who can't fit into them. Together we seek to discover the intersection of faith, politics, and culture."[2]
History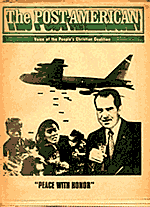 Sojourners ministries grew out of the Sojourners Community, located in Southern Columbia Heights, an inner-city neighborhood in Washington, D.C. The community began at Trinity Evangelical Divinity School in Deerfield, Illinois, in The Post American, Jan-Feb 1973 the early 1970s when a handful of students began meeting to discuss the relationship between their faith and political issues, particularly the Vietnam War. In 1971, the group decided to create a publication that would express their convictions and test whether other people of faith had similar beliefs. What emerged was an publication committed to social justice and peace: The Post-American. The community relocated to Washington, D.C. in 1975, living together in common households, had a common purse, formed a worshiping community, got involved in neighborhood issues, organized national events on behalf of peace and justice and continued to publish the magazine.[2]
Board of Directors 2020
Personnel
As at March 15, 2010, the following worked for Sojourners:[4]
Staff
Interns
Contributing Editors
Contributing Writers
Board of Directors
Contributing Editors 1989
External links
References