Simone Morgen
Jump to navigation
Jump to search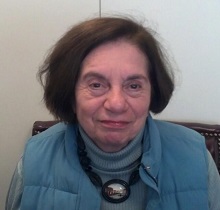 Template:TOCnestleft Simone Morgen is an officer of Democratic Socialists of Central Ohio, a branch of Democratic Socialists of America.[1].
She is a long-time volunteer and activist with Jobs with Justice and numerous other groups, including more recently USUncut and immigrant support groups.[2]
In 2012, she was Constituent Liaison at State of Ohio - AG office.[3]
DSA member
The Democratic Socialists of Central Ohio (DSCO) are a local chapter of Democratic Socialists of America. In 1999, local contacts were Reg Dyck and Simone Morgen.
Jobs with Justice
In 2009 Simone Morgen was President, Columbus Jobs with Justice[4]
The Free Press
The Free Press in Ohio is run by the Columbus Institute for Contemporary Journalism[5].
CICJ Board of Directors includes;
DSA contact
In 2009 Simone Morgen was Central Ohio contact for Democratic Socialists of America[6].
DSA NPC member
At the Democratic Socialists of America 2009 National Convention Evanston, Illinois November 13-15, 2009, a new National Political Committee was elected;[7]
Occupy Columbus involvement
On Oct. 30, 2011, Democratic Socialists of America member Simone Morgen participated in the Occupy Columbus protest on which she made the following comments:[8]
Committees have been established (research, outreach, logistics, legal, etc.) as well as a website, forum and Facebook presence. I have been most in contact with the legal committee due to prior acquaintance in work and Comfest (community festival) contexts, and we have also contacted by Occupy to lend our name in support. Various programs have been held; there may be opportunities for teach-ins. Resolutions have been passed supporting the repeal of SB5 (rally to be held November 1st), an end to corporate personhood, fairness in taxation, getting money out of politics and preserving the safety net.
One aspect that may be unique here is that a separate student Occupy has focused on campus concerns such as tuition increases and the proposed privatization of OSU parking spaces. This group meets separately, although they send delegates to the main Occupy group and work with them on specific events.
Democratic Socialists of Central Ohio (DSCO) members have gone to various general assemblies and events, to the degree it can be coordinated with work and other activist events. I have been using some local contacts to try to obtain an indoor meeting space for them in the coming colder months."
DSA 2011 leadership
Elected to serve on the Democratic Socialists of America National Political Committee – the leadership body described as "the engine room of the organization", in November 2011, were;[9]
Plus the two YDS co-chairs, Sean Monahan (Philadelphia, PA) and Jackie Sewell (Lawrence, KS).
DSA 2016 leadership
The 2016-17 Democratic Socialists of America National Political Committee elected members are: Jared Abbott, Hope Adair, Theresa Alt, David Green, Jose Gutierrez, Elizabeth Henderson, Frank Llewellyn, Sean Monahan, Simone Morgen, Brandon Payton-Carrillo, Joseph Schwartz, Peg Strobel and Russell Weiss-Irwin. The convention also voted to add two new honorary vice chairs: Deborah Meier and Bhaskar Sunkara. [10]
NPC candidate
In August 2017 Simone Morgen stood for election to the Democratic Socialists of America National Political Committee, at the National Convention in Chicago.[11]
In my case socialism skipped a generation - my grandfather took my mother to rallies, which apparently didn't take, although my household was generally on the left but inactive. My interest in socialism was a matter of basic fairness, and I have had a strong awareness of inequities from an early stage, especially with regard to women's place in society. I worked previously in the Ohio Senate, and have been in an office of state government for several years.
I joined DSA at some point in the early to mid-1990s, at what seems to have been the nadir of DSA activity. Although we were small, I continued to work with local single payer and environmental activists and produced education programs on issues such as corporate influence in American life and environmental awareness. I have been working locally with a multi-racial group studying cooperatives to assist poor communities. During the Bernie campaign which we joined locally, we began to grow, which accelerated after the election. A few years ago, we succeeded in starting a local workers' center (I am on the board), divided between immigrant and labor support, to assist a growing immigrant community and help to build strength in local labor efforts, which have historically not been as strong as in northern Ohio. I am a member of the DL/blog committee, as well as the immigrant sub-committee of the AntiRacist working group. I also belong to the Socialist Feminist and the recently formed Solidarity working group.[12]
Associated activists
Amanda Ferguson, Lainie Rini, Ben Wibking and Jessica Pantaleon Camacho.[13]
Veralucia Mendoza Reno, Nicholas Pasquarello, Jen Mendoza, Trent Ramsay Taylor, Sean Nestor, Will Petrik, Kevin Zamora and Ramon Perez, Joe Motil, Rashida Davison and Timothy Ralph Singratsomboune, Mario Cespedes, Bhuwan Pyakurel, Sylvia Vasquez and Inna Simakovsky, Hannah Hartshorn, Laura Jan and Mattie Reitman, Carissa Reed and Eliana Verónica, Rashida Davison, Brad Holmes, Cruz Bonlarron Martínez and Kelli Allen, Bob Hart, Ariel Miller and Rachel Anne Metzler, Jeff Watters, Simone Morgen, Connie Hammond, Ryan Melusi Marchese, Tim Chavez, Austin Kocher, Kiwan R. Lawson, Robert Studzinski, Thomas Lee, Noel Andersen, Mike Smalz, Jeremy Baiman, Ruben Castilla Herrera, Stuart Desmond McIntyre, JJ Verbino, Nick Bates, Kimberly Michelle Pilcher Katie Conley Bates, Bob Roehm, Samuel Gresham, Graham Spangler, Coco Smyth, Akela Amber, Andrew Neutzling and Cory White, Byanka Aguirre Zaragoza, Leticia Vazquez, Indra Leyva and Marcos Olivarez, Darsy Amaya, Lourdes Barroso De Padilla, Lair Marin-Marcum, Guadalupe Velasquez, Anamaria Perales-Lang, Rubén Castilla Herrera, Ariana Ulloa-Olavarrieta, Diana Pagan, Paloma Enmei Martinez-Cruz and Frederick Luis Aldama.
References
References