Sijisfredo Aviles
Jump to navigation
Jump to search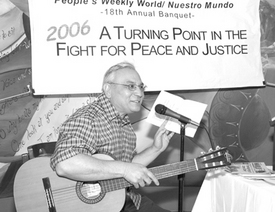 Template:TOCnestleft Sijisfredo Aviles...
Chicano movement
The 40th Anniversary Commemoration Committee of the Chicano Moratoriums was formed in the summer 2009 by the Chair of the National Chicano Moratorium Committee of August 29, 1970 along with two independent Chicano Movement historians whom although not of the baby boomer generation, have become inspired by the Movimiento.
The organization posted a list of significant "Chicano movement" activists on its website which included Sijisfredo Aviles.[1]
Crusade for Justice event
Rosalio Urias Munoz December 6, 2014:
Dec. 6 1969 Crusade for Justice, Denver Colorado conference to begin planning for national Chicano action against the war in Vietnam and the draft that eventually led to the August 29, 1970 National. Pictured are raza draft resistors at the meeting, left to right myself Rosalio Munoz of Los Angeles, Sijisfredo Aviles Chicago puertoriqueno activist who just got out of prison for resisting the draft, and Crusade activists Ernesto Vigil and Arturo Cordova
Chicano anti Vietnam War Conference
Rosalio Urias Munoz December 6, 2014:
Dec 6 1969 Chicano anti Vietnam War Conference at Crusade for Justice, LA activists Ramses Noriega, Bob Elias, Javier Galvez (Claremont Colleges Mecha) myself, and Chicago Puertoriqueno activist Sijisfredo Aviles. We began planning with Corky Gonzales and the Crusade, Bay Area Chicanos, as well as from Texas, New Mexico, maybe Arizona. — with Ramses Noriega and Sijisfredo Aviles.
Communist Party USA
In September 2006 the Peoples Weekly World[2]listed several members of the Illinois Communist Party USA.
Joan Elbert, Barbara Russum, Bea Lumpkin, William Appelhans, Bill Mackovich, Carolyn Black, Carroll Krois, Dee Myles , Doug Freedman, Frank Lumpkin, John Bachtell, Kevin Collins, Lance Cohn, Mark Almberg, Marguerite Horberg, Martha Pedroza, Mike Giocondo, Pepe Lozano, Roberta Wood, Scott Marshall, Shelby Richardson, Sijisfredo Aviles, Sue Webb, Terrie Albano.
Supporting the People's World
The Chicago Communist Party USA 22nd Annual People's World Banquet Dec. 6 2009 at the Parthenon Restaurant. Several thousand dollars was raised for the PW Fund Drive from "supporters who dug deep despite the hard economic times".
The attendees, a rainbow crowd of labor, community and religious activists, entered the festive room to the sounds of the jazz trio, Lovers in Arms and a running slide show of photos from struggles over the past year.
The program included a performance of Mescolanza, a new performance group of movement veterans Terry Davis, James Thindwa, Sijisfredo Aviles and Bob Huston who "hope to carry multi-cultural social justice song to the picket line, rallies and events". Tim Yeager with his accordion joined them at the end for Solidarity Forever and the International[3].
Saluting workers everywhere!
In 2009 the Peoples Weekly World carried an article "Saluting workers everywhere!"
Our unity makes Wall Street tremble
Employee Free Choice and universal health care!
A 'green', demilitarized, democratized economy that works for all!
Illinois Readers of the PWW signed the article.
Terrie Albano & John Bachtell - Jon Allen - Sijisfredo Aviles - Eric Robert Berdell - Carolyn Black & Bill Appelhans - Owen Brill - Helen Boothe - John Bradley - Docia Buffington & Abdul-Aziz Hassan - Cathy Campo & Kevin Lindeman - Cristobal Cavazos, Tania Brown & Anita Naoli - Andrew Chebuhar - Dean Christ & Joan Phillips - Ben Cline - Carmen Cohn & Lance Cohn - Alison Cooper - Clarice Durham - Joan Elbert - Thomas Fineberg & Maxine Fineberg - Oscar Forsman - Connie Hall - Ahmad Hassan - Harold Hill - Dajiang Hu - Marge Gamboa - Mike Giocondo & Carroll Krois - Luster Jackson - Ed Jenks & Mary Jenks - Earl R. Jones - Kenneth Kapel - Molly Kelley & Dallas Brown - Angela Larson & Bamshad Mobasher - Jim Lange - Joyce Lightfoot - Stephen Livingston - Guadalupe Lozano - Pepe Lozano - Bea Lumpkin & Frank Lumpkin - Megan Marshall - Scott Marshall & Roberta Wood -Bill Mackovich - Damien Matthews - Donn Miller - Stanley Moe - Ken Nelson - Tom Pace - Ted Pearson & Kathy Pearson - Martha Pedroza - Hector Pedroza - Shelby Richardson – Mark Rogovin & Michelle Rogovin - Barbara Russum -Armando Santos - Tom Shepherd - Evelyn Swan - Ruth Tregay -Kevin Tyson - John Wojcik.[4]
Peoples World personnel
As at December 2010, personnel of the Communist Party USA paper, Peoples World, ;[5]
Editorial Board
Bureau Chiefs and National Contibutors, Juan Lopez (N. Calif.), Rossanna Cambron (S. Calif.), Joelle Fishman (Conn.), John Bachtell (Ill.), John Rummel (Mich.), Tony Pecinovsky (Mo.), Dan Margolis (N.Y.), Rick Nagin (Ohio), Libero Della Piana, Scott Marshall, Elena Mora, Emile Schepers, Jarvis Tyner, Sam Webb
National Party Building Conference
National Party Building Conference Hosted by Communist Party USA and People's World.
Saturday, November 11, 2017 at 12 PM – 6 PM EST
Join Communist Party activists and members in a national conference. You can register here https://tinyurl.com/ycdouk3y
The conference will take place November 11th to 12th to plan our work in the fight against the Trump Administration and its white supremacist ruling class backers. Find information here about how to participate. http://www.cpusa.org/2017-national-party-building-conference-resist-organize-vote-grow/
The conference will be streamed from Chicago to regional meetings in New Haven, Los Angeles, and Orlando. Whether you're on the East Coast, West Coast, in the MIdwest or the South, you'll be able to participate.[6]
Those invited on Facebook included Sijisfredo Aviles.
References