Shaun King
From KeyWiki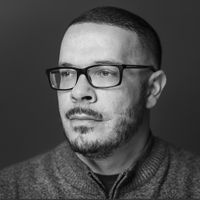 Shaun King is a prominent Black Lives Matter activist. He is a "columnist for The Intercept. Previously, he was a contributing writer for Daily Kos and a political commentator for The Young Turks."
Praised Willem Van Spronsen
Shaun King praised Willem Van Spronsen, who attempted to "set a fire with incendiary devices during an attack at an ICE detention center in July 2019... [he] was armed with a rifle and threw 'lit objects' at buildings and vehicles in the parking lot..."[1] at an Immigration and Customs Enforcement (ICE) Detention Center in Tacoma, Washington on July 13, 2019. He died during a shootout with police.[2]
Shaun King wrote:[3]
Willem Van Spronsen just became the first martyr attempting to liberate imprisoned refugees from a for-profit detention center in Tacoma, Washington.
His hero was John Brown -the white abolitionist who led the raid on Harpers Ferry in 1859.
This is what our country has come to.
We are told that this is the final letter of Willem Van Spronsen - who was shot and killed by law enforcement as he attempted an attack on a for-profit refugee detention center in Tacoma, Washington.
It's a beautiful, painful, devastating letter.
He wasn't crazy -inaction is.
This is where Willem was murdered this weekend.
His actions will be called terrorism and people will call him crazy, but neither are true. His mind was very clear.
He is now "arm in arm with John Brown."
These camps must be shut down.
CAIR-LA Keynote Speaker
Shaun King is the Keynote Speaker of the Los Angeles chapter of Council on American Islamic Relations's 22nd Annual Banquet.[4]
Hussam Ayloush connection
Hussam Ayloush November 18 2018:
With Rashida Tlaib, Shaun King, Fatima Dadabhoy, Marwa Rifahie and Suzanne Khazaal.
Supports DSA
Sanders Institute Fellows
The Sanders Institute Fellowship is comprised of leaders dedicated to transforming our democracy through the research, education, outreach and advancement of bold, progressive ideas and values.
Dr. Jane O'Meara Sanders, Prof. Robert Reich, The Honorable Nina Turner, Harry Belafonte, Prof. Jeffrey Sachs, Dr. Cornel West, Rep. Tulsi Gabbard, Bill McKibben, Danny Glover, Benjamin Jealous Dr. Stephanie Kelton, Michael Lighty, Shaun King.[5]
WE GONNA BE ALRIGHT
Rosa Luxemburg Stiftung - New York Office. November 10, 2017 · WE GONNA BE ALRIGHT: One year after Trump's election, journalist Shaun King joins labor activist Bill Fletcher, Jr. to discuss the state of Black progressive politics.Free and open to the public.
November 16 at the Malcolm X-Dr. Betty Shabazz Educational Center in Harlem. RSVP below to reserve a seat!
References