Seth Moulton
From KeyWiki
Seth Moulton is a Congressman from Massachusetts.
Support for the Council on American Islamic Relations
Seth Moulton wrote a letter of support to the Council on American-Islamic Relations (CAIR) on the occasion of their 24th anniversary in September 2018.[1]
Truman National Security Project
As at September 8, 2010, Seth Moulton served as a fellow for the Truman National Security Project.[2] The project is an organization that seeks to recruit, train and elect progressives who will impact on National Security legislation.
Emily Cherniack connection
When Emily Cherniack saw an ad for a job that read "Get up, get coffee and change the world" she took it literally. She answered a call to help underserved Boston public school kids through a program called City Year AmeriCorps. A few years later she was tapped to run the Senate campaign of her boss at City Year, Alan Khazei. Khazei lost. But Cherniack succeeded in finding her next calling. She formed New Politics Organization to help national service alumni and military veterans get elected to office — in the tradition of John Kerry, John McCain and John F. Kennedy. "Before 1970, over 75 percent of congress had service backgrounds," says Cherniack. Today, she says, that number is at an all-time low. In 2014, New Politics Organization supported 5 candidates in key states and federal races, winning 3, including the election of Congressman Seth Moulton in Massachusetts. In 2018, they hope to support 50 candidates from both parties.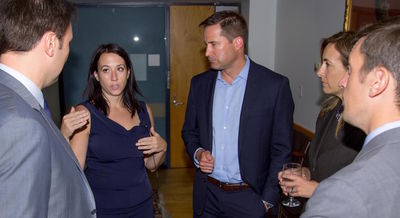 Emily Cherniack speaking with Massachusetts Rep. Seth Moulton (center) and several of the candidates she supports in 2018 House races, (far left) former Marine Corps sargeant Roger Dean Huffstetler of Virginia; (second from right) former Navy helicopter pilot Mikie Sherrill of New Jersey; and (far right) Army vet Dan Feehan of Minnessota. The group spoke at a September 9 event at the Harvard University's Kennedy School's Center for Public Leadership on the positive impact that service veterans can have on our politics.[3]
Cherniack looks for service oriented people. "People who've done AmeriCorps, programs like City Year, Teach For America, Youthbuilds, the Peace Corps, and Jesuit Corps — any type of significant service wherein people have dedicated a year or more to full-time service. We recognize that military is a high level of sacrifice. But they all kind of embody the ethos of service. When Seth Moulton came back from serving in the Iraq war he had trouble connecting to civilians and he felt like no one understood his experience as a veteran. He ended up hanging out with AmeriCorps alums like me. I first met him in 2007, and he said it was the first time he felt connected to people that were not veterans and it was actually what inspired him to be a fan of the idea of national service. Of course, it's a different level of service — he was in combat — but that same sort of commitment to country and that service ethos comes through."[4]
Anti-TPP letters
The proposed Trans-Pacific Partnership trade deal "could only lead to the offshoring of U.S. jobs, especially in the service sector, and the erosion of America wages, nine newly-elected Democrats said in a letter to the president. Overall, 13 of 17 newly-elected Democrats are opposing Fast Track".
Rep. Ruben Gallego (D-AZ) led the efforts of a group of the letter writers and his version was signed by Brendan Boyle of Pennsylvania's 13th District; Mark DeSaulnier of California's 11th District; Debbie Dingell of Michigan's 12th District; Brenda Lawrence of Michigan's 14th District; Ted Lieu of California's 33rd District; Kathleen Rice of New York's 4th District; Mark Takai of Hawaii's 1st District; and Bonnie Watson Coleman of New Jersey's 12th District.
"[W]e believe this legislation lacked sufficient guarantees to ensure Congress' voice in shaping the substance of international trade agreements negotiated by the Administration," another group of freshman Democratic legislators wrote. "Our concern is that previous versions of TPA legislation did not ensure sufficient input of our constituents' concerns about labor, environmental, and human rights protections that must be essential in the trade deals you are currently negotiating."
Reps. Seth Moulton of Massachusetts' 6th District, Pete Aguilar of California's 31st District and Norma Torres of California's 35th District signed the second letter.[5]
2016 Cuba trip
Representative Seth Moulton was part of President Barack Obama's March 2016 delegation to Cuba.[6]
2017 Cuba trip
From 19 February 2017 to 22 February 2017, six (6) members of the United States Congress were scheduled to visit Cuba. From the United States Senate: The Honorable Patrick Leahy (D- Vermont), The Honorable Thad Cochran (R- Mississippi), The Honorable Michael Bennet(D- Colorado), and The Honorable Tom Udall ( D- New Mexico). From the United States House of Representatives: The Honorable Jim McGovern (D- Massachusetts) and Seth Moulton (D- Massachusetts).[7]
Letter on US-Mexico security Co-operation
From Clergy and Laity United for Economic Justice;
Urgent alert from our friends at CISPES- Los Angeles Chapter : "The US plans to expand cooperation between Mexico and the United States to unfairly and inhumanely target Central American migrants and asylum seekers at the upcoming "Conference on Prosperity and Security in Central America".
We asked Representative Alan Lowenthal of Long Beach to author a letter to Secretary Tillerson calling for to put the human rights of Central Americans and all migrants and refugees front and center, and he's circulating a letter now. To have the biggest impact possible we need as many Members of Congress as possible to sign this letter!
Call or email your representative today and ask them to join Mr. Lowenthal as a co-signer.
Representative Alan Lowenthal (D-CA) led 37 Members of Congress, including top Democrats from the Armed Forces, Judiciary and Appropriations committees, in sending a letter to Secretary of State Rex Tillerson to raise red flags about "suggestions that the United States deepen security collaboration with Mexico along its southern border [with Guatemala] due to evidence that Mexico's Southern Border Program has led to wide-spread human rights violations and abuses against migrants and asylum-seekers."
Signers: Don Beyer (D-VA), Suzanne Bonamici (D-OR), Mike Capuano (D-MA), Tony Cardenas (D-CA), Judy Chu (D-CA), Emanuel Cleaver (D-MO), John Conyers (D-MI), Lloyd Doggett (D-TX), Keith Ellison (D-MN), Dwight Evans (D-PA), Ruben Gallego (D-AZ), Raul Grijalva (D-AZ), Luis Gutierrez (D-IL), Alcee Hastings (D-FL), Eleanor Holmes Norton (D-Washington, DC), Pramila Jayapal (D-WA), Hank Johnson (D-GA), Marcy Kaptur (D-OH), Barbara Lee (D-CA) , Zoe Lofgren (D-CA), Michelle Lujan Grisham (D-NM), Stephen Lynch (D-MA), Betty McCollum (D-MN), James McGovern (D-MA), Seth Moulton (D-MA), Mark Pocan (D-WI), Grace Napolitano (D-CA), Lucille Roybal-Allard (D-CA), Jose Serrano (D-NY), Jan Schakowsky (D-IL), Louise Slaughter (D-NY), Adam Smith (D-WA), Paul Tonko (D-NY), Maxine Waters (D-CA), John Yarmuth (D-KY).[8]
Albright connection
Rep. Jimmy Panetta June 21, 2017:
Huge thank you to Secretary Madeleine Albright for joining me and my National Security Task Force co-chairs, U.S. Congresswoman Stephanie Murphy and Congressman Seth Moulton for our inaugural meeting today. We had a great discussion on policies that will protect the United States' leading role in the world and keep Americans safe.
2014 meeting
Socialist intern
In 2017 Liz Drinkwater was an intern for Congressman Seth Moulton.
Radical staffer
Marven Hyppolite is a Lynn Massachusetts activist. Since 2019 he has been a caseworker at Congressman Seth Moulton's Office.
"Green New Deal"
From the Sunrise Movement:[9]
Alexandria Ocasio-Cortez has released a proposal for a Select Committee on a Green New Deal, a plan that would transform our economy and society at the scale needed to stop the climate crisis.
We have the momentum to make a Green New Deal real, but we need a critical mass of Congresspeople to support the proposal.
Take action on Dec. 10 to show Congress the Green New Deal is a top priority.
Congressional supporters by December 20 2018 included Seth Moulton.
HR 109 endorser
By February 20 2019 endorsers of Alexandria Ocasio-Cortez's HR 109 (Green New Deal) included Seth Moulton.
On CAIR
"CAIR's dedication to ensuring all Americans feel heard, regardless of faith, helps us become stronger as a nation and as a community. I want to thank CAIR for this important work even in the face of adversity."
Rep. Seth Moulton (D-Mass.) (October 2017).
New Democrat Coalition
DSA pressure on Yemen Bill
IE DSA - Inland Empire Democratic Socialists of America July 8 2019.
URGENT: Tomorrow, Tuesday 7/9, the House Rules Committee will consider whether to allow a floor vote on Rep. Ro Khanna's legislation to end US participation in the Saudi-led war in Yemen (Amendment 339 to the National Defense Authorization Act.) The DSA International Committee urges members to call their reps in support.
The Congressional switchboard is 202-225-3121. You can say something like:
"I urge you to co-sponsor, speak out for and vote for the Khanna-Schiff amendment to end all U.S. participation in the Saudi-UAE war in Yemen. Yemeni kids' lives are hanging on your vote."
Key Congress members — If your Rep is on this list, please contact them immediately and urge them to cosponsor Amendment 339:
Pelosi, Hoyer, Engel, Smith, Lieu, Nadler, Lowey, Jim Himes, Ted Deutch, Brad Sherman, Meeks, Bass, Connolly, Susan Davis, Jim McGovern, Langevin, Moulton, Gallego, Houlahan, Cicilline, Slotkin, Mikie Sherrill, Luria, Spanberger, Wild, Malinowski.
NIAC 2020 endorsement
First Wave of 2020 Endorsements.
The 2020 Election may be the most critical vote in our lifetime. It is more important than ever that Iranian Americans and our allies have a powerful voice at the ballot box.
That's why we are excited to announce NIAC Action's first 2020 endorsements – our largest ever single wave of endorsements!
We have an opportunity to elect more Iranian Americans into office than ever before.
And we have our best chance ever to send the first Iranian American to the U.S. Congress!
We have identified twelve champions of our community – incumbent members of Congress who have worked to prevent war and end Trump's ban on our families, and Iranian Americans who are ready to make an impact in all levels of government. With your help, we can elect them to office and bring real change in 2020.
By making a donation to NIAC Action PAC, you can help elect these champions of our community and send a powerful, united message that Iranian Americans will not be ignored on the political stage.
Seth Moulton – Incumbent, U.S. Congress (D, MA-6).
Congressman Moulton is a Marine veteran and a respected voice in Congress on national security issues. He has called for the U.S. to return to its commitments under the Iran nuclear deal and supports diplomatic rather than military efforts with Iran.[10]
NIAC Applauds Khanna-Gaetz Amendment
Press release Friday July 12, 2019: CONTACT: Mana Mostatabi.
WASHINGTON DC – Moments ago, the U.S. House of Representatives voted to pass a bipartisan amendment from Reps. Ro Khanna (D-CA) and Matt Gaetz (R-FL) to bar funding for an unauthorized war with Iran. The amendment passed with a final vote count of 251-170. The Khanna-Gaetz amendment was offered as part of the National Defense Authorization Act (NDAA) and builds on the momentum from last month's Senate vote on the Kaine-Udall amendment, which also would have also blocked the Trump administration from launching an unauthorized war with Iran.
In response to the passage of the Khanna-Gaetz amendment, NIAC Action President Jamal Abdi issued the following statement:
"The House of Representatives should be applauded for its vote today to stop an unauthorized war with Iran before it starts, and we call on the Senate to follow suit. With the passage of the amendment from Representatives Ro Khanna and Matt Gaetz, legislators moved one step closer to pulling the U.S. back from the edge of a war that the American people do not want and that Congress has never authorized. With nearly all of the 2020 presidential candidates calling for the U.S. to return to the Iran nuclear deal, and now with the House passing the Khanna-Gaetz amendment, a bipartisan consensus against the Bolton-Pompeo approach to Iran has clearly emerged.
"The Iranian-American community and the broader American public know that war with Iran would be a disaster. That's why a majority in the House and Senate now are on the record voting for provisions to rule out an unauthorized war with Iran. It is imperative that legislators ensure that the final defense authorization bill includes the Khanna-Gaetz amendment.
"We applaud Reps. Khanna and Gaetz for their leadership. Without the help of Chairmen Eliot Engel, Adam Smith and Jim McGovern as well as Reps. Anna Eshoo, Seth Moulton, Anthony Brown, Barbara Lee and countless Americans who spoke out against war with Iran, this vote would not have been possible."[11]
NIAC connection
NIAC July 25 2019·
NIAC Action staff and members met with Congressman Seth Moulton both in San Francisco and Washington, DC to discuss his presidential campaign, the Iran Deal, efforts to repeal the ban, and other pertinent issues. As part of our 2020 efforts, we will continue to highlight the concerns of the Iranian-American community with all of the presidential candidates! Want to be a part of the conversation? Stay tuned for upcoming events to be held around the country!
References