Serena Sebring
Jump to navigation
Jump to search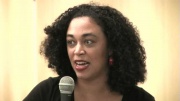 Template:TOCnestleft Serena Sebringis a queer black feminist organizer, educator, and mother. Originally born in Boston, MA, Serena came to the South by way of Boulder, CO in 2005, where she found home in Durham, North Carolina and the Southerners On New Ground family. She teaches Sociology at North Carolina State University, where her academic research examines the history of reproductive justice and women of color in North Carolina. [1]
Executive Director at Blueprint North Carolina.
Education
Former Instructor of Sociology at North Carolina State University
Studied Sociology, Women's Studies, African and African American Studies at Duke University
Studied Sociology at University of Colorado Boulder
M4BL Leadership
Thenjiwe Tameika McHarris February 11, 2019 · M4BL Leadership w/ our Convergence Council Team (Denise, Makani & N'Tanya) #Squad #M4BL
Makani Themba, N'Tanya Lee, Denise Perry, Mary Hooks, Morathi Adams, Serena Sebring, Dara Cooper, Richard Wallace, Nikita Mitchell, Karissa Lewis, Ash-Lee Henderson, Phillip Agnew, Monifa Bandele, Rukia Lumumba, Chinyere Tutashinda, Marbre Stahly-Butts, Mark-Anthony Clayton-Johnson, Gina Clayton-Johnson, Maurice Moe Mitchell.
Victory over the Klan
Zaina Alsous August 18, 2017 ·
Durham Antifa hearing reports that the Klan has turned back. Claiming VICTORY for now but pledging we will return if necessary ! ✊🏾 — with Katina Parker, Patoi Roja and Serena Sebring.
Anti-police
Zaina Alsous March 14, 2016 ·
My people my people ✊🏾 No new police headquarters on our watch! #DurhamBeyondPolicing — with Serena Sebring, Destiny Hemphill, Chanelle Croxton, Ade Toyesi Ibijoke, D'atra Jackson, Jade Brooks and Danielle Purifoy in Durham, North Carolina.
Rally against rape
A march and rally took place Durham, North Carolina April 28 2007 against sexual violence and assault. The protest was called Creating a World Without Sexual Violence—National Day of Truthtelling (DOT).
The organizing DOT coalition was made up of Black Workers for Justice, Freedom Road Socialist Organization, Independent Voices, Men Against Rape Culture, North Carolina Coalition Against Sexual Assault, Raleigh Fight Imperialism—Stand Together, Spirit House, Southerners On New Ground (SONG) and UBUNTU.
Alexis Gumbs, a Black graduate student at Duke, read a moving open letter to the crowd in front of the Buchanan house.
The main rally was held on the steps of the Durham County Courthouse. Speakers there included Serena Sebring, UBUNTU; Monika Johnson Hostler, NCCASA; Paulina Hernandez, SONG; Tyneisha Bowens and Laura Bickford, Raleigh FIST; Shafeah M'Balia, Women's Commission of BWFJ, and Phoenix Brangman, Dasan Ahanu and Bryan Proffitt of Men Against Rape Culture. A number of the speakers linked the issue of sexual violence to the struggle for immigrant rights and against racism, homophobia, capitalism, militarism and imperialism.[2]
Men Against Rape Culture
Bryan Proffitt is a Hip-Hop-generation white man who belongs to Men Against Rape Culture, a Durham, NC-based organization committed to building the struggle to end sexual violence and Ubuntu, a women of color- and survivor-led coalition committed to ending sexual violence.
An essay he wrote on the subject for the Freedom Road Socialist Organization website was shaped and reworked and made infinitely better by the thoughtful support and critical editing of Nancy Wilson, Tema Okun, Aiden Graham, Sam Hummel, Serena Sebring, Bob Pleasants, Michelle Lanier, Kriti Sharma, Precious-Jewel Zabriskie and Manju Rajendran[3].
Mary Hooks birthday
Kate Shaps January 19, 2014 ·
Last weds High on a mountaintop Mary Hooks welcomed in her 32 trip around the sun. We love u!!! We love walking this path w you. 2014 is y/ours, take it! And like u and yr cake say: Turn Up!! #32LooksGoooodOnYou #TurningItALLTheWayUp — with Mary Hooks, Serena Sebring, Salem Abraham Acuna, Jazz Franklin, Suzanne Pharr, Caitlin Breedlove, Probably Lyles, Hermelinda Cortes and Paulina Helm-Hernandez.
SONG staff
Southerners On New Ground staff As of 2015;[4]
"Free From Fear"
Serena Sebring, Southerners On New Ground Campaign Organizer, Jade Brooks, Southerners On New Ground Member Leader, Caitlin Breedlove, Southerners On New Ground Co-Director.
January 17, 2015
Durham, NC – On Saturday, January 17 at 5:00pm, Southerners on New Ground (SONG) will host a launch event announcing the "Free From Fear" campaign, at The Pinhook (117 W Main St, Durham, North Carolina 27701). Free From Fear seeks to pass an ordinance to prevent discriminatory policing and police profiling of LGBTQ people and people of color, and to address the harmful effects of these patterns on the local community. The campaign's central goal is the passage of a local anti-profiling ordinance, "The Durham Community Safety Act," which would ban police profiling and discrimination based on race, immigration status, gender, gender identity and sexual orientation. Southerners on New Ground is a regional LGBTQ (lesbian, gay, bisexual, transgender, + queer) organization made up of people of color, immigrants, undocumented people, people with disabilities, working class and rural and small town people in the South.
The event was free and open to the public, and featured a program of live music by local musicians, and speakers: Caitlin Breedlove (SONG, Co-Director), Serena Sebring (SONG, Campaign Organizer), Jade Brooks (SONG, Member Leader), Sendolo Diaminah (Durham Public Schools Board Member), among others.[5]
The Movement for Black Lives
The Black Lives Matter "Movement for Black Lives" conference was held in Cleveland Ohio, July 24-26, 2015.
Free From Fear: Dangerous Homosexuals Building Power in Da' South to address profiling and the municipal court, Bri Carter, Brinn Frazier, Southerners On New Ground: Mary Hooks, Cazembe Jackson, Mickey Jordan, Serena Sebring, Eshe Shakur, Tiffany Smith, Dean Stead, Kiesha Webb, Rebecca Wooten.[6]
"Durham Beyond Policing Town Hall"
1104 Broad St, Durham, Tuesday 9 February 2016 "Durham Beyond Policing Town Hall" organized by Jade Brooks.
We are calling all freedom-fighters, all justice-lovers, all truth-tellers, all who can't wait to please join Southerners On New Ground and the #SayHerName crew for a community forum and visioning session. Let's speak our truths and sow the seeds of a new way forward for all our people, with those most impacted, most criminalized, at the center: black and brown people, queer, trans and gender non-conforming folks, working class and poor people, undocumented people ... Let's dream and scheme together and find out ways to throw down for campaigns and direct action that holds the cops accountable
Those indicating attendance on Wherevent included Jillian Johnson, Dante Strobino, James Cersonsky, Nikhil Umesh, Ben Wilkins, Jade Brooks, Marcus R. Bass, Joe Stapleton, Kristen Cox, Hannah Spector, Jose Romero, Nancy Caamano, China Medel, Scott Michael, Alex Biggers, Destiny Hemphill, Cat Crowe, Monique Laborde, Tobi Lippin, Amy Wang, Mitch Xia, Xander Stewart, Smiley Boyd, Mina Ezikpe, Ethan Tyler, Jess Dilday, Jonathan Henderson, Alex Chassanoff, Jacky Chan, Margaret A. Brunson, Alissa Ellis, Magdalene Slerlisk, Saba Taj, Le'Andre Demond Blakeney, Doneatha Green, Kaylan Baxter, Destiny Hemphill, D'atra Jackson, Amy Glaser, Eliza Meredith, Gregory Williams, Victoria Bouloubasis, Umar Salute Muhammad, Patricia Bass, Gen Na, Regan Downey Buchanan, Chanelle Croxton, Ben Carroll, Patrick Snipes, Jess Issacharoff, Mariah Monsanto, Alex Biggers, Jojo Moto, Zachary Faircloth, Sarah Pederson, Stef Bernal-Martinez, Bro Beasley, Ben Wilkins, Jessica Pierce, Isa Bee, Jessica Jude, Tony Hood, Mindy Isser, Rachel Alexis Storer, Moses Ochola, Ade Oh, Lisa Sorg, Blanche Amelia S. Brown, Shilpi Misra, Scott Michael, Afi Apefa Bello, Mary Alta, Anastasia Karkliņa, Lizzie Lindsey, Holly Hardin, Matilda Wormwood, Eli Viszk, Wutang McDougal, Andrew Heil, Fern Hickey, Philip Marschall, Catherine Berman, Bex Kolins, Jen Przewoznik, Equashia Mumin, Eva Panjwani, India Pierce, Sandra Korn, Risa Foster, Ngọc Loan Tran, Eli Meyerhoff, Shanna Ochola, Serena Sebring, Ajamu Dillahunt, Jr., Nagwa Nukuna, Jina Valentine.[7]
Friends of Kriti Sharma
Kriti Sharma wrote "Interdependence: Biology and Beyond". She credited several people with "shaping my mind and life" through the process, including Afiya Carter, Aiden Graham, AJ Vrieze, Alexis Gumbs, Atiya Hussain, Beth Bruch, Bryan Proffitt, Caitlin Breedlove, Dannette Sharpley, Emily Chavez, Glenys Verhulst, Jenn Vrieze, Jurina Vincent-Lee, Keagha Carscallen, Laurin Penland, Kai Barrow, Lynne Walter, Marjorie Scheer, Michelle O'Brien, Manju Rajendran, Sendolo Diaminah, Mikel Barton, Monica Leonardo, Nia Wilson, Nikki Brown, Noah Blose, Paulina Hernandez, Pavithra Vasudevan, Rachael Derello, Russell Herman, Sam Hummel, Sammy Truong, Serena Sebring, Shirlette Ammons, Tema Okun, Theo Luebke, Tim Stallman, Tony Macias, and Yolanda Carrington.[8]
Now What? Defying Trump and the Left's Way Forward
Now What? Defying Trump and the Left's Way Forward was a phone in webinar organized by Freedom Road Socialist Organization in the wake of the 2016 election.
Now what? We're all asking ourselves that question in the wake of Trump's victory. We've got urgent strategizing and work to do, together. Join Ash-Lee Woodard Henderson of the Movement for Black Lives and Freedom Road, Calvin Cheung-Miaw, Jodeen Olguin-Taylor of Mijente and WFP, Joe Schwartz of the Democratic Socialists of America, and Sendolo Diaminah of Freedom Road for a discussion of what happened, and what we should be doing to build mass defiance. And above all, how do we build the Left in this, which we know is the only solution to the crises we face?
This event will take place Tuesday November 15, 2016 at 9pm Eastern/8pm Central/6pm Pacific.
Those invited, on Facebook included Serena Sebring.[9]
Amandla Training
Sendolo Diaminah February 1 2018
Hey Black organizers & those who love us: BOLD has re-opened our application period for Amandla, our organizer training program. We have just a few more slots we wanted to make available, so now is your chance if you missed the deadline!
Alicia Garza, Ajamu Dillahunt, Aaron Gamal, Whitney Maxey, Hashim Benford, Ociele Hawkins, Bryan Proffitt, Bennett D. Carpenter, Courtney Sebring, Cazembe Murphy Jackson, Reece Chenault, Charlene Carruthers, Chanelle Croxton, D'atra Jackson, Dove Kent, Fresco Steez DeLaflyy, Maria C. Fernandez, Aiden Riley Graham, Kaji Reyes, Laila Nur, Theo Luebke, Maria Poblet, N'Tanya Lee, Taliba O Njeri, Orisanmi Burton, Quinton Harper, Roberto Tijerina, Mary Hooks, Serena Sebring, Adaku Utah, Vanessa Moses, Ash-Lee Woodard Henderson, Thomas Wayne Walker, Jayanni Elizabeth, Jayda Rasberry, Amber Evans, Dara Cooper, Yotam Marom.
Decrim Durham Election Forum
Sendolo Diaminah April 12 (2018).
Want to meet the candidates for sheriff and district attorney? Want to hear community folks ask them the questions we care about? Come through this saturday for our election forum co-hosted with SpiritHouse NC, All Of Us Or None NC, Southerners On New Ground and BYP100 Durham Chapter! Can't make it? Share it with your friends :)
Aiden Riley Graham, Aidil Ortiz, Nia Wilson, D'atra Jackson, Alec Greenwald, Carolina Alzuru, Carol Reiner-Yepez, Anna Duncan, Bennett D. Carpenter, Elainiel Baldwin, Bryan Proffitt, Hashim Benford, Osunfunke Omisade Burney-Scott, Mikel Barton, Courtney Sebring, Chanelle Croxton, Dove Kent, Danielle Purifoy, Raymond Eurquhart, Thaddaeus Allen Edwards, Tom Feltner, Felicia Arriaga, Gen Na, Magan Gonzales Thigpen, Holly Hardin, Kori Higgs, Jesse Huddleston, Mya Hunter, Undreya Hudson, Parker T. Hurley, Sufia Ikbal-Doucet, Jennifer Frye, Kimber Jean, Turquoise LeJeune Parker, LeAndre Demond Blakeney, Lisa McCool-Grime, Pierce Freelon, Quinton Harper, Quita Tinsley, Rodrigo Dorfman, Serena Sebring, Santos Flores, Matthew Sears, Seamus Robertson, Vernetta R. Alston.
Black August Bail Out
Jadebroo KS August 31, 2017:
With Ed Swan, Grace Nichols, Kifu Faruq, Courtney Sebring, Serena Sebring, Beth Velkey Brockman and Isaac Villegas at Forest Hills Park.
References