September 24, 2010 FBI Raids
Jump to navigation
Jump to search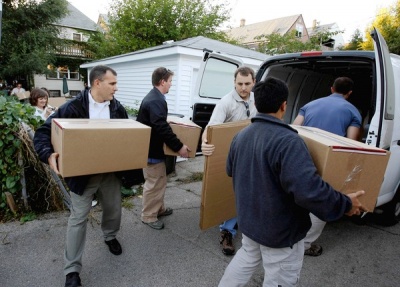 On September 24 the F.B.I. raided the homes of twelve leftist activists across the U.S.A. looking for links to foreign terrorist organizations.
Click here to read the search warrant.
In Minneapolos, 5 homes were raided as well as the Anti-War Committee office.
A solidarity committee has been formed in response to the raids. Following their initial meeting on September 24, the new committee met again on September 30, again at Walker Methodist Church.
Activists Investigated
The following is a list of those activists whose homes were raided and/or are being investigated:
Others Involved
Organizations Represented
The activists are involved with the following groups:
Statements of Solidarity from Organizations
As at Nov. 23, 2010, the following organizations had made statements of solidarity in support of the raided activists:[4] The Committee to Stop FBI Repression has put together the following list.
Statement of Solidarity with Activists Raided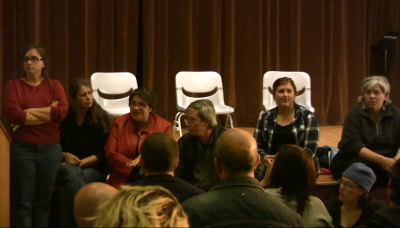 The following statement was read and agreed upon at the community meeting at Walker Church, Minnesota on the evening of Friday, September 24, 2010. In the statement, the signatories call for the federal government to cease its investigation and accuses the U.S. government of engaging in terror tactics on a daily basis.
Cherrene Horazuk chaired the meeting. Deb Konechne, Jess Sundin, Mick Kelly, Tracy Molm, Steff Yorek and Garrett Fitzgerald, RNC 8 Defense Committee spoke at the meeting.
Text of Statement
The text of the statement reads as follows:[6]
Statement of Solidarity with Activists Raided and Subpoenaed on 9/24/10
The raids and grand jury subpoeanas against antiwar and international solidarity activists on the morning of Friday, September 24, 2010 are not just an attack on particular activists, but on our movements for social justice as a whole. With a united voice, we condemn this repression; we demand the federal government cease its investigation and withdraw the subpoenas immediately; and we vow to continue our work for true justice.
We reject the allegation that the government's investigation into our movements is based on "material support for terrorism" in any form. This allegation is particularly ludicrous considering the terror tactics the U.S. government engages in on a daily basis, both globally and domestically. Aimed against valued members of our community, the raids against activists on Friday morning were particularly offensive to us. However, we recognize that they are unexceptional instances of repression when compared to the daily crimes against humanity carried out by U.S. imperialism.
We refuse to let the accusations of a notoriously untruthful, repressive government divide us in any way. Because an attack on one of us is an attack on all of us, we resolve to set any ideological or other political differences aside and respond in solidarity with one another. Our struggle will continue.
Signatories
Footage from the meeting
As at September 28, 2010, the following individuals and organizations were signatories to the "Statement of Solidarity with Activists Raided and Subpoenaed on 9/24/10":[6]
Protests
Sept. 27 outside Chicago FBI HQ
On September 27, an estimated "four hundred people gathered in front of Chicago FBI headquarters on Monday, September 27, to protest last Friday's outrageous raids and attacks by FBI agents against anti-war and Solidarity movement supporters in Minneapolis, Chicago and other cities." Speakers at the protest included:[7]
Meeting with Rep. Keith Ellison
On Nov. 5, 2010, Minnesota Congressman Keith Ellison held a meeting with five of the activists who were raided by the FBI in September. "While unclear about what legislative action he could take on their behalf, Ellison conveyed dismay with the raids." The activists encouraged Ellison to circulate a "Dear Colleague" letter to other members of the Progressive Caucus asking for support of an investigation of the FBI actions. "Ellison reminded them that he could not interfere with an ongoing investigation."[8]
Sarah Martin, one of the activists who attended the meeting stated,
"It was a reasonably good meeting. He certainly understands the seriousness of this and although political times are pretty horrible right now... he's gonna pursue doing a "dear colleague" letter with the progressive caucus... He kept saying of course, he can't stop this Grand Jury but he's gonna do everything he can. He met with us! This is Congressman Keith Ellison, and he met with us in person and gave us you know, a good time - which is - didn't happen at the Senator's office."
Tracy Molm, another of the activists who attended the meeting stated,
"[We asked Ellison to write] a "dear colleague" letter to Obama directly... He said that he's going to look into a "dear colleague" letter, and try to get other progressive people in Congress to sign onto it also."
On Nov. 6, 2010, Jess Sundin reported to the First National Meeting of the Committee to Stop FBI Repression on the successful effort to circulate a "dear colleague" letter to Obama through the state legislature. Additionally, Rep. Keith Ellison had given a commitment to circulate such a letter calling on the president to end the grand jury proceedings, investigate the FBI and reexamine the material support laws in the U.S. House of Representatives.[9]
References