Sean Penn
From KeyWiki
Sean Penn is the son of late Communist Party USA member Leo Penn.
DC Protest Against "The Surge"
Medea Benjamin, Sean Penn, Maxine Waters, Jesse Jackson, Susan Sarandon, Tim Robbins and others lead Jan 29, 2007 march.
Haiti, March 2010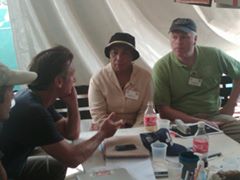 In March 2010 Nicole Lee from TransAfrica Forum, actors Danny Glover and Sean Penn and Reps Barbara Lee and Joseph Crowley were in Haiti working on earthquake recovery efforts.[1]
LAANE Speakers, Honorees, Entertainers
Speakers, Honorees, Entertainers at Los Angeles Alliance for a New Economy events have been;
Culture Clash, 2011 Dinner
Tom Morello, 2010 Dinner
Van Jones, President and Co-Founder of Rebuild the Dream, 2010 Guest Speaker
Sidney Poitier, Actor, 2010 Guest Speaker
Sean Penn, Actor, 2008 Guest Speaker
Danny Glover, Actor, 2007 Guest Speaker
Congresswoman Janice Hahn, U.S. Representative from California's 36th congressional district 2007 Dinner Honoree
Hilda Solis, U.S. Secretary of Labor, 2005 Dinner Honoree[2]
At Chavez's funeral
In the funeral hall, more than 30 political leaders including Cuba's Raul Castro and Iran's Mahmoud Ahmadinejad stood at attention before Chavez's flag-draped coffin. Many of them were welcomed by Nicolas Maduro, the vice president who will later be sworn in as interim president. The glass-topped coffin, which has been open since Wednesday, was shut for the funeral.
Congressman Gregory Meeks (D-NY) and former Congressman William Delahunt (D-MA) attended the Venezuelan leader's funeral. Hollywood actor Sean Penn and Reverend Jesse Jackson were also at the funeral. "We pray God today that you will heal the breach between the U.S. and Venezuela," Jackson said.[3]
Actor Sean Penn told the The Hollywood Reporter, "The people of the United States lost a friend it never knew it had. And poor people around the world lost a champion."[4]
References