Sean Gervasi
Jump to navigation
Jump to search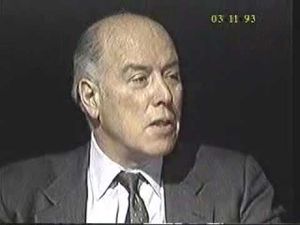 Sean Gervasi
Socialist Scholars Conference
Terry Allen, Covert Action Information Bulletin; Meredith Turshin; Sean Gervasi and Charles MacMartin were speakers on the The "Good Cops" USAID, NED Peace Corps & U.S. Foreign Policy panel sponsored by the Covert Action Information Bulletin at the Tenth Annual Socialist Scholars Conference. The conference was held April 24-26, 1992 at the Borough of Manhattan Community College, New York City.[1]
DSA meeting
In May 1992, Sean Gervasi, a former professor at the Sorbonne, addressed a meeting of New York Democratic Socialists of America, on measures which would transform the American economy.[2]
Institute for Policy Studies
In 1993 Gervasi was listed as a among "former Visiting Fellows and Visiting Scholars and current TransNational Institute Fellows" on the Institute for Policy Studies 30th Anniversary brochure.
Recommended appointees for a new Administration
In the 1988 book "Winning America: Ideas and Leadership for the 1990s" edited by Marcus Raskin, Chester Hartman, Sean Gervasi recommended Barry Bluestone, Gar Alperovitz, Donald Harris, Robert Browne, Jeff Faux, Carol O'Cleireacain, Jamie Galbraith, Howard Wachtel, Bennet T. Harrison, Michael Tanzer and Arthur MacEwan as recommended appointees for a new Administration page 24, 25).
References