Saul Alinsky
From KeyWiki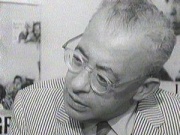 Saul Alinksy (born Jan. 30, 1909 in Chicago Illinois) was the son of Sarah Tannenbaum and Benjamin Alinksy. He was married first to Helene Simon and then to Jean Graham. His utterances and writings cannot be identified with a single ideology. They contain elements of Marxism, Fascism, anarchism, Socialism, and racism, along with contempt for religion, the business world, and traditional American political process.[1]
Advocacy
Between 1931 and 1939 Alinksy worked as a sociologist with the Institute for Juvenile Research in Chicago. During this time Alinsky was also a member of the Illinois State penitentiary system's classification board and did some organizing for John L. Lewis' Congress of Industrial Organizations (CIO) and raised money for the Communists' International Brigade in the Spanish Civil War. Alinsky worked with the federal government in various agencies, including the Labor and Treasury Departments. He has also worked with the War on Poverty program and the Peace Corps.[1]
Despres and Alinsky prepare for revolution
In the late 1920s future Chicago alderman Leon Despres became friendly with Saul Alinsky. According to the Chicago Tribune centenarian Despres gave a speech on Alinsky at their old Alma Mater in January 2009, which revealed much about both men.
But palling around with street toughs convinced Alinsky that social problems had to be tackled head-on, not by gathering statistics, said Leon Despres, a former 5th Ward alderman, and a classmate of Alinsky's at U. of C.
He and Alinsky went to a shooting range to prepare for the revolution that seemed inevitable as the Great Depression appeared to be the end of capitalism.
But socialism and the revolution never came, and Alinsky afterward became intolerant of ideology...[2]
In his efforts to bring about social revolution, Alinsky created training schools for agitators whose mission was to create chaos in urban areas through boycotts, sit-ins, rent strikes, and street demonstrations. Alinksy's agitators work with Negro leaders, Protestant and Catholic clergymen, and so-called civil-rights organizers. Alinsky has stated his admiration for Stokely Carmichael and his black power militancy.[1]
Industrial Areas Foundation
In 1939, and with the financial backing of leftist millionaire, Marshall Field, Alinsky established the Industrial Areas Foundation as a base for his personal revolutionary activities. In the guise of a sociologist and as a self-described professional radical, Alinsky has preached and waged class warfare: the haves vs. the have-nots, by organizing poor people - especially Negroes, against "the white Establishment", and the city hall "power structure" in such places as Buffalo, Rochester, Chicago, Los Angeles, Detroit, and Syracuse.[1]
"Midas Muffler" man
John McKnight arranged the dinner meeting when Monsignor Jack Egan met Gordon Sherman of Midas Mufflers.
Jack was "so bushed"—his phrase—he didn't know whom he was supposed to be meeting. "I was tired. I just wanted to get out of there and get home." Then John McKnight, beckoned him across the nearly empty dining room. "Well, what is it you want of me?" Father Egan abruptly and uncharacteristically challenged the president of Midas Muffler when he was introduced. Gordon Sherman told Jack Egan he was the fourteenth person he'd talked to about putting a quarter of a million where it would do the most good for the people of the city. "Jack's mind immediately cleared. Two hundred and fifty thousand dollars! He had an immediate graphic vision of the Lawndale community organized, his people taught to take charge of their own lives, the very vision that had taken him that day to rouse the young Jesuit seminarians". He told Sherman how much he'd like to see Lawndale organized the way Woodlawn was, the work directed by Saul Alinsky. Now Sherman came to attention. "Do you know Saul Alinsky?" Sherman asked eagerly. "He's a dear friend of mine," Jack said.
Jack Egan intended that Alinsky should flesh out Jack Egan's aspirations for the people of Lawndale. He never dreamed that Alinsky would flesh out his own dreams, persuading Gordon Sherman that putting his quarter million in a training institute for community organizers was more desirable than funding a community organization in Lawndale. Egan's sop was the promise—never fulfilled—that he would get the first four black organizers. Initially furious, Jack "felt betrayed, I felt double-crossed." Egan soon forgave Alinsky because he loved the man. He even brought himself to suggest later that, "I knew Saul was right . . . because Alinsky had no black organizers to put in Lawndale. And that was 1969—months after King's death."[3]
CSO
Rosalio Urias Munoz March 30, 2017:
At Saturday evenings A Night At Epiphany honoring Dolores Huerta, Conrado Terrazas veterano del movimiento and head field deputy for Gil Cedillo, Dolores, my brother Ricardo F. Munoz and. Behind us some of the photo exhibit curated by Jimmy O'Balles and me as historian. If you look closely you can see Ed Roybal between Conrado and Dolores with the 1935 Spanish Club at Roosevelt with Roybal as president, then between Dolores and Ricardo is a late 30's event of the Mexican Youth Conference with Bert Corona and my uncle Felix Gutierrez and behind me a photo of a state Community Service Organization leadership, on my right you can see Saul Alinsky, also in photo Roybal, Fred Ross, Cesar and Helen Chavez, Herman Gallegos and others. Rosalio Urias Munoz March 5, 2014 :
Well its 2 days or so with no comment to speak of about this photo of a Community Service Organization leadership group at a mid 50's conference. Far left Saul Alinsky, mid front Ed Roybal to his left organizer Fred Ross to his left Herman Gallegos, below second from left ins suit a portly Cesar Chavez.
Chavez influence
In 1947, Saul Alinsky hired Fred Ross, an experienced organizer among California's migrant farmworkers. Ross built the Community Service Organization in several cities, mostly among Latinos, recruiting new members and identifying potential leaders through house meetings and one-on-one conversations. In San Jose, California, one of the people Ross recruited was Cesar Chavez, whom Ross hired and trained as an organizer. Chávez would later adopt these organizing ideas in starting the United Farm Workers union.[4]
"Alinsky Rethinks Idea of Community"
In a major Washington Post (WP) article of February 20, 1969, page G1, by D.J.R. Bruckner (Los Angeles Times), "Alinsky Rethinks Idea of Community", a "new" Saul Alinsky program orientation emerged. Bruckner wrote:
Chicago: "The community organizer with the longest record of success thinks the next generation of organizers has to rethink the entire idea of community. "I do not think the idea of geographical areas, especially of neighborhoods, is any longer applicable," says Saul D. Alinsky. "A long time ago, probably with the advent of the car, we came to the end of the definable area. People no longer really live their lives in neighborhoods. We have political subdivisions which are things out of the past, lines on the maps; we are still involved with this idea. But the life of the people is something else. We are going to have to find out where it really is and how to organize it."
KW: The rest of the article will be reproduced here if it is allowable under WP's copyright laws. Otherwise key paragraphs will be excerpted.
What the article did say is that Alinsky was opening "a national school for organizers here", with his Industrial Areas Foundation (IAF) leasing a floor of a building on Michigan Avenue near the Loop. It would start out with15 students and "two of his organizers as teachers".
He also has several IAF projects in Rochester and Buffalo, New York, and another one scheduled for Chicago. Some of his money comes from church organizations, unions "or other funds", while some projects raise their own money. This included a $75,000 grant from an unnamed "major charitable fund in New York."
Hillary Rodham friendship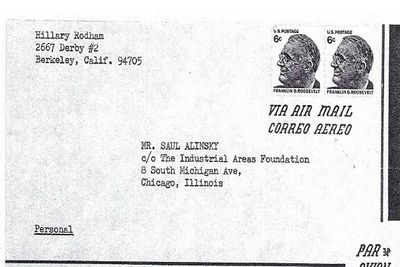 Norman Thomas lecture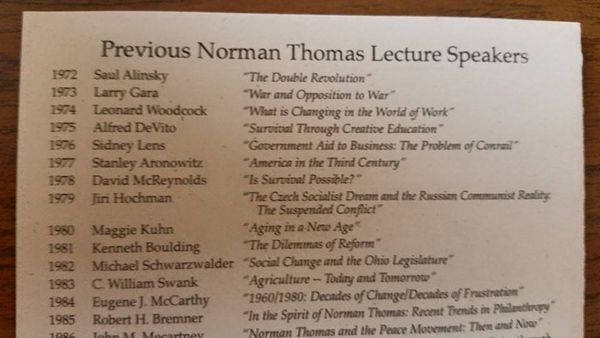 Saul Alinsky gave the Norman Thomas lecture for 1972.
Publications
John L. Lewis: A Biography
Reveille for Radicals
References