Sarah Walzer
From KeyWiki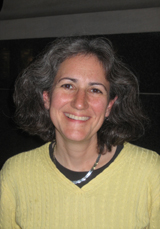 Sarah Esther Walzer is the daughter of socialist Michael Walzer. At Princeton, in the early 1980s she was the law school room mate of Elena Kagan.
In 1986 she married John Quin Barrett, a 1986 graduates of the Harvard Law School.[1]
Education
Sarah Walzer graduated from the Woodrow Wilson School of Public and International Affairs at Princeton University. Her father Michael Walzer was the United Parcel Services Professor of Social Science at the Institute for Advanced Study. Her mother Dr. Judith Walzer, was the provost of the New School for Social Research.[2]
Law clerk
In 1986, Sarah Walzer was a law clerk for Judge Anne E. Thompson of the Federal District Court in Trenton.[3]
Career
Prior to becoming Executive Director of The Parent-Child Home Program, Inc., Sarah Walzer was Counsel to the Assistant Secretary for Legislation of the U.S. Department of Health and Human Services where she worked on legislative initiatives and funding for early childhood and domestic violence programs, welfare reform, and the development of a crime, substance abuse, and dropout prevention programs for youth. From 1989 through 1993, she was legislative assistant/counsel to U.S. Senator Joseph Lieberman, working on legislative initiatives on women's and children's issues, education, housing, and poverty issues and serving as the Senator's liaison with organizations in Connecticut working on these issues. During this time, she also was responsible for children and family issues for the Clinton/Gore Domestic Policy Transition Team. In that capacity, she evaluated early childhood initiatives, prepared policy memoranda, and worked on legislation on a range of issues, including the Family and Medical Leave Act, teenage pregnancy prevention, child care, Head Start and early childhood education, and family preservation. Prior to attending Harvard Law School, Sarah was the Development Coordinator for the Northeast-Midwest Institute, a non-profit public policy organization.[4]
Defending Elena Kagan
In 2010, when rumors circulated that Obama Supreme court nominee Elena Kagan was a lesbian, Sarah Walzer publicly defended her friend.[5]
"I've known her for most of her adult life and I know she's straight," said Sarah Walzer, Kagan's roommate in law school and a close friend since then. "She dated men when we were in law school, we talked about men — who in our class was cute, who she would like to date, all of those things. She definitely dated when she was in D.C. after law school, when she was in Chicago – and she just didn't find the right person."
References