Sarah Knutson
From KeyWiki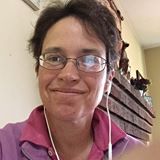 Sarah Knutson is involved with Virtual Drop-In/ Crisis Respite. Consultant at Intentional Peer Support. Lives in Barre, Vermont.
Education
Studied Existential-Humanistic Psychology at Pastoral Counseling Department, Loyola University
Studied at University of Wisconsin Law School
Studied Women's studies at University of Wisconsin-Madison
Studied World History at United States Air Force Academy
Went to Wausau East High School
Activism
DSA Disability Caucus/Working Group
Members of the DSA Disability Caucus/Working Group, closed Facebook group. as of July 16, 2017 included Sarah Knutson .[1]
References