Sara Nelson
From KeyWiki
Atlanta DSA award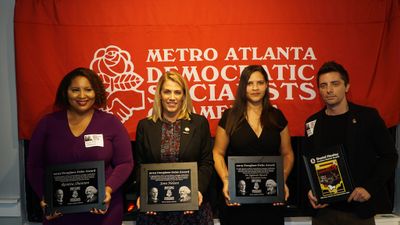 Metro Atlanta Democratic Socialists of America's 13th annual Douglass-Debs awards dinner at Paschal's restaurant Nov. 9 2019 was a great success.
This year's keynote speaker was Sara Nelson, international president of the Association of Flight Attendants-CWA, AFL-CIO. She quoted widely from historic figures such as Mother Jones, Fredrick Douglass and Eugene Victor Debs, and from her own experience as a worker and a woman, assuring us that "Solidarity is stronger than gravity!" Watch her speak here!
The Highlander Research and Education Center, a key resource for progressive organizers since the 1930s (now located in New Market, TN) lost their main building to a right-wing arson attack earlier this year but continues their work undeterred. Member Eric Robertson explained that the award recognizes the continued importance of the center to the current movement for human rights, worker rights and racial justice as well as its role in nurturing such historic figures as Martin Luther King, Jr. and Rosa Parks. As the Center was holding its own board meeting that weekend, Annie Thomas, regional organizer for Project South, accepted the award in Highlander's behalf.
Georgia State Representative Renitta Shannon was recognized for her courageous service as one of a few progressive members of the Georgia General Assembly, standing up for women's reproductive rights, LGBTQ rights, and immigrant rights. Her friend Charmaine Davis, SE regional administrator of the U.S. Dept. of Labor's Women's Bureau, recalled her friendship with Renitta and the awardee's inspiring career.
To top off the celebration, we gave one of our special awards — for "creative activism" — to our own Daniel Hanley, well known for his leadership in every kind of direct action, most recently with the Light Brigade, which provides illuminated signage and projects uplifting slogans onto Atlanta's night-time cityscape during demonstrations. MADSA founder Milt Tambor presented the award by noting many instances of Daniel's commitment, courage and creativity — the essential makings of an activist — since he joined MADSA several years ago.[1]
Virginia Diamond connection
Virginia Diamond May 9 2019·
With Katy Flaim Owen, Levi Allen, Sara Nelson and Ernie Lazernick in Dulles, Virginia.
DC DSA connection
References