Sanford Bishop
Jump to navigation
Jump to search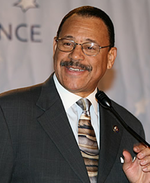 Template:TOCnestleft Sanford D. Bishop, Jr. is a Democratic member of the United States House of Representatives, representing the 2nd district of Georgia.
Humanitarian Needs in Cuba letter
December 16 2021 , House Rules Committee Chair James McGovern (D-MA), House Foreign Affairs Committee Chair Gregory Meeks (D-NY), House Appropriations subcommittee on State and Foreign Operations Chair Barbara Lee (D-CA), and House Energy and Commerce subcommittee on Energy Chair Bobby Rush (D-IL) led 114 Members of Congress in a letter to President Biden asking him to prioritize the well-being of the Cuban people as they experience the worst economic and humanitarian crisis in recent history...
In the wake of this year's protests, the members urged the administration to support the Cuban people by suspending U.S. regulations that prevent food, medicine, remittances, and other humanitarian assistance from reaching the Cuban people...
Signatories included Sanford Bishop.[1]
Attended Event Honoring Rev. Sun Myung Moon
On March 23, 2004, a congressional reception was held in the Dirksen Senate Office Building, Washington, D.C., honoring Korean-born businessman and religious leader, the Rev. Sun Myung Moon. Moon, 85, has been controversial for years. Renowned for officiating at mass weddings, he received an 18-month prison sentence in 1982 for tax fraud and conspiracy to obstruct justice. In a 1997 sermon, he likened homosexuals to "dirty dung-eating dogs."[2] Democrats Sen. Mark Dayton of Minnesota, Rep. Danny K. Davis of Illinois, Rep. Sanford D. Bishop, Jr. of Georgia; and Republicans Rep. Roscoe G. Bartlett of Maryland, Rep. Christopher B. Cannon of Utah, and Rep. Curt Weldon of Pennsylvania – received "Ambassadors for Peace" awards at the ceremony. There were reportedly 81 members of Congress total at the event.[3]
2010 Veterans of Foreign Wars Endorsement
As at September 24, 2010, the Political Action Committee of Veterans of Foreign Wars had endorsed the Sanford Bishop for office.[4]
Congressional Black Caucus
Sanford Bishop is a member of the Congressional Black Caucus for the 113th Congress:[5]
ARA endorsement, 2014
The Alliance for Retired Americans Political Action Fund endorsed Sanford Bishop in 2014, also 2012.[6]
Blue Dog Coalition
In Congress, Sanford Bishop is a member of the Blue Dog Coalition.
External links
References