Sandy Morales Pope
From KeyWiki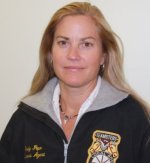 Sandy Morales Pope is a New York based Teamsters Union activist.
New Party founders
The two key founders of the New Party were Joel Rogers and Dan Cantor.
The first strategic meetings to plan the New Party were held in Joel Rogers' home in Madison Wisconsin in the very early 1990s. Present were Rogers' wife Sarah Siskind, Dan Cantor, ACORN leaders , Wade Rathke ,Zach Polett , Steve Kest and Jon Kest , Steve Cobble from the Institute for Policy Studies (in an advisory role), Sandy Morales Pope (for the first 18 months), Harriet Barlow and Barbara Dudley.
The very first meeting included Gerry Hudson from Democratic Socialists of America and SEIU and Gary Delgado, plus labor activists Sam Pizzigati and Tony Mazzocchi. Anthony Thigpenn of Los Angeles was also approached, but though supportive did not wish to play a leadership role.[1]
New Party builder
New Party News Fall 1994 listed over 100 New Party activists-"some of the community leaders, organizers, retirees,, scholars, artists, parents, students, doctors, writers and other activists who are building the NP" the list included Sandy Morales Pope, Teamsters
School for Troublemakers
"Who are the people here facing budget cut issues?" asked the teacher, Paul Krehbiel, a grizzled activist who has organized nurses and factory workers over a long career, which includes serving as the chief negotiator for registered nurses at Los Angeles County government hospitals and clinics.
They were in a classroom at Pasadena City College to learn how to be union activists...
The techniques Krehbiel and other instructors taught at this one-day event, called Troublemakers School, might have once been learned on the assembly line, in the mine elevator or at the bowling alley. Now, the teachers impart their knowledge through fliers and by drawing on white boards..
Events such as Troublemakers School are an attempt to keep up momentum after tens of thousands of demonstrators swarmed the Wisconsin statehouse earlier this year to protest legislation that would strip the collective bargaining rights of public employees. The school is part instruction, part pep rally.
"Who took to the streets? The tea party did," said Sandy Pope, who is challenging Teamsters President James Hoffa in the union's election this fall. "Those are our streets, that's where we need to be."
The Troublemakers School in Pasadena and five others like it held this year across the country were organized by Labor Notes, a Detroit nonprofit funded by membership dues and course fees, as well as donations from pro-labor individuals. There's no question this group leans heavily left: One student carried pamphlets about a meeting for anarchists.
During the schools, volunteers drill students on Labor 101 — how a union is organized, what labor laws do and don't protect and how to recruit members. They commiserate about tough conditions at work, and cheer on speakers who tell about their struggles fighting big business.[2]
Teamsters presidency bid
In July 2011, longtime Teamsters president James Hoffa, one of the most influential players in American labor, faced a re-election fight from a former truck driver vying to become the first female leader in the union's 108-year history.
Sandy Pope, a longtime steel hauler who heads a small New York City local, claims her groundbreaking candidacy is a nonissue. She prefers to spotlight the many troubles hounding the union, which, like its counterparts, has been struggling against a multi-barreled attack from hostile politicians, unsympathetic employers, reluctant workers and a tepid economy.
But there's no question that Pope's gender has fueled her longshot campaign. Fewer than one in six Teamsters are women, and for many of her supporters, Pope's bid is a walking symbol of the union's potential to transform itself at a time when American workers are fleeing organized labor.
"I'm not doing this because I'm some big ego," said Pope, 54. "Are you kidding? Who wants to go through this? I am doing this because the membership wants this. ... They want to see that there is something really different happening." [3]
Sandy Pope, rose through the ranks from Cleveland truck driver to president of a Teamster local in New York, is challenging 12-year incumbent James Hoffa for General President of the 1.3 million-member Teamsters Union.
Pope, who is associated with a dissident group, Teamsters for a Democratic Union, ran unsuccessfully for secretary-treasurer, the No. 2 position, in 2006. She was the leading vote-getter running against Hoffa's slate that year. TDU has endorsed Sandy Pope and will support her candidacy.[4]
References