Sander Levin
From KeyWiki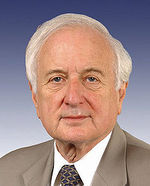 Sander "Sandy" Levin (born in Detroit, Wayne County, MI, September 6, 1931) was a Democratic member of the United States House of Representatives, representing the 12th district of Michigan. Sander is the brother of Carl Levin, and father of Andy Levin.
Early Life & Career
Graduated from Central High School, Detroit, Mich.; B.A., University of Chicago, Chicago, Ill., 1952; M.A., Columbia University, New York, N.Y., 1954; LL.B., Harvard University, Cambridge, Mass., 1957; lawyer, private practice.[1]
Congressional committees
Sander Levin is the Chairman on the House Ways and Means Committee. He has served on every Ways and Means Subcommittee (Social Security, Health Care, Income Security and Family Support, Trade) except for the Oversight and Select Revenue Subcommittees.
Public Service
Member of the Michigan state senate, 1965-1970; unsuccessful candidate for Governor of Michigan, 1970 and 1974; assistant administrator, Agency for International Development, 1977-1981; delegate, Democratic National Conventions, 1964 and 1968; elected as a Democrat to the Ninety-eighth and to the fourteen succeeding Congresses (January 3, 1983-present); chair, Committee on Ways and Means (One Hundred Eleventh Congress).[1]
Arab American Political Action Committee
The second annual Arab American Political Action Committee dinner was held in 1999 and was attended by over 800 people. Osama Siblani welcomed the audience and introduced Samer Jaafar the Chairman of the Endorsement Committee. AAPAC's president Abed Hammoud delivered the organization's message and plans for the future. Congressman David Bonior, the House Minority Whip and U.S Senator Spencer Abraham delivered their addresses. Dr. Mohamad Khansa chaired the Dinner Committee.
Prominent Michigan public officials in attendance included US Senator Spence Abraham and his wife Jane Abraham, US Congressman David Bonior and his wife Judy Bonior, US Congressman John Dingell and his wife Debbie Dingell, US Congressman Sander Levin and his wife Vicki Levin, US Congressman John Conyers, Jr., US Congresswoman Debbie Stabenow, US Congressman Joe Knollenberg, US Congresswoman Lynn Rivers, Wayne County Sheriff Robert Ficano and Eunice Confer representing U.S. Senator Carl Levin.[2]
CAIR
"The Council's work in the state of Michigan and across the nation is always appreciated."-Rep. Sander M. Levin (D-Mich.) (September 2014) .[3]
Democratic Party Super Delegates
In February 2008 Michigan Democratic Party Super Delegates were;[[4]
Charles Brown Mon, 25 Feb 2008
John D. Cherry, Lt. Governor
Rep. John D. Dingell, U.S. Congressman, 15th District
Joel Ferguson, at-large member of the DNC, businessman, member of MSU Board of Trustees
Dale Kildee, U.S. Congressman, 5th District
Sander Levin, U.S. Congressman, 12th District
Mark Schauer, State Senator, 19th District
Debbie Stabenow, U.S. Senator
John Conyers, U.S. Congressman, 14th District
Arthenia Abbott, Vice Chair, Michigan Democratic Party
Lu Battaglieri, President of Michigan Education Association, union representing retired teachers and education employees
Mark Brewer, Chair, Michigan Democratic Party, Vice Chair, Democratic National Committee
Elizabeth Bunn, UAW Secretary-Treasurer
Eric Coleman, County Commissioner of Oakland County, 23rd District
Debbie Dingell, WSU Board of Governors, senior executive at General Motors
Robert Ficano, Wayne County Executive
Jennifer Granholm, Governor
Kwame Kilpatrick, Mayor, City of Detroit
Carolyn Kilpatrick, U.S. Congresswoman, 13th District
Joyce Lalonde, Board of Directors, National Education Association
Carl Levin, U.S. Senator
Jeffrey Radjewski, business and finance manager of the International Brotherhood of Electrical Workers (IBEW)
Virgie Rollins, regional director, National Federation of Democratic Women, Chair, Democratic National Committee Black Caucus
Richard Shoemaker, UAW Vice President
Bart Stupak, U.S. Congressman, 1st District
Michael Tardiff, DNC
Richard N. Wiener, attorney and former Granholm staffer
Lauren Wolfe, President of the College Democrats of America, she is attending law school in Detroit.
DSA sponsored rally
Over 300 people attended the Call to Action Rally at the United Food and Commercial Workers Union (UFCW) Local 876 Hall in Madison Heights on February 18th 2010. The rally was organized to press members of the Michigan Congressional delegation , particularly in the Senate, to pass key components of the progressive agenda including health care reform, cap and trade energy legislation, immigration reform, and the Employee Free Choice Act. Greater Detroit Democratic Socialists of America co-sponsored the rally along with 31 other organizations including Health Care for America Now, the UAW, the Metropolitan Detroit AFL-CIO, the Service Employees International Union ), UFCW, UNITE-HERE Local 24, AFSCME Council 25, Reform Immigration for America, Repower America (the organization founded by former Vice-President Al Gore to promote investment in renewable energy), Gray Panthers of Metro Detroit, Michigan Universal Health Care Access Network, the Arabic Community Coalition for Economic and Social Security, Southeast Michigan Jobs with Justice, MoveOn, and MOSES.
Congressmen Sander Levin and John Conyers, Jr. addressed the audience. In addition, aides to Senators Debbie Stabenow and Carl Levin and Representatives Dale Kildee, Gary Peters, Carolyn Cheeks Kilpatrick, and John Dingell attended the rally.
DSA member Al Fishman spoke to the audience about how the disastrous wars in Iraq and Afghanistan had undermined Obama's domestic agenda in a manner analogous to the way in which the Vietnam War undermined President Johnson's Great Society programs. DSA Executive Board member Dave Ivers spoke about the imperative for a national jobs program, shared a personal anecdote about how the health care crisis had affected his family, and stressed the importance of Congress passing the Employee Free Choice Act to make it easier for workers to organize unions. Other speakers included Chris Michalakis, Legislative Director of UFCW Local 876, who spoke about the importance of comprehensive immigration reform. Luke Canfora of Repower America described the huge potential benefits of investment in renewable energy (decreased reliance on foreign oil, reduced emissions of greenhouse gases, and job creation). Marcia Boehm and Altheia Henry discussed the urgent need for health care reform. John Freeman, Michigan Director of Health Care for America Now, moderated the event.[5]
Detroit-area progressives push back
Eric Ebel, a Michigan Democratic Socialists of America member wrote a report "Detroit-area progressives push back" for DSA labor blog Talking Union on a February 18 2010 Detroit anti Tea Party rally[6]
The progressive Democratic community of the Detroit metro area met to answer the Tea Baggers at a "Call for Action" rally on the evening of February 18. Some 325 people attended the rally, which was held in the United Food and Commercial Workers hall in Madison Heights and sponsored by a wide spectrum of groups, from DSA on the left to Organizing for America, a political arm of the Obama administration, on the "right." John Freeman, the moderator, made a point of singling out the DSA to praise for its support.
The rally concentrated on five policy areas: immigration reform, clean energy, peace, health-care reform, and jobs. In addition to representatives of the groups pushing these reforms — among them DSA members Al Fishman and Dave Ivers — the rally was addressed by two members of Congress, Reps. Sander Levin (our senator's older brother) and John Conyers.
Service Employees International Union
The SEIU PAC has contributed in excess of $65,950 to Sander Levin's campaigns.[7]
Veterans of Foreign Wars
As at September 24, 2010, the Political Action Committee of Veterans of Foreign Wars endorsed Sander Levin in his campaign for office.[8]
ARA endorsement, 2014
The Alliance for Retired Americans Political Action Fund endorsed Sander Levin in 2014, also 2012.[9]
2014 WOLA Awards
The Honorary Committee for Washington Office on Latin America's 2014 Human Rights Award Ceremony and Benefit Gala, consisted of;[10]
Staff
The following have worked as staff members for Sander Levin:[11]
External links
References