Samori Marksman
Jump to navigation
Jump to search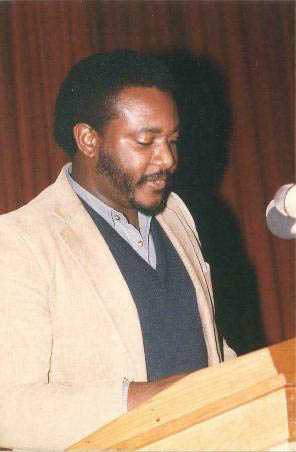 Template:TOCnestleft Samori Marksmanprogram director of WBAI in New York, died on March 23, 1999 at the age of 51 of heart failure.[1]
Career
Samori Marksmanbegan working as a producer of programs on international affairs at WBAI in 1977 and continued this position on the daily program "Behind The News." He taught journalism part time at Long Island University. Samori also taught African history and social science at the College of West Africa for four years. Concurrently, he was the Director of the African division of the New York based Pan-African Skills Project, a privately funded agency that recruited individuals trained in science and technology to teach in Africa. He regularly contributed articles on international news to Covert Action Quarterly," "Caribbean Perspective," and the Amsterdam News.[2]
North Americans in Support of Angola
The Angola Support Conference ran from May 28 - 30, 1976 in Chicago. The event was sponsored by the U.S. Out of Angola Committee and the National Conference of Black Lawyers.
Samori Marksman was a delegate at the conference.[3]
Grenada
From 1979 to 1983 Marksman worked as a researcher and publicist for the Marxist-Leninist government of Grenada.[4]
Malcolm X conference
A conference, Malcolm X: Radical Tradition and a Legacy of Struggle was held in New York City, November 14 1990.
Resistance Against the Racist War Machine
Chairperson:
Panel:
Socialist Scholars Conference
Samori Marksman, WBAI, Hilborn Watson, Esmeralda Brown, UN Representative, SIRPA and Augostin Lao, NYU were speakers on the The Caribbean Basin and The New World Order panel sponsored by the DSA African American Commission at the Tenth Annual Socialist Scholars Conference. The conference was held April 24-26, 1992 at the Borough of Manhattan Community College, New York City[6]
Communist "Manifestivity"
On October 30 and 31, 1998 the Brecht Forum presented the "Communist Manifestivity -150th Anniversary of the Communist Manifesto" at at Cooper Union's Great Hall, New York.
One of the many workshops at the Manifestivity was;
The Ruling Ideas: Media and Ideology; with Ellen Braune Alexander Cockburn, Janine Jackson, Dred Scott Keyes, Samori Marksman, Andrea Lockett and Dee Dee Hallek. Moderator was Steve Brier.[7]
References