Sam Singh
Jump to navigation
Jump to search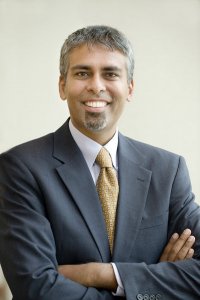 Template:TOCnestleft Sam Singh is an alumnus of Michigan State University graduating with a Bachelor of Arts in 1994. As a student, Sam was a member of Phi Sigma Phi fraternity, and the chief of staff of the student government, ASMSU. He was also involved with Into the Streets, MSU Alternative Break Program and the MSU Chapter of Habitat for Humanity.[1]
Michigan Pakistan American Caucus
Over 3600 people attended the Michigan Democratic Party's convention at the Cobo Center in Detroit on Saturday February 23rd, 2017.
As in the past, the Pakistan American Caucus, Michigan Democratic Party participated at the event. Many community members were in attendance.
The Pakistani Caucus welcomed many elected officials and some candidates for various positions during the event. Some of the many prominent guests who addressed the caucus included US Congressman Gary Peters, State Rep. Rashida Tlaib, State Rep. Sam Singh, Mrs. Juliana Smoot, and many more.[2]
MSU Board of Trustees Campaign
In 2010 Singh ran for a spot on the Michigan State University Board of Trustees. As at August 17, 2010, the following had endorsed Singh in his run:[3]
Affiliations
Singh has worked with the following organizations and held the following positions:[4]
Board Member, Capital Area United Way, 2010 to present
Mayor, City of East Lansing, 2005-2007
Mayor Pro-Tem and City Councilmember, East Lansing City Council, 1995- 2005
Board Member, Lansing Economic Area Partnership, 2006-2007
Board Member, East Lansing Downtown Development Authority, 2005-2007
Board Member, East Lansing Brownfield Redevelopment Authority, 2005-2007
Executive Committee, Michigan Indo-American Democratic Caucus, 2005-2007
Member, Panel on the Nonprofit Sector, Independent Sector, 2004-2007
Chairman and Board Member, City Connect Detroit, 2003-2007
Member, Governor's Council on Asian and Pacific American Affairs, 2005-2007
Board Member, National Council of Nonprofit Associations, Washington DC, 2002-2007
Board Member, OMB Watch, Washington DC, 2004-2007
Board Member, MSU Employer Partnership Program Advisory Board, 2004-2006
Board Member, Capital Region Community Foundation, 2001-2006
Advisory Board Member, Michigan Political Leadership Program, 2001-2007
Board Member, Michigan Association of United Ways, 2000-2007
Board Member, Points of Light Foundation, Washington DC, 1995-2007
Board Member, Capital Area Transportation Authority (CATA), 1996-2006
Advisory Board Member, WKAR-Public Radio and Television, 2001-2004
Member, Public Health Committee, Ingham Regional Medical Center, 1999-2003
Board Member, Michigan Works! Workforce Development Board, 2000-2003
Board Member, Capital Area Youth Alliance, 2001-2003
Board Member, East Lansing Film Festival, 1997-2000
Chairperson, Housing Resource Center, 1996-2001
Chairperson, Capital Area Community of Promise, 1998-2001
Commissioner, Tri-County Regional Planning Commission, 1996-1998
Third Vice Chair, Ingham County Democratic Party, 1996-1997
Member, Planning Commission's Subcommittee for Parks and Recreation, 1995
Member, East Lansing Task Force on Refuse and Recycling, 1993
Commissioner, East Lansing Transportation Commission, 1992-1995
References