Sam Rasoul
From KeyWiki
Sam Rasoul
Richmond for All
Richmond for All endorsed Sam Rasoul.
Sunrise Virginia endorsement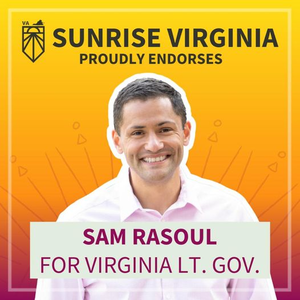 Sam is a bold and fearless leader who isn't afraid to stand up to fossil-fuel interests. Since the beginning, he has steadfastly opposed the Mountain Valley and Atlantic Coast Pipelines and continues to support the ongoing fight against MVP. After being inspired by Sunrise Movement's national Green New Deal, he co-founded the statewide coalition Green New Deal Virginia. For the past two years, he has introduced the Green New Deal Act in the General Assembly, a bill that would of committed Virginia to a just transition to a 100% clean renewable energy grid by 2035 and put a stop to new fossil-fuel projects in the state. As a Palestinian Muslim raised in Southwest Virginia, he understands the value of building bridges and creating broad intersectional coalitions to advance his progressive vision and plans to visit every county and city in Virginia during his campaign. Sunrise Virginia believes Sam's leadership will help bring in more support for a Virginia Green New Deal and usher in a progressive era for our state.
YDSA endorsement
Muslim Collective for Equitable Democracy Conference
In July 2019 Congressmembers Rashida Tlaib, Ilhan Omar, Judy Chu, Susan Wild and Betty McCollum addressed the inaugural Muslim Collective for Equitable Democracy Conference and Presidential Forum July 23-24 at the Washington DC National Housing Center.
Other speakers included Keith Ellison, Abdul El-Sayed, Khizr Khan, Basheer Jones, Omar Suleiman, Sam Rasoul, Zahra Billoo, Catherine Orsborn, Corey Saylor, Daniel L. Weiner Dalia Mogahed, Prof. Asifa Quraishi-Landes, James Zogby, Farhana Kheera, Suhail Khan, Mike Ghouse, Zainab Cheema, Sister Simone Campbell, Scott Simpson, Shaun Kennedy, Ken Martin, Sadaf Jaffer, Dilara Saeed, Luqmaan Bokhary, Nabilah Islam, Movita Johnson-Harrell, Rummi Khan, Ghazala Hashmi, Shahed Amanullah,Sevim Kalyoncu, Ani Osman-Zonneveld, Yasmeen Awwad, Amira Daugherty, Sabina Taj, Asina Silva, Dr. Jay Jalisi.
References