Sam Anderson
From KeyWiki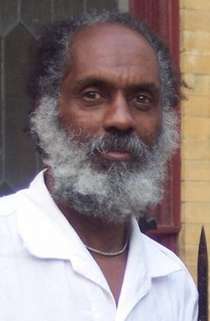 Sam Anderson is a radical black activist.
Science for the People Statement on the Green New Deal
Science for the People Statement on the Green New Deal was issued by Science for the People circa early 2019.
Signatories included Sam Anderson.
Socialist Scholars Conference 1990
The Socialist Scholars Conference 1990, held September 6-8, at the Hotel Commodore, New York, included panels such as:[1]
The New African-American Middle Class and the Struggle for Black Empowerment
Malcolm X conference
A conference, Malcolm X: Radical Tradition and a Legacy of Struggle was held in New York City, November 14 1990.
The "Fighting the Plagues of Aids and Drugs" panel consisted of;
Chairperson:
Panel:
Socialist Scholars Conference
Sam Anderson, New School for Social Research, Abdul Alkalimat, Barbara Omalade, Center for Worker Education, Bill Sales, Gerald Horne, Horace Campbell, Jimmy Garrett, Muhammad Ahmad, Ron Bailey, Jim Turner and Mack Jones were speakers on the Curriculum of Inclusion or... Curriculum of Struggle? panel sponsored by the Antiracist Curriculum Collaborative and the Network of Black Organizations at the Tenth Annual Socialist Scholars Conference. The conference was held April 24-26, 1992 at the Borough of Manhattan Community College, New York City[2]
Black Radical Congress
In March 1998 "Endorsers of the Call" to found a Black Radical Congress included Sam Anderson, Network of Black Organizers New York City[3].
In 2000 Sam Anderson was a New York Metro contact for Black Radical Congress[4].
Communist "Manifestivity"
On October 30 and 31, 1998 the Brecht Forum presented the "Communist Manifestivity to celebrate the 150th Anniversary of the Communist Manifesto" at Cooper Union's Great Hall, New York.
Individual endorsers of the event included Sam Anderson.[5]
The Manifesto Commemoration Committee included Eric Canepa, coordinator; Sam Anderson, Sylvia Aron, Steve Brier, Mary Boger , Kira Brunner, Andrew Comer, Peggy Crane, Steve Duncombe, Peter Filardo, Rosa Garcia, Dan Georgakas, Joan Greenbaum, Ron Hayduk, Bill Henning, Diane Greene Lent, Danny Luce, Bill Koehnlein, Biju Mathew, Eli Messinger , Liz Mestres, Yusuf Nuruddin, Adele Oltman, Ed Ott, Leo Panitch, Renee Pendergrass, Merle Ratner, Colin Robinson, Rosina Rodriguez, Frank Rosengarten, Rob Saute, S Shankar, Sean Sweeney, Kit Wainer, Paul Washington, Juanita Webster, Ethan Young.
How Class Works
The "How Class Works - 2008" conference held at Stony Brook, New York, June 5 - 7, 2008, Center for Study of Working Class Life, proposed speakers list included: Sam Anderson, Catherine-Mercedes Brillantes Judge, Pedro Caban, Fuat Ercan, Claudia Fegan, Bill Fletcher Jr, Tami Gold, Elizabeth Hoffman, Sara Jarayaman, Stathis Kouvelakis, Sherry Linkon, Meizhu Lui, Manning Marable, Jack Metzgar, Nelson Motto, Manny Ness, Bertell Ollman, Jeff Perry, Catherine Pouzoulet, David Roediger, Andrew Ross, John Russo, Vinny Tirelli, Michelle Tokarczyk, Richard Trumka and Joe Wilson.
Conference organiser was Michael Zweig Director, Center for Study of Working Class Life, Department of Economics State University of New York ,Stony Brook, NY[6].
Black Left Unity
On the weekend of May 31-Jun 1,2008, dozens of African American organizers, artists and activists convened the first Black Left Unity Meeting at the Sonia Hayes Center in Chapel Hill, NC.The gathering was a continuation of the Black Left Unity caucus that meet in Atlanta during the US Social Forum.
Those who attended the conference included Saladin Muhammad, Black Workers for Justice and the Black Workers League; ILWU Local 10 leader Clarence Thomas; activist and poet, Amiri Baraka; Million Worker March leader, Brenda Stokely; Ana Edwards, Defenders for Freedom, Justice & Equality; Ajamu Baraka, U.S. Human Rights Network; Patrisse Cullors, Labor Strategy Center; Efia Nwangaza; Theresa El-Amin; Kali Akuno from the Malcolm X Grassroots Movement; Jaribu Hill, Mississippi Workers for Human Rights; Vickie White, People's Organization for Progress; labor organizer, Angaza Laughinghouse; Larry Adams, New York City Labor Against the War (NYCLAW); cultural artist, Luci Murphy; educators Muntu Matsimela, T. Menelik Van Der Meer and Sam Anderson; Yvette Modestin, Afrocaribenas y de la Diaspora; Colia Clark; and activists representing Fight Imperialism-Stand Together (FIST) and the Troops Out Now Coalition.[7]
Black Left Unity December 2013

Group portrait at the conclusion of the December 21, 2013 Black Left Unity Network meeting. Seated, left to right: Ajamu Dillahunt, Saladin Muhammad, Abdul Alkalimat, Ashaki Binta, Kathy Knight. Standing, left to right: Roger Newell, J. R. Fleming, T. Menelik Van Der Meer, Dennis Orton, Kia Van Der Meer, Sam Anderson, Shafeah M'Balia, Rose Brewer, Anthony Monteiro, Toussaint Losier, Rukiya Dillahunt, Taliba Obu, Jonathan Stith, Carl Redwood, Tdka Kilimanjaro, Jamal Oliver, Akinjele Umoja.
The Black Activist
The Black Activist is the journal of the Black Left Unity Network.
Editorial working group: Abdul Alkalimat, Sam Anderson, Rose Brewer, T. Menelik Van Der Meer, Saladin Muhammad.[8]
Left Forum 2009
Returning to the Source: Ethnic Studies in the Obama Age:
Left Forum 2010
The Left in a Post-Racial United States:
Geography of Malcolm X:
Critical Resistance event
Critical Resistance and Brecht Forum presented Angela Y. Davis/Ruthie Gilmore/Vijay Prashad/ Laura Flanders...
Friday, May, 20, 2011 Riverside Church, South Hall Admission: $50-$250. (includes admission to main event -"The World We Want is the World We Need". Riverside Church, Nave 490 Riverside Drive. Admission: $20-$30
Host Committee: Rashidah Ismaili AbuBakr, Malaika Adero, Seth Adler, Shana Agid, Sam Anderson, Kai Barrow, Andrea Bible, Jean Carey Bond, Dorothy Burnham, Melanie Bush, Rod Bush, Angela Cali, Susie Day, Jesse Ehrensaft-Hawley, Joan Gibbs, Elspeth Gilmore, Farah Jasmine Griffin, Lennox Hinds, Esther Cooper Jackson, Peter Marcuse, Jerry Meyer, Charlene Mitchell, Mary Morgan, Mary Lou Patterson, Beth E. Richie, Shreya Shah, Alvin Starks, Farrah Tanis, Laura Whitehorn.[9]
References